News and Events
January 11, 2013 – Lijing Su, from Jose Rizo-Rey's lab, defended her thesis, "Insights into the functions of munc-18 in neurotransmitter release." Lijing was a member of the Integrative Biology graduate program. Congratulations!
December 8, 2012 – Pelin Ayaz, in Luke Rice's lab, defended her thesis, "Conformation-based mechanisms in a microtubule polymerase." Pelin was a member of the Molecular Biophysics graduate program. Mid-winter Pelin will be moving on to take a position at Bayer, in Berlin. Congratulations and good luck!
Nov. 2, 2012 – As part of our annual retreat with the Department of Biochemistry, the Department of Biophysics hosted the five finalists for the Sara and Frank McKnight Undergraduate Prize in Biophysics. Pictured (left to right) are: Kevin Gardner (UT Southwestern, hosting), Alexandra Long (Carleton), David Angeles-Albores (Cornell), Amanda Witte (Calvin), Samantha Mellin (Oregon), and Naomi Latorraca (Pitt). Congratulations to all, and best wishes for the future. We all enjoyed meeting this very talented group of young scientists!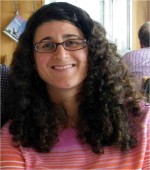 November 1, 2012 – We are thrilled to announce the first new faculty member hired in the Biophysics department, Khuloud Jaqaman. Khuloud will be joining us in early 2013. Her lab will develop quantitative single-molecule imaging approaches to study signal transduction.
Oct. 16, 2012 – This is a good year for Dan! Dan Rosenbaum has been awarded a Packard fellowship. Congratulations, Dan!
Sept. 8, 2012 – Members of the Department participate in the American Heart Association's Heart Walk.
April 13, 2012 – Department of Biophysics faculty member Dan Rosenbaum is named as one of the 15 Searle Scholars for 2012. Congratulations, Dan!
April 12, 2012: It's official! The new Department of Biophysics is launched. Read the full article.