Residents share first-year experiences for medical students nearing Match Day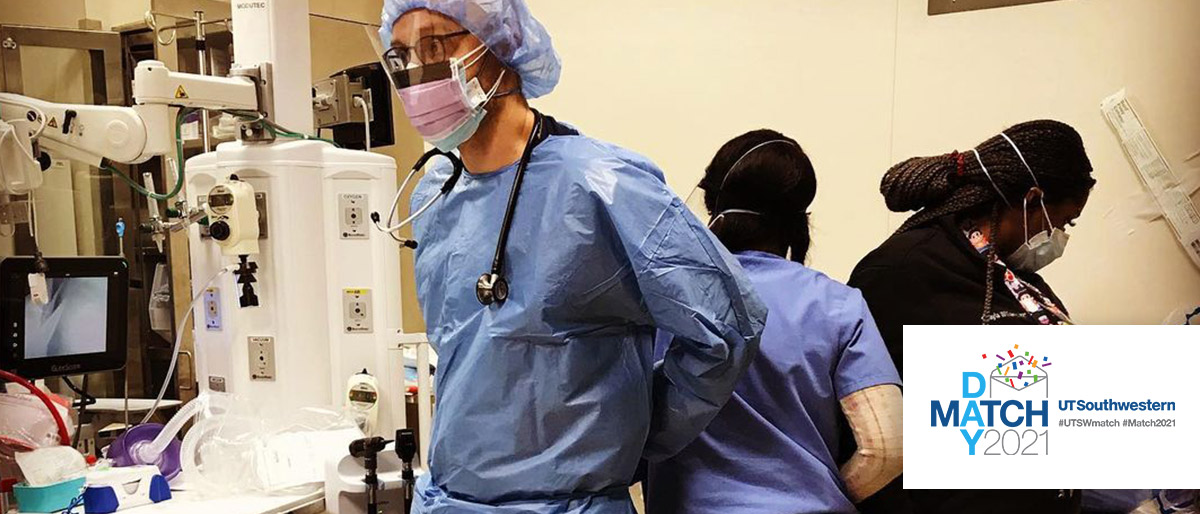 On March 19, the Medical School Class of 2021 will celebrate Match Day. The milestone event marks when medical students around the country find out where they will do their residency training. To mark this year's celebration, Center Times caught up with four UT Southwestern alumni from the Class of 2020 who all matched into UTSW residency programs. In their videos, you'll get a glimpse into their busy lives as first-year residents, learn why they wanted to remain at UTSW for their training, and hear their advice for medical students set to match.
---
---
Dr. Alexander Guinn, emergency medicine
"UT Southwestern has always pushed me to be the best that I can be, and not just in regard to medicine or being a good student, but to be the best person that I can be. And they've always prioritized putting patients and others ahead of yourself. That's something that I valued when I got here, and it's something that I've just gotten to integrate into my medical practice. So I'm just grateful for that and for allowing me to be myself while becoming the best version of 'me' that I can be."
From treating colds to heart attacks and traumatic injuries, a day in the life of an emergency medicine physician can vary wildly. Summing up his last nine months as an intern in one word, Dr. Guinn uses the word "growth." Hear what advice Dr. Guinn has for the Class of 2021 on maintaining balance as a resident.
Learn more about the Emergency Medicine Residency Program at UT Southwestern.
*Dr. Guinn is married to fellow emergency medicine resident and Class of 2019 alumna Dr. Taylor Guinn. She shared her residency story in 2020.
---
Dr. Muhammad Harirah, plastic surgery
"What makes being a resident exciting and exhilarating is that things will never be the same and you can never really be complacent because you're going to be on your toes at all times. Things can change at the drop of a hat, and you're going to need to be sharp."
Dr. Harirah describes his first year as a resident as "dynamic." Dealing with the ups and downs of challenging medical cases and long days in the hospital, the surgeon says the constant change keeps him going. Hear the advice Dr. Harirah has for the Class of 2021 on must-have items they'll need on the job.
Learn more about the Plastic Surgery Residency Program at UT Southwestern.
---
Dr. Chinonye (Nonye) Imo, obstetrics and gynecology
"It's the best feeling in the world when your patients put trust in you, when you can take care of them, when sometimes they haven't seen a doctor in years and you're the first doctor they see, and they're just so grateful for the care that you're providing them. It's a good feeling that makes those busy days, and those days when you're really tired, worth it."
The word "busy" is the first that comes to mind when Dr. Imo describes her initial year as a resident. She says she loves that as an Ob/Gyn she'll get to experience everything from primary care to surgery throughout her career. Hear Dr. Imo's advice for fourth-year medical students about how she has handled uncertainty in making medical decisions as an intern.
Learn more about the Obstetrics and Gynecology Residency Program at UT Southwestern.
*In 2020, Dr. Imo also shared how the loss of her sister during medical school helped shape her perspective as a health care provider and expressed the importance of being a patient advocate.
---
Dr. Chengxi (Vincent) Li, psychiatry
"So my experience at UT Southwestern [Medical School] was wonderful, and I'd do it all over again if I had that option. I believe that UT Southwestern did an excellent job preparing me and my peers for residency, because it offered such a rigorous and rich and diverse clinical experience."
"Growth" is also the word that comes to mind for Dr. Li when he describes his first year as a resident. During his residency interview period, Dr. Li said he was hard-pressed to find another psychiatric program that matched UTSW's. Hear his advice to students about making a smooth transition from medical student to resident.
Learn more about the General Psychiatry Residency Program at UT Southwestern and how the Medical Center is advancing mental health care with the addition of the new third tower at William P. Clements Jr. University Hospital.