Student spotlights: Medical School Class of 2021 celebrate residency matches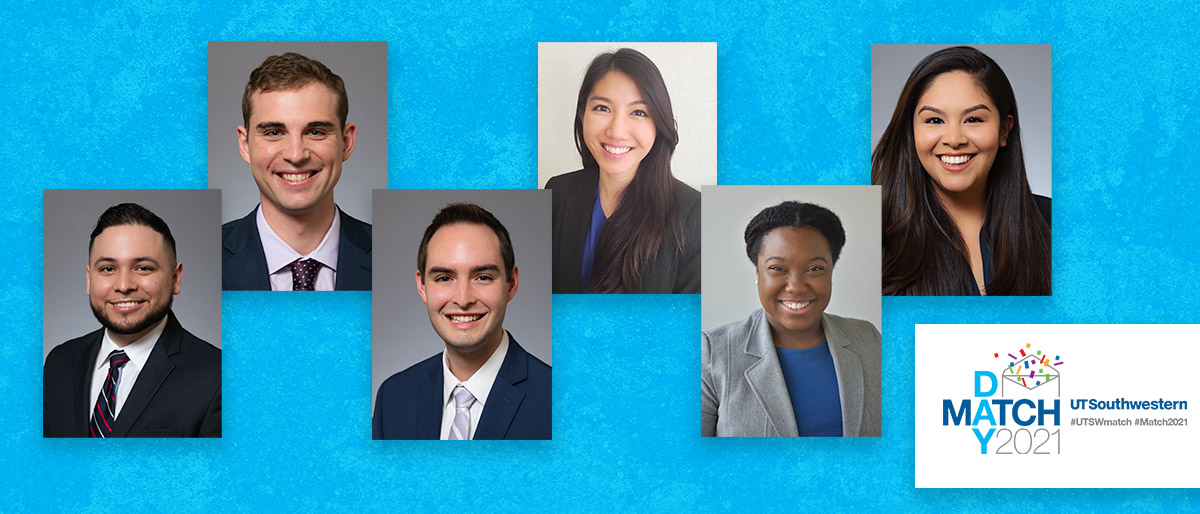 This story was updated on March 19. All Match Day photos and videos submitted by students were taken at home during private celebrations.
The Class of 2021 celebrated Match Day on March 19. Every year, on the third Friday in March, fourth-year medical students across the country learn where they will complete their medical residency training. It's the culmination of months of residency program interviews across the nation. Following those interviews, medical students and program leaders rank each other, and their lists are loaded into the National Resident Matching Program system. A computer algorithm helps to make the match for tens of thousands of medical students vying for residency spots.
While UT Southwestern traditionally holds a campus event to celebrate the milestone, Match Day was held virtually for a second year in a row due to the ongoing COVID-19 pandemic. From one student who gave birth amid the pandemic to another who said a rap song gave him the inspiration needed to get on the academic track that led him to UTSW, here are the stories of several of our medical students who matched.
---
---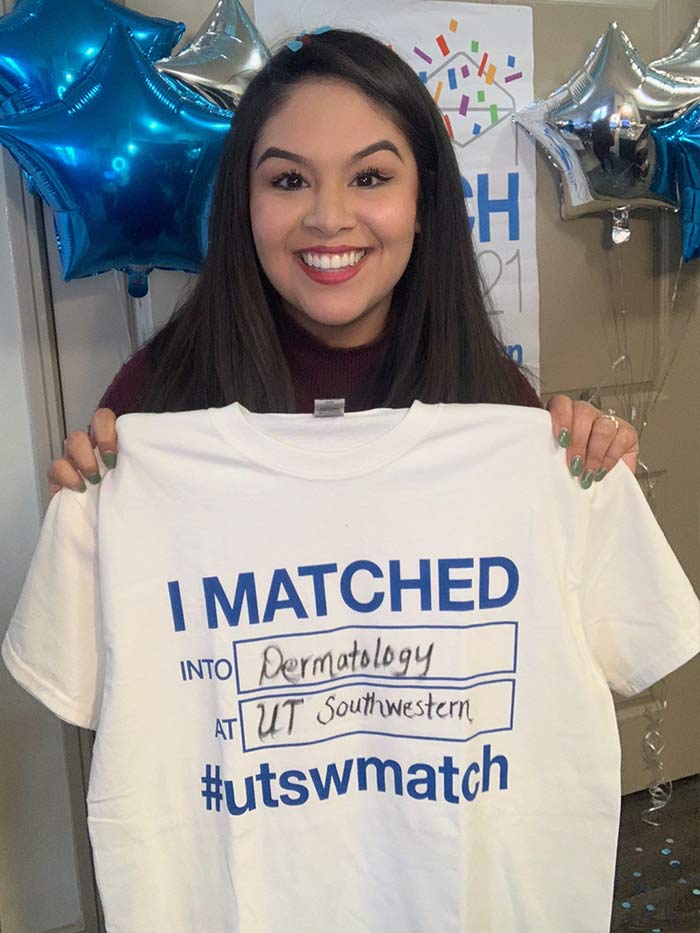 Samantha Black
Hometown: Brownsville, Texas
Specialty: Dermatology
Match: UT Southwestern (Transitional Year, John Peter Smith Hospital, Fort Worth)
"I feel so honored to be joining the UTSW Dermatology residency program. This is amazing news for my professional career and my family! I am beyond grateful to continue training at this fantastic institution."
Why did you decide to become a physician?
I was diagnosed with epilepsy when I was about 1 year old. Fortunately, I grew out of having seizures within a couple of years, but I continued to see a neurologist annually for follow-up. My neurologist was very supportive, and he encouraged me to follow my interest in science. I enrolled in an early college STEM program at my high school. My personal experience led to my study of epilepsy during my undergraduate neurology research at UT Brownsville, where I graduated college at age 19. I'm the first in my family to go to medical school.
At UT Southwestern, I realized I wanted to practice in underserved border communities and help people with limited resources. I became interested in dermatology when I worked at the student-run Agape Clinic for underserved populations. Dermatology is more tangible than neurology, and I know that dermatologists are sorely needed in border areas. I'm particularly interested in autoimmune diseases. I'm also qualified in medical Spanish, so I'll be interpreting and interacting with patients a great deal in my work.
What is a unique experience you had in medical school?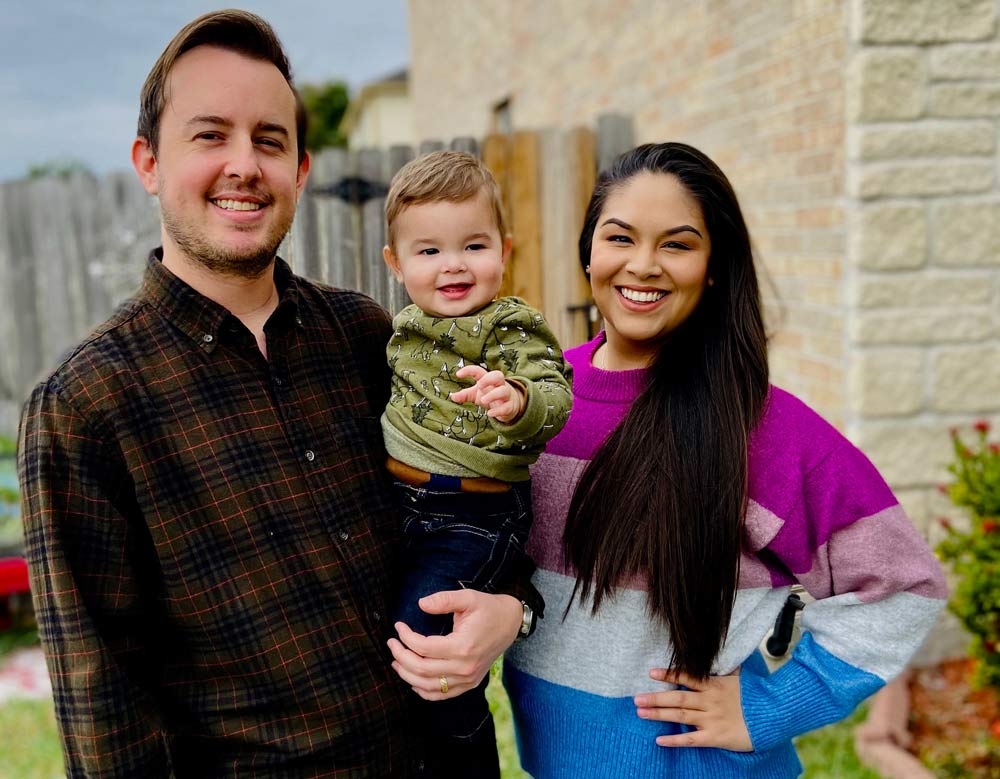 I gave birth to my son in January 2020. When the COVID-19 pandemic hit, I had only been back from maternity leave for about a week. I worked from home for the remainder of my dermatology research fellowship and did telehealth visits with patients while my baby was next to me in his bouncer! It taught me prioritization. It was a real balancing act, between being a mom and being a fellow.
Why would you recommend a student come to UT Southwestern?
UTSW has been my dream school since college. This institution has a long-standing history of providing excellent care to the medically underserved population of Dallas. As an individual interested in academic medicine, the research possibilities at UTSW are excitingly endless. I was lucky to have great mentors in Dr. Heidi Jacobe, Professor of Dermatology, and Dr. Benjamin Chong, Associate Professor of Dermatology. I'm looking forward to being part of a team of physicians, to having some autonomy, and at the same time learning from my supervisors.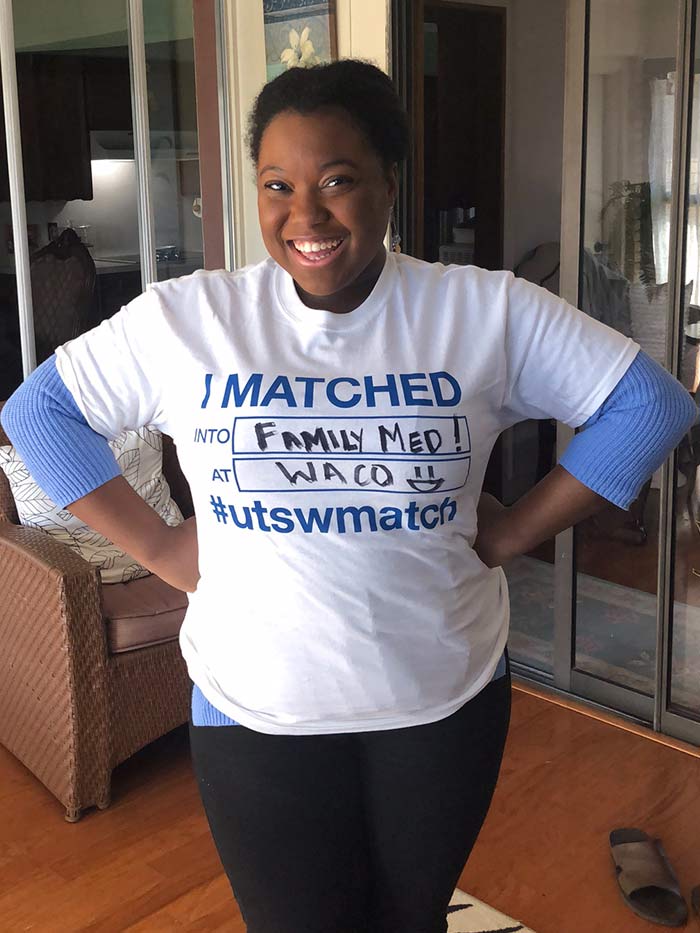 Petra Constable
Hometown: Kingston, Jamaica; moved to Houston at age 12
Specialty: Family medicine
Match: McLennan County Family Medicine
"I am so happy! God has been so gracious, and my family has been so incredibly supportive. I'm ready for you Waco!"
Why did you decide to become a physician?
My grandfather was a general practitioner. I grew up hearing stories from his patients talking about what a great physician he was and how he helped with the typhoid vaccine in Jamaica. I also had wonderful examples of female general practitioners who were a part of my church community and were role models.
Years later, the COVID-19 pandemic has presented new opportunities for learning, and at the same time generated a lot of fear. I'm grateful that UT Southwestern continued to consider our safety. As students, we sometimes wondered, "Will we be sent to the front lines even though we're not finished yet?" In the end, I knew I'd have the tools I needed to succeed, even if my time as a student was cut short. I knew I would help if I were called.
This year, I looked at my goals and spent time reflecting on many things. Wherever I match, I'll be excited to be a part of a community of physicians and to be a physician to my new community. We are all interdependent. I am looking forward to seeing patients and becoming the kind of family doctor that I grew up knowing.
What's a unique experience you've had that's influenced your perspective on medicine?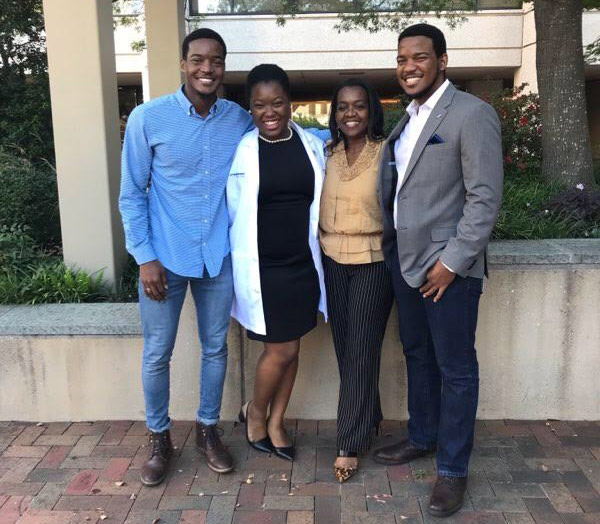 Growing up, I developed a specific vision of the role of a physician. This was partially because I was privileged to have health insurance and access, but more importantly due to the way my physicians cared for their people. A physician is in your community – someone you know and love, who knows you as an individual, as a member of a family and as a patient. Here in the U.S., it can seem disjointed at times. I know now what it is to be uninsured and worry about cost or finding providers with whom you can develop a meaningful relationship. As a future physician, I want to help develop a greater sense of community through my work in family medicine.
Why would you recommend a student come to UT Southwestern?
In Jamaica, I grew up seeing female doctors, Black doctors, and multiracial doctors – in other words, someone who looked like me could be a physician. When I visited UT Southwestern, Dr. Shawna Nesbitt, Associate Dean, Student Diversity and Inclusion, and all her staff immediately made me feel there would always be someone looking out for me with my best interests in mind as an underrepresented minority. I have continued to feel supported, and greatly appreciate the mentorship I have received from Dr. Cindy Bowens, Associate Professor of Pediatrics, and Dr. Dan Sepdham, Associate Professor of Family and Community Medicine.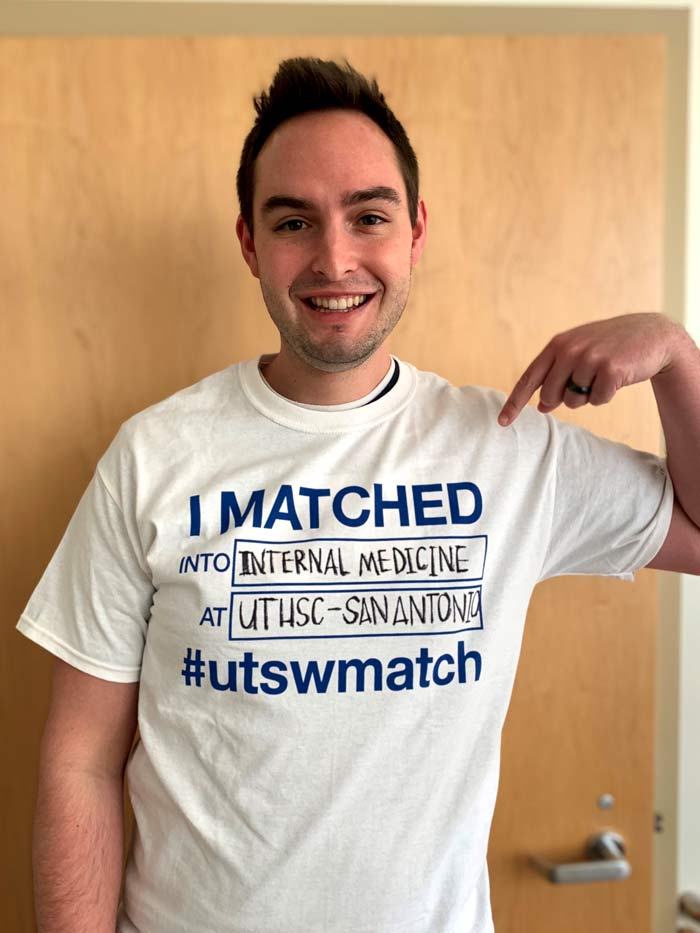 Tyler Huffaker
Hometown: Boise, Idaho
Specialty: Internal medicine
Match: UT Health San Antonio

"I am really excited to have matched into a strong program in San Antonio and be able to explore a new city with my family. It's a whirlwind to experience life-changing events in different ways, with the birth of my twins and Match Day happening so close together, so I am looking forward to my future and all the possibilities that come with growing both my family and career."
Why did you decide to become a physician?
While in college, I completed a mission trip in Nashville, Tennessee, and western Kentucky that first got me thinking about a career in medicine. During this experience, I worked with charities focused on alleviating food insecurity and with family members of terminally and critically ill patients in hospitals. It was rewarding working with people in their time of need, and the experience helped me assess my professional goals. I came to understand a career as a physician would allow me to be of service to diverse groups, and I enjoy that medicine is intellectually challenging. Additionally, by going into internal medicine, I will be able to apply all the different information I learned in medical school and be able to develop long-standing relationships with patients.
What's something you're looking forward to after medical school?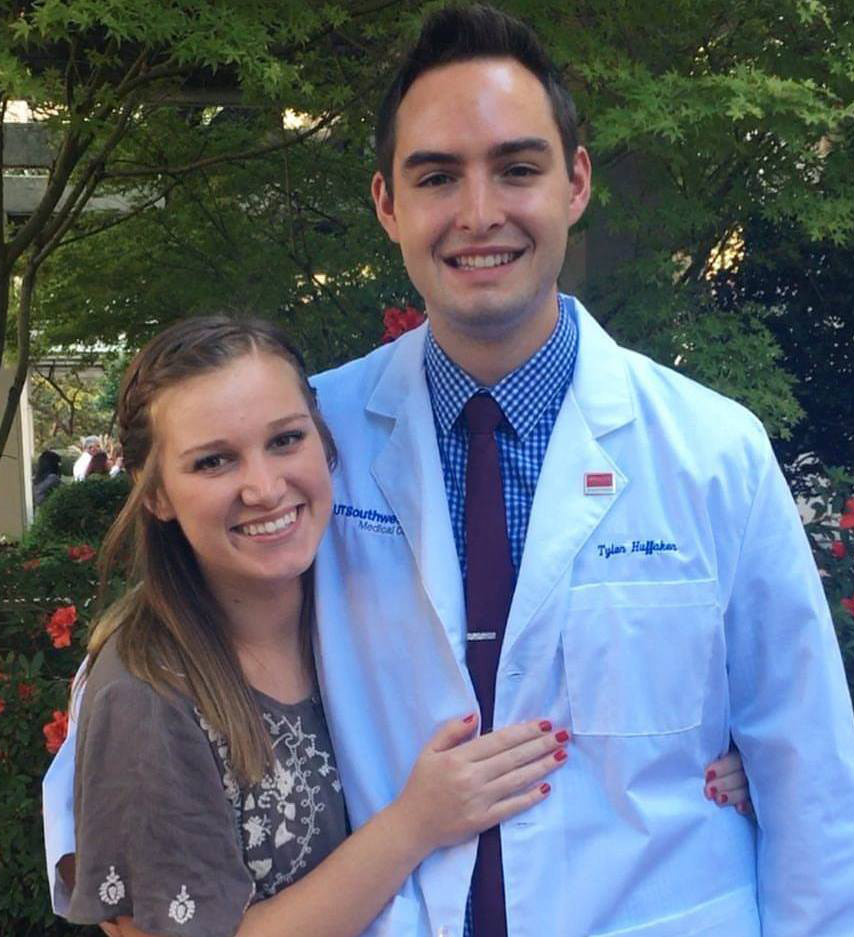 My wife Aleigh and I are expecting twins – a boy and a girl – around Match Day. These are our first children, so it's exciting, nerve-wracking, and everything in between. The timing for us has worked out well because I will have a few months before I start residency to adjust, but I know it will be a huge learning curve of balancing two little ones while being a resident. Aleigh and I got married during our last semester of college, just before the start of medical school, so we're used to taking on big challenges all at once!
Why would you recommend a student come to UT Southwestern?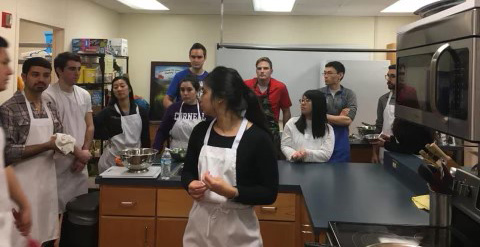 It would be extremely difficult to find somewhere that offers a more comprehensive learning environment and brilliant, compassionate faculty. For example, rounding at Parkland Memorial Hospital and William P. Clements Jr. University Hospital are very different from each other. You are exposed to a broad array of disease presentations, as well as various socioeconomic issues that you have to coordinate that come from working at a county hospital. Those are all very fundamental aspects of training that students should take into account. To be a good physician, you not only need to learn medicine but also consider the social determinants of health that will affect your patients' treatment.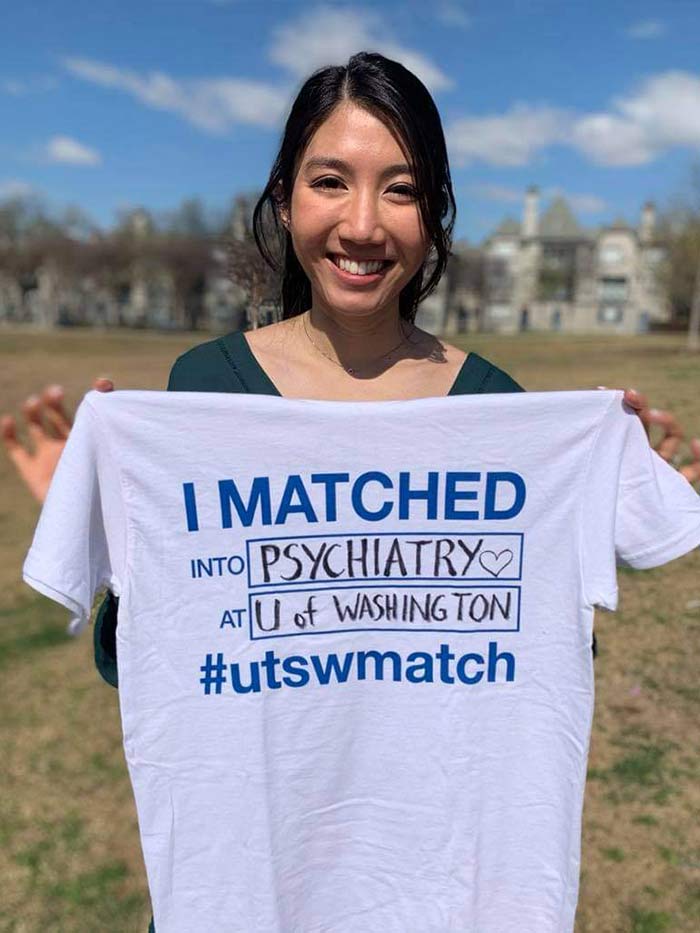 Hai-Uyen Nguyen
Specialty: Psychiatry
Hometown: Austin, Texas
Match: University of Washington Affiliated Hospitals
"I'm ecstatic to continue my training next year at the University of Washington in Seattle. I'm so grateful to all of my mentors who have guided me through this application process, and I'm happy to be at a place where I'll receive great training."
Why did you decide to become a physician?
I became interested in mental health after losing my father to suicide in 2014. My parents were divorced and I'd lost touch with him while I was focused on college. That loss taught me to value important relationships, in addition to prioritizing my own wellness and mental health. My parents came to this country as refugees from Vietnam and went through a great deal of hardship in leaving their home country. I've seen how your culture and upbringing affect how you view mental health and in turn whether you seek help for mental health problems.
As part of my own wellness, I began taking group fitness classes with my mom and noticed the obvious benefits of exercise on both her mental and physical health. I started teaching group fitness myself and decided to become a physician focused on holistic care. I've always loved learning how the mind and body work together.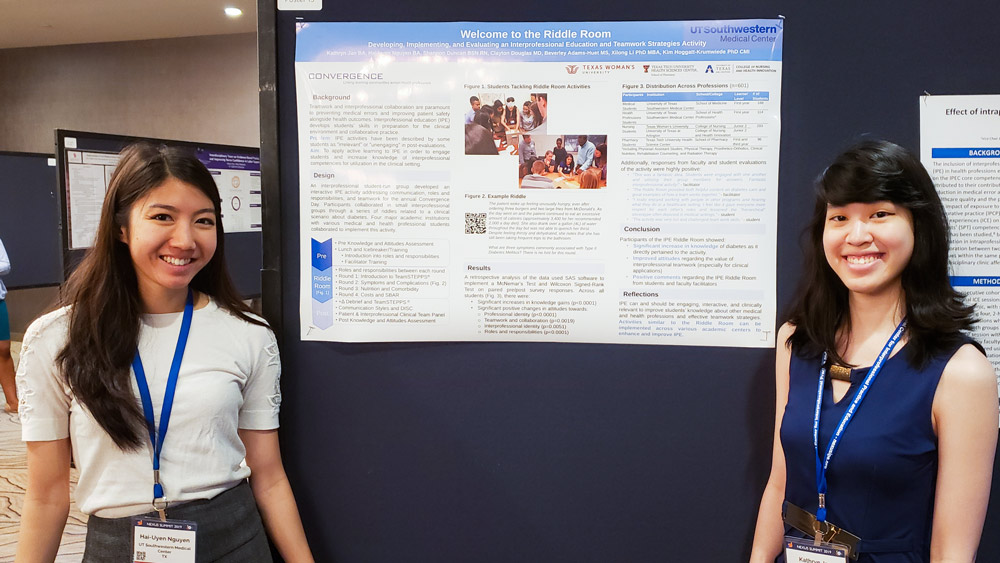 In medical school, I've learned to set boundaries and priorities to prevent myself from pushing around the clock. I'd like to work as a psychiatrist at an academic medical center and advocate for medical student mental health and well-being.
What is a unique experience you had in medical school?
During my second-year clinical rotation, I was shocked by the unexpected loss of a patient.
That experience made me realize that medical students should be able to lead conversations after adverse events such as losing a patient. For many of us, it's our first time dealing with that difficult experience.
I reached out to Dr. Preston Wiles, Professor of Psychiatry, Assistant Dean and Director of Student and Resident Mental Health and Wellness. We created a one-hour training for students to learn to facilitate these conversations with their peers. It's now included in the second-year curriculum at UTSW.
Why would you recommend a student come to UT Southwestern?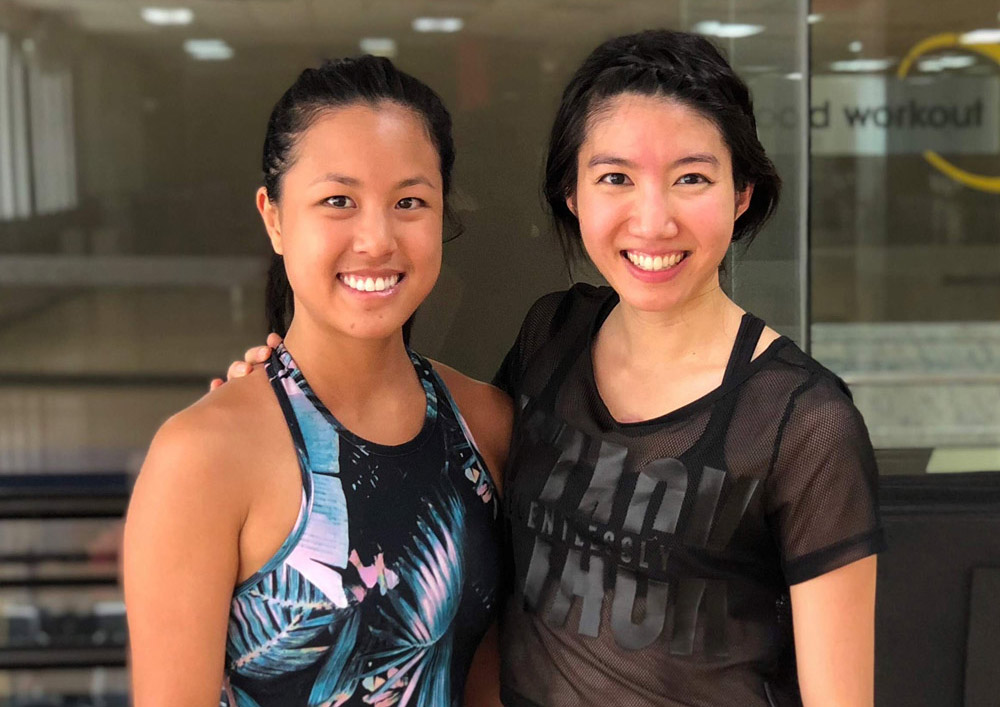 No matter what you're interested in, the faculty at UTSW will connect you with someone who can help you. I enjoyed working closely with the Student Wellness and Counseling Center, Medical Director Dr. Preston Wiles, and Wellness Coordinator Sarah McNease. With their help, I co-founded the first student-run organization for mental health and wellness that aims to decrease the stigma toward mental health and increase help-seeking behaviors among medical students.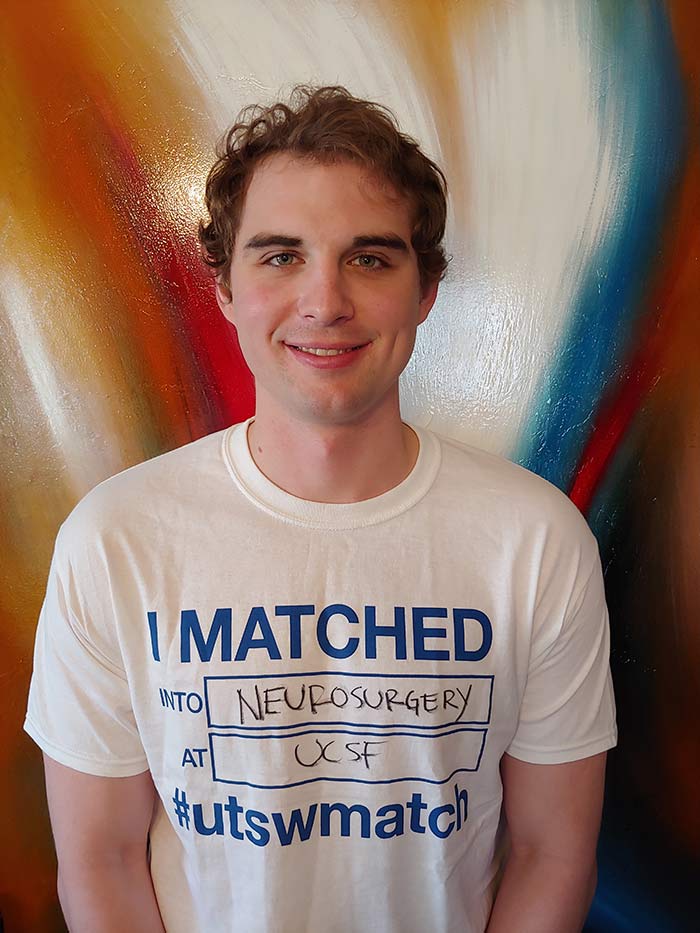 Gray Umbach
Hometown: Houston, Texas
Specialty: Neurosurgery
Match: UC San Francisco
"I am looking forward to making UT Southwestern proud as I head back to California. [Gray attended college in California at Stanford.] I felt a mix of excitement and relief – moreso relief is the dominant feeling, to be honest – because it is a long and trying road. I am just excited to know where I will be training and want to walk in Day One and focus on being the best resident I can be going forward."
Why did you decide to become a physician?
I was a chemical engineering major, and midway through college I took a survey course to learn what fields I could apply that to. One of the talks given was given by an M.D./Ph.D. student. With that presentation, I realized that I longed for a human connection in my work that medicine would satisfy.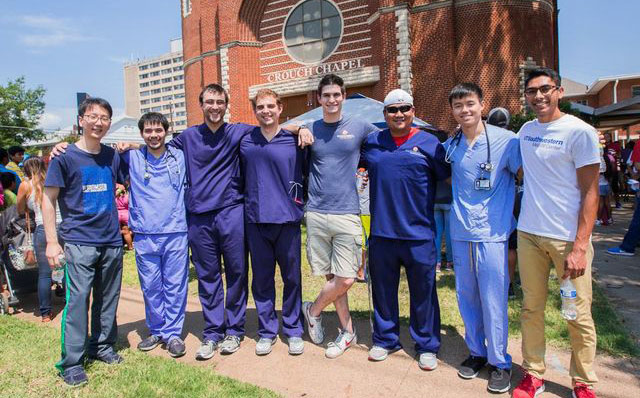 During my first year of medical school, I attended a talk by a neurosurgeon that was very compelling. I was impressed with the field's access to arguably the most sensitive organ and found the human brain an amazing creation. From there I started researching cognitive neurophysiology with epilepsy neurosurgeon Dr. Bradley Lega, Associate Professor of Neurological Surgery, Neurology, and Psychiatry, focusing on the single neuron correlates of successful memory formation, and I fell in love with that. I was also humbled to work with neurosurgery patients who are among the sickest in the hospital but are often able to remain optimistic, joyful, and grateful. That's motivating to me because through both clinical care and research I want to help improve the status quo. I don't want these patients to have the same dismal outcomes 50 years from now.
What's a challenge you had to overcome during medical school?
I was fortunate to be able to experience close relationships with all of my grandparents. Unfortunately, during my clerkship year as an MS3 I lost my maternal grandfather and paternal grandmother within a couple of months of each other. To go through that during what is probably the most stressful year as a medical student was challenging. I will say that one reason I am most grateful to have trained here is because of how receptive the deans and faculty were about my situation and allowing me time to be with my family. The hardest part of med school is learning how to balance personal challenges with the professional obligation to be the best for patients who are often very sick. In part, that experience makes me think about broadening the scope of care as a doctor to also think about how I interact with patients' families.
Why would you recommend a student come to UT Southwestern?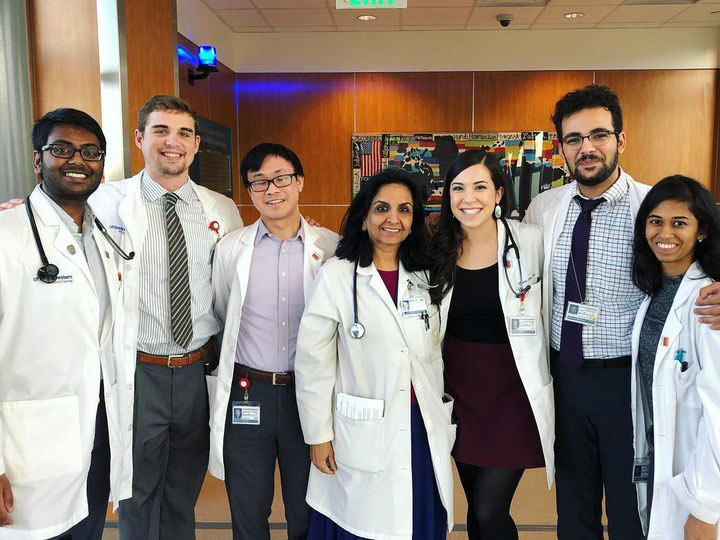 I came to UT Southwestern because I was looking for a medical school that had a very strong clinical presence. I don't think I realized how much I would appreciate that when I was applying. But now, in retrospect, I had an incredible opportunity through exposure to diverse patient populations, from training at Children's Medical Center, one of the larger VA hospitals in the country, Clements University Hospital, and Parkland Memorial Hospital. These all help you understand different health care models. Secondarily, research is a passion of mine, so UT Southwestern's strong tradition of Nobel Laureates was attractive to me as well. I am a very strong advocate for the education I've gotten here.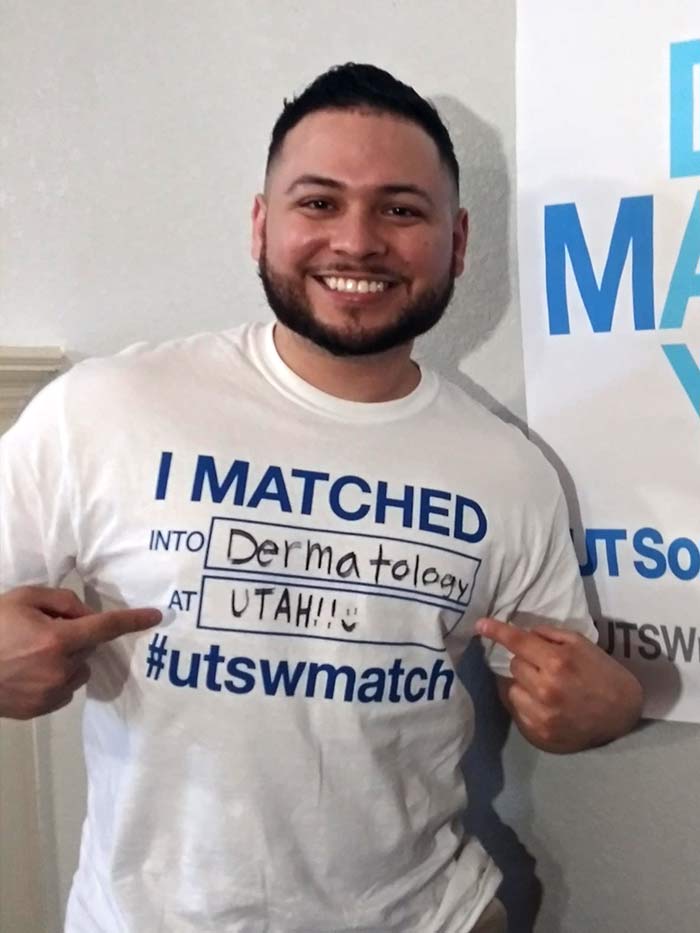 Lucio Zapata Jr.
Hometown: Dallas, Texas
Specialty: Dermatology
Match: University of Utah Health (Preliminary-Internal Medicine, Amita St. Joseph Hospital, Ill.)
"I was excited to see I matched at Utah because I feel like they expressed that they wanted me to be part of their team. My sister, who is in high school and is an aspiring physician, read my results to me. So it was great to get the news from her and I am hoping this motivates her. I'm thankful to my mom, dad, siblings, and mentors. I could not have done this journey without them."
Why did you decide to become a physician?
I hope to match with an internal medicine-dermatology program that will allow me to be board-certified in both specialties, but if not I will focus on dermatology. (There are only eight combined programs in the country.) In medical school, I've enjoyed working with internists to heal patients' conditions as a whole, and with dermatology I get to help patients with conditions such as vitiligo that have significant psychological impacts on patients. So it would be rewarding to offer these patients relief from a wide range of diseases.
I wasn't academically disciplined in high school enough to think about what I wanted to do as a career, but that changed when I took a class focused on critical thinking in college. In the course, we analyzed the song Love the Way You Lie by Eminem featuring Rihanna. I took so much knowledge away from that project and I started to become more passionate about school. As I began thinking about what I wanted to do professionally, I knew I loved science. I had been working as a Spanish language interpreter and recognized that someone like me was needed in medicine.
Now nearing graduation, it feels great because of the context behind the accomplishment. My parents came to the U.S. from Mexico as teens, unable to speak English, so to get here from where they started really feels amazing. And I thank my parents for that, for sure.
What's a unique experience you've had that influences your perspective on medicine?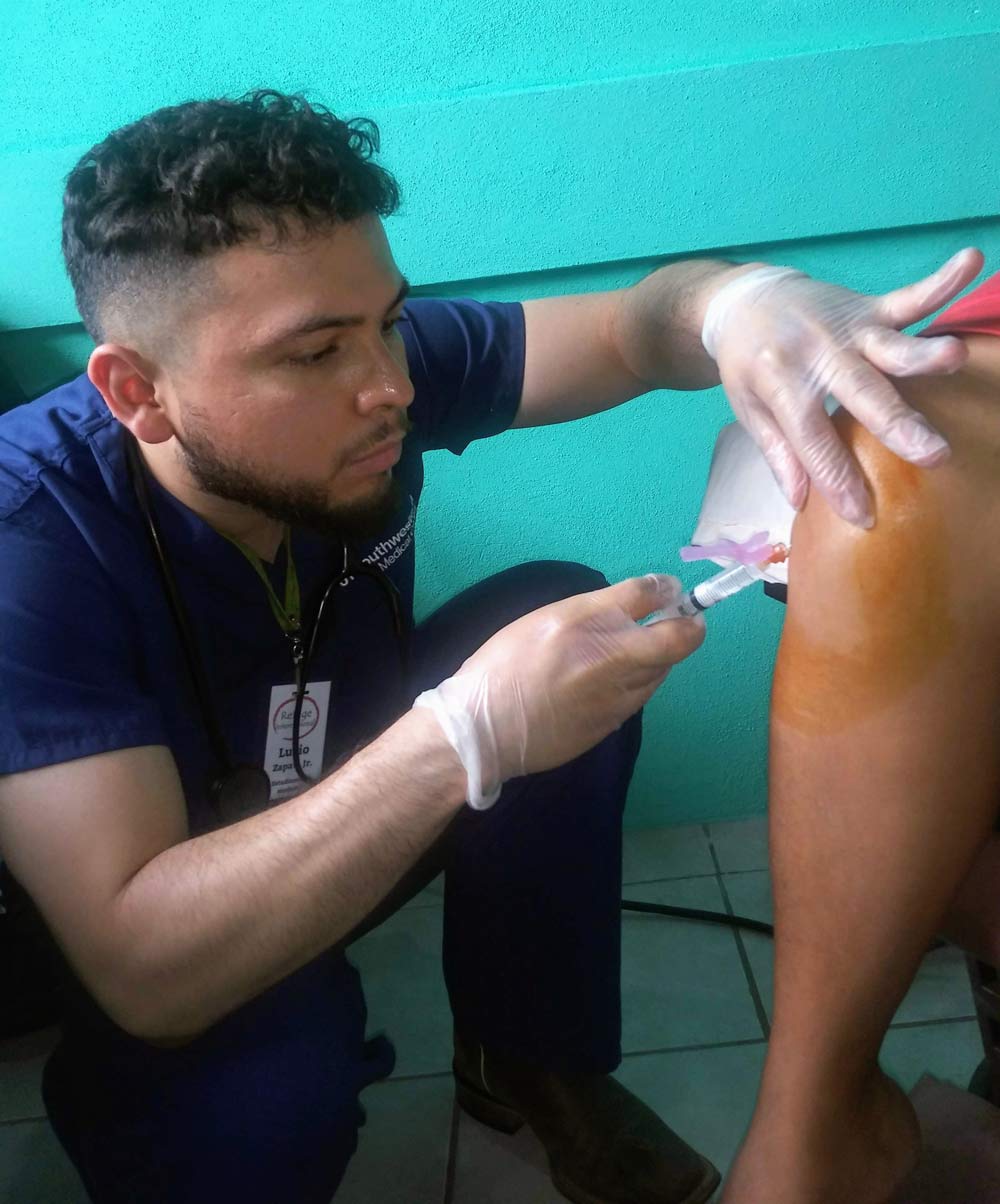 Through my mentor, former faculty member Dr. Amit Pandya, I was encouraged to attend vitiligo support group meetings and work with the Agape Clinic, which serves underserved populations in Dallas. I also thank Dr. Pandya for giving me research opportunities and helping me organize a walk-a-thon to raise money for vitiligo.
The pandemic also touched me personally in that both my mother and grandmother were hospitalized with COVID-19. Three other members of my family had milder cases. Fortunately, everyone is recovering. But I learned a lesson from my mom about the importance of being a compassionate doctor because reflecting on her hospital experience, she told me to be good to my patients. I thought about that recently while tending to a patient, and I think that will stick with me throughout my career.
Why would you recommend a student come to UT Southwestern?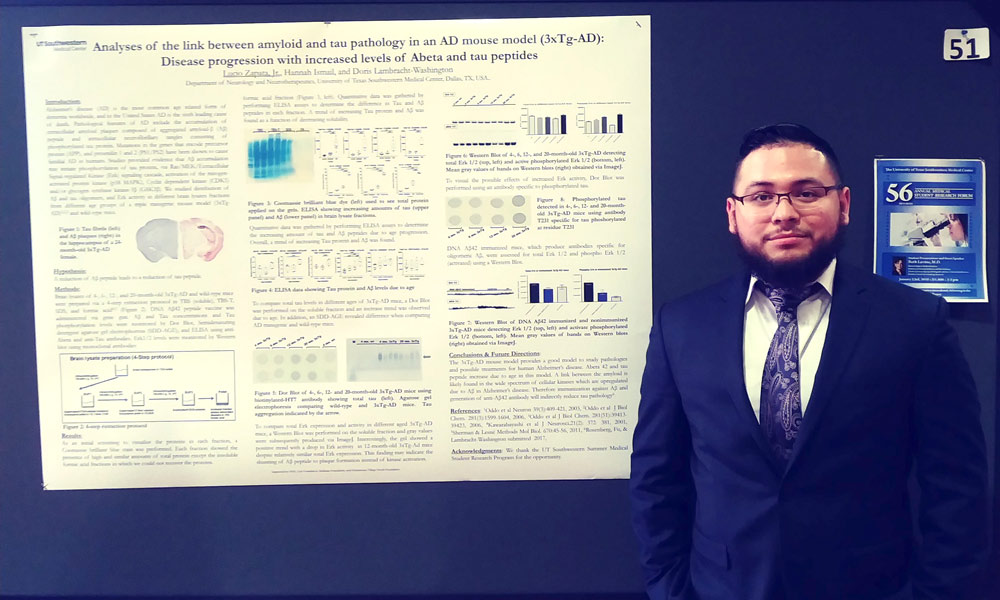 I came to UT Southwestern because of the endless opportunities and resources. The ability to train at a county hospital, Children's Medical Center Dallas, Dallas Veterans Affairs Medical Center, and Clements University Hospital are all critical experiences to work with diverse patient groups. In terms of education, you can earn an MBA, Ph.D., or M.P.H. along with your M.D., and there are various opportunities to do research and serve in free clinics to support your future career. Also, I think diversity and inclusion is a great focus here thanks to the efforts of the Office of Student Diversity and Inclusion. I am very thankful for the support of Dr. Shawna Nesbitt and her team.