Virtual Match Day highlights resilience of Medical School Class of 2021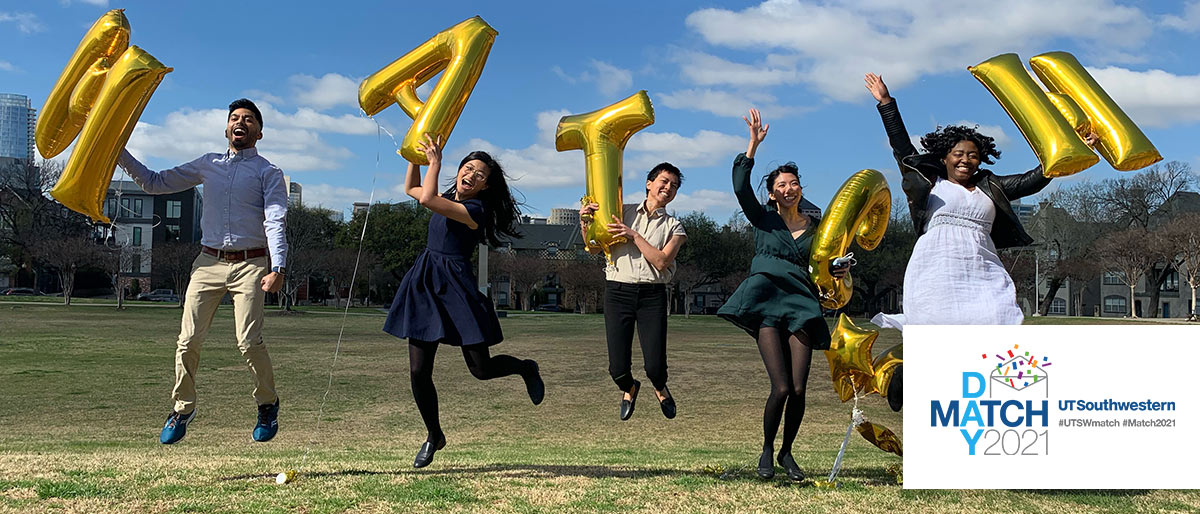 Months of anticipation turned to instant excitement for 207 fourth-year medical students on Friday, March 19, as they joined together via computer on Match Day to learn where they will train as residents.
For a second consecutive year, Match Day for UT Southwestern medical students and many others nationwide became a virtual event due to the coronavirus pandemic. Instead of gathering together in person to open their envelopes in the Bryan Williams, M.D. Student Center, UT Southwestern academic leaders organized a virtual meeting where students could join Dr. Daniel K. Podolsky, President; Dr. W. P. Andrew Lee, Executive Vice President for Academic Affairs, Provost, and Dean of the Medical School; and Dr. Charles Ginsburg, Vice Provost and Senior Associate Dean for Education, along with many other faculty, to celebrate the milestone as students neared graduation. Many joined to watch the countdown clock and hear the drumroll – both UT Southwestern traditions – before opening their long-awaited email notifications.
"The Medical School Class of 2021 marks a group of medical professionals who straddle two very different time periods in medicine – before COVID-19 and after COVID-19," said Dr. Melanie S. Sulistio, Associate Dean for Student Affairs. "Not surprisingly, because of their unique experiences and perspective, these students are incredibly resilient, graceful under pressure, and have risen far beyond the call to serve others."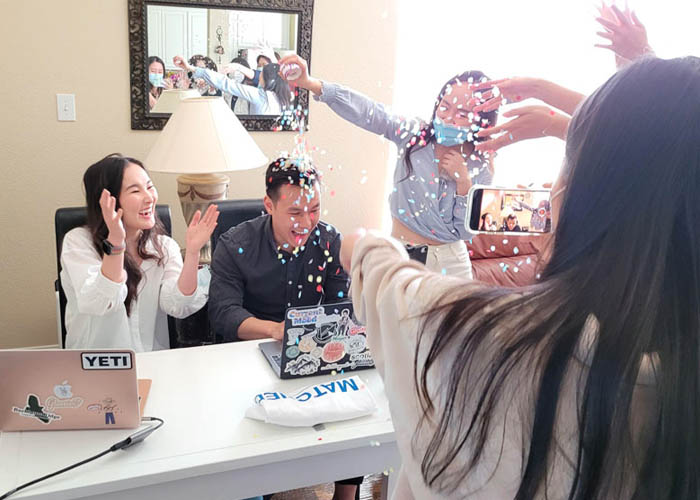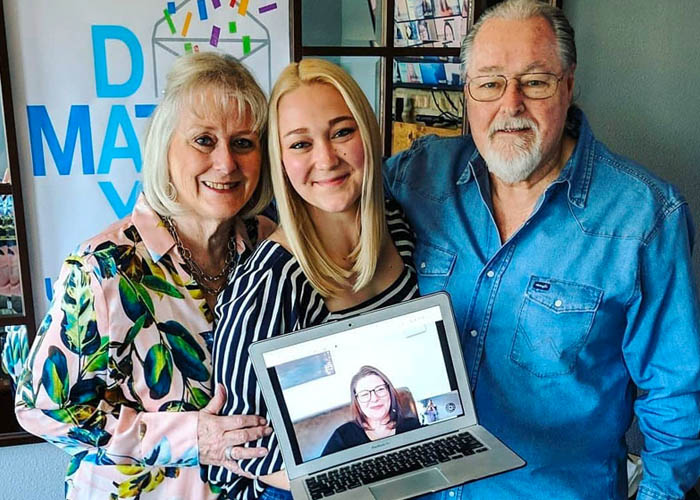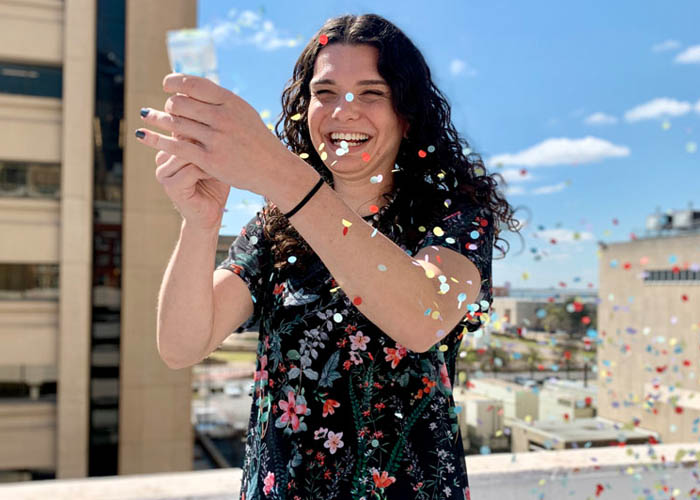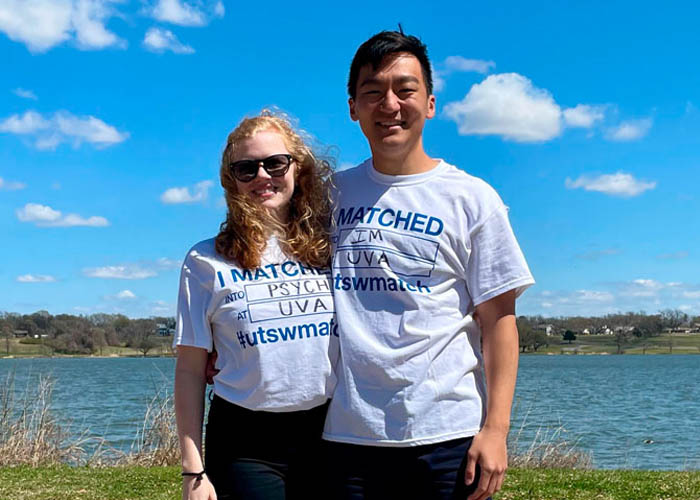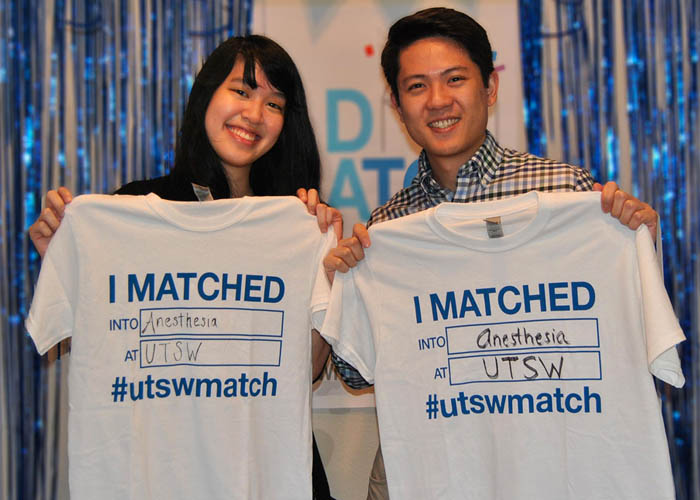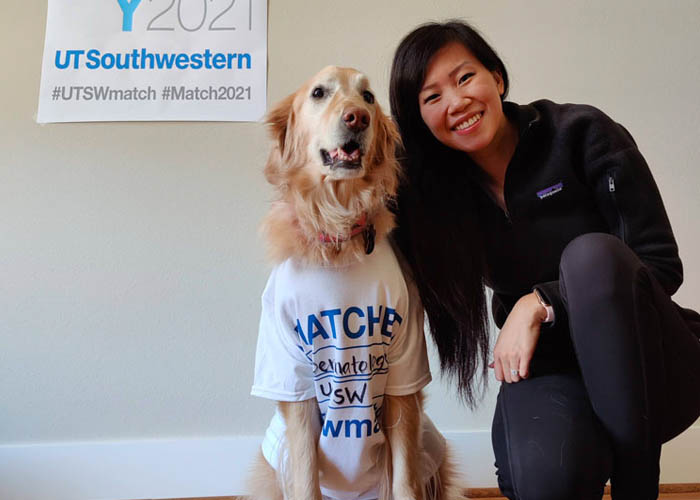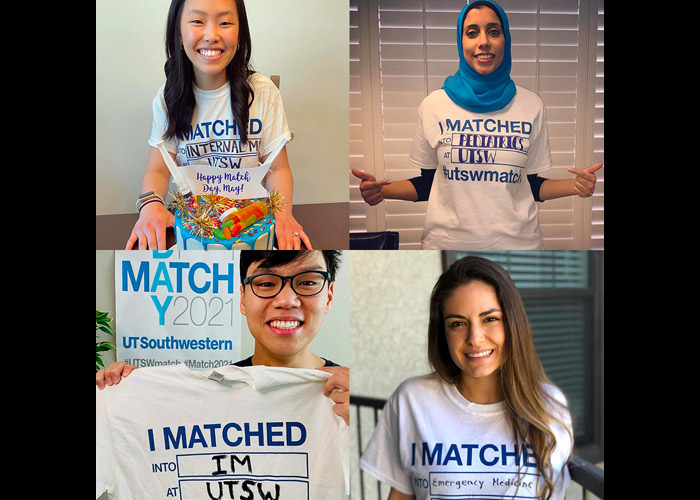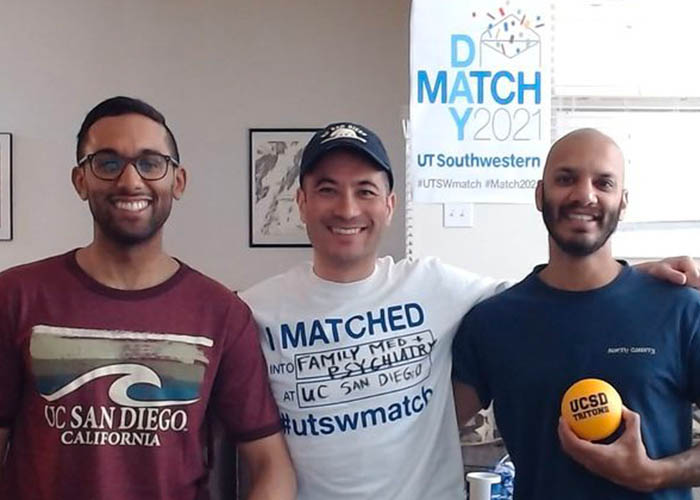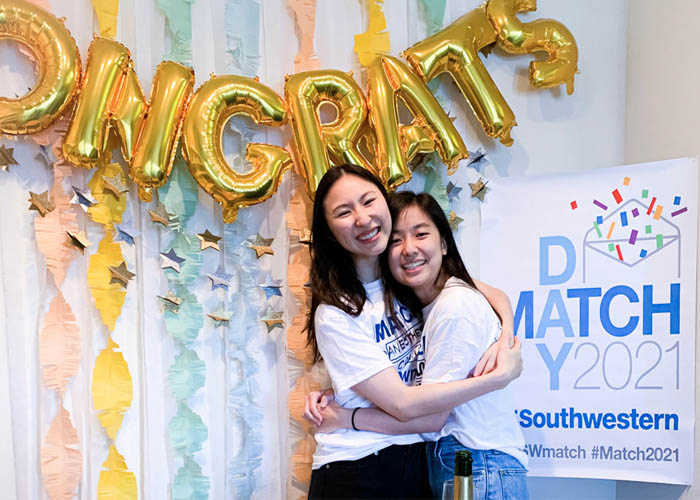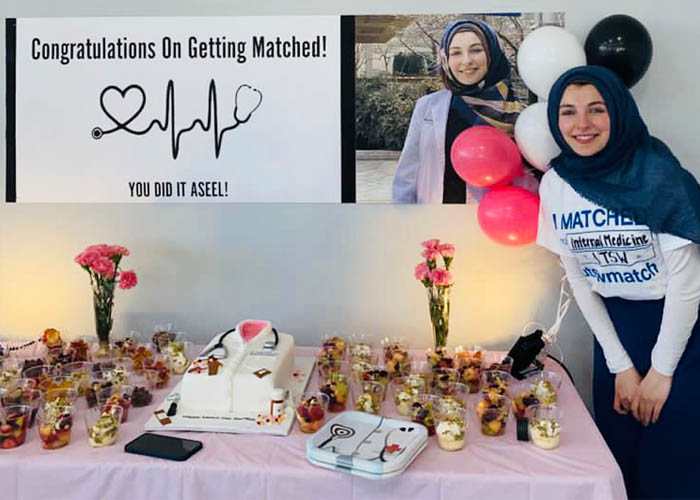 This year's seniors, as well as their faculty instructors, had to pivot at a key clinical phase of their medical education before continuing to operate in a new landscape throughout their final year, said Dr. Angela Mihalic, Dean of Medical Students and Associate Dean for Student Affairs.
"These students were in the midst of their core clerkship rotations when the pandemic hit," Dr. Mihalic noted. "As we transitioned from virtual course offerings back into clerkships during the summer, their courage and determination to return to the hospitals and clinics to serve in a much-needed time and obtain the skills required to progress in their ability to care for patients was impressive."
The MS4s and their faculty mentors then had to adjust to a completely new set of rules, timelines, and processes during the residency application season, she added. Over the past year, visiting rotations at other hospitals were canceled, interviews transitioned to a virtual format, and application and selection dates were delayed.
"This is a historic year that will likely not be repeated. The faculty who serve as specialty advisers for the departments sprang into action to ensure that every student had the rotations, letters of recommendation, and guidance and practice with virtual interviews to succeed in the match," Dr. Mihalic said. "It was a pleasure working with the Class through the various challenges that we have faced together over the past year. I anticipate that the grit and determination they have demonstrated will benefit them in their residency training and future careers in medicine – and ultimately countless patients."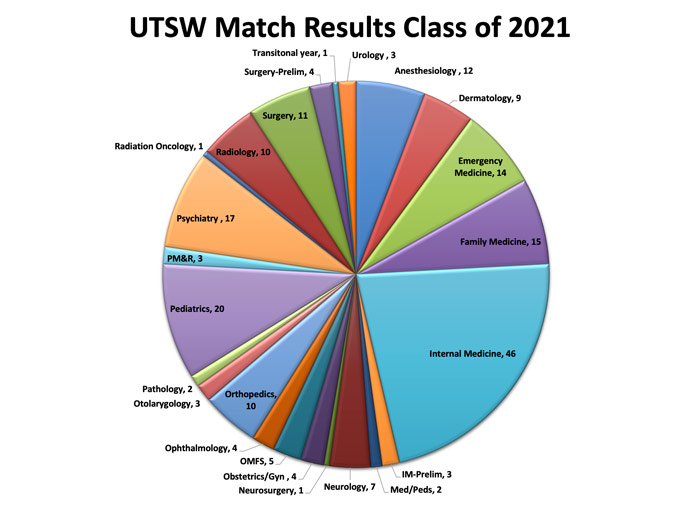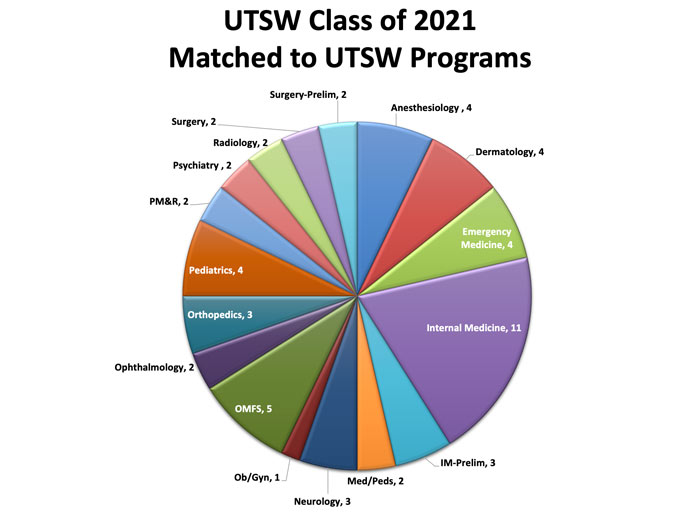 Each year, fourth-year medical students across the U.S. complete applications and deep-dive interviews for residency programs in the medical specialties of their choosing. The National Resident Matching Program (NRMP) then uses an algorithm to determine the highest match based off rankings given by both students and programs. In 2020, the Main Residency Match was the largest in history, serving 42,508 student applicants who were going for 37,893 available positions across the country, according to the NRMP.
"I could not be prouder of the Class of 2021. They have faced the circumstances of the past year with esprit de corps, determination, and grace," said Dr. Blake Barker, Associate Dean for Student Affairs. "They have taken advantage of every opportunity to develop their craft and respond to the needs of patients and our community. They are true leaders in the making, and I am genuinely honored to call them colleagues."
While Match Day 2021 at UT Southwestern and around the nation appeared much different than in recent years, it still reflected both the spirit of the Medical School community and medicine itself by honoring hard work and achievement while bringing individuals together in a unique way that reflected the selflessness of medical professionals in this era of COVID-19. Of the 207 students who matched, 56 will serve their residencies at UT Southwestern and another 50 will train at other Texas medical institutions.
For 2021, the top five residency specialties selected by UTSW graduates were:
Internal Medicine
Pediatrics
Psychiatry
Family Medicine
Emergency Medicine
Medical school presents a four-year challenge, but those who cross the finish line and find their perfect match understand that the struggle is worthwhile. Several medical students from the Class of 2021 reflected on their unprecedented time at UT Southwestern, described what a residency match means to them, and shared their immediate reactions upon learning where they are headed next for their medical training.