Celebrating 50 years of scientific adventure:
Nobel Laureates Michael S. Brown, M.D., and Joseph L. Goldstein, M.D.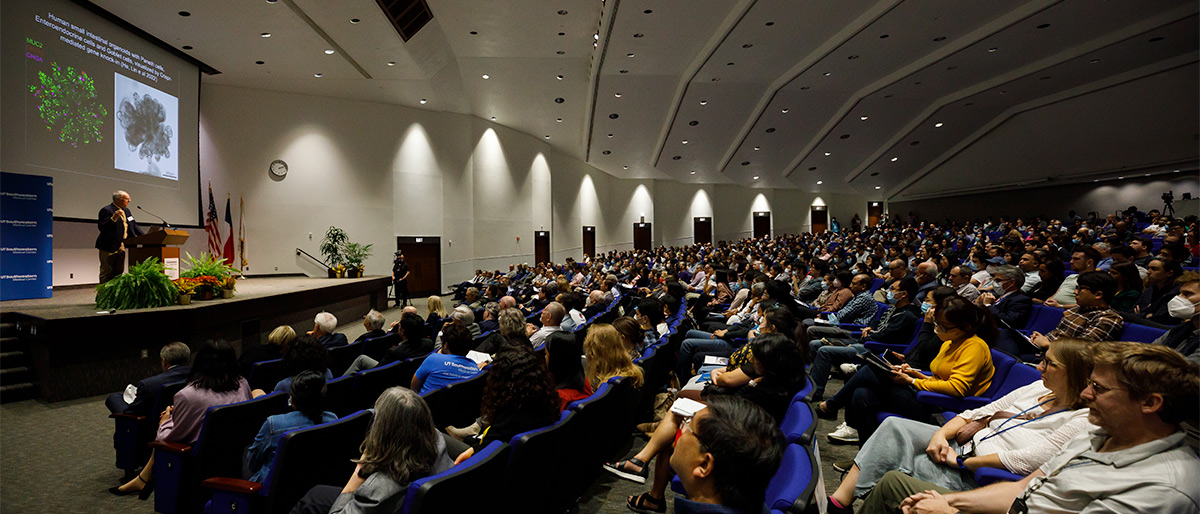 On a sunny October day, hundreds of UT Southwestern faculty, students, and staff went stargazing. They packed the Tom and Lula Gooch Auditorium for a symposium with some of the world's top scientific luminaries to help celebrate the 50-year research partnership of faculty members Michael S. Brown, M.D., and Joseph L. Goldstein, M.D.
The illustrious pair, who began running a lab together in 1972, won the 1985 Nobel Prize in Physiology or Medicine for discovering the LDL receptor and its role in cholesterol metabolism.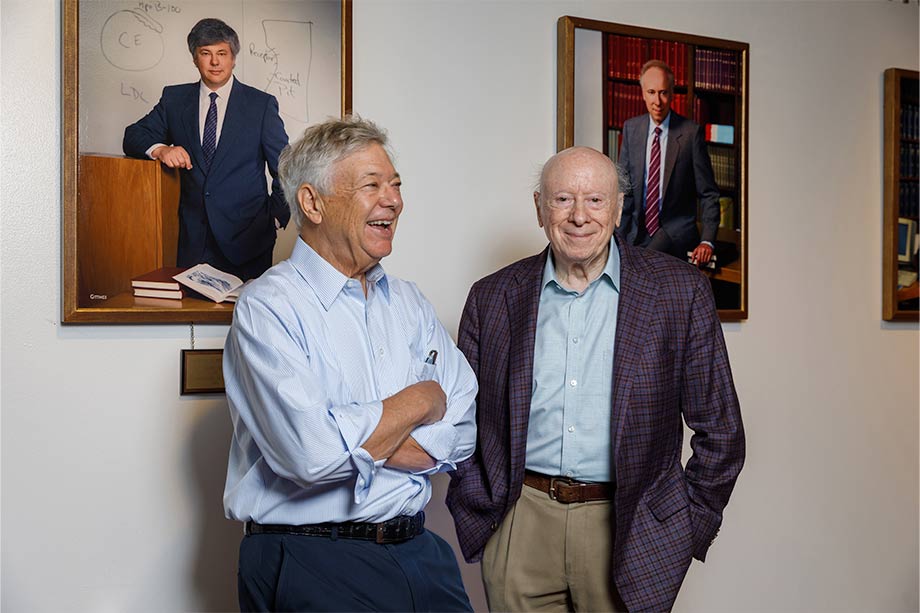 Dr. Brown is Director of the Erik Jonsson Center for Research in Molecular Genetics and Human Disease while Dr. Goldstein is Chair of Molecular Genetics. Both are Professors of Molecular Genetics and Internal Medicine.
On campus, their legacy includes mentoring 175 students and postdoctoral fellows, discovering at least three major signaling pathways, and building a uniquely supportive campus culture while pursuing multiple lines of research. As of Oct. 3, the Brown-Goldstein lab has opened new scientific avenues in nine areas of metabolism, resulting in 524 articles and 197,367 citations.
In welcoming attendees to the daylong Oct. 14 symposium, UTSW President Daniel K. Podolsky, M.D., noted that when the Nobel Laureates returned from being feted at the Nobel ceremony, they got right back to work, showing their commitment to the value of discovery to benefit patients around the world. He stressed that their achievements have surpassed those of their research discoveries.
"Beyond their scientific contributions and their worldwide impact, they helped to create the unique research culture of UT Southwestern characterized by a spirit of true collaborative collegiality, and commitment to excellence that pervades pursuit of our institutional mission in all of its aspects," Dr. Podolsky said.
Helen H. Hobbs, M.D., and Eric Olson, Ph.D., who chaired the symposium, introduced the distinguished scientists invited to speak. That group included two Nobel Laureates, two Shaw Prize recipients, a Lasker Award winner, and nine Howard Hughes Medical Institute (HHMI) Investigators, including the HHMI's Vice President and Chief Scientific Officer. All speakers are members of the National Academy of Sciences; four are members of the National Academy of Medicine.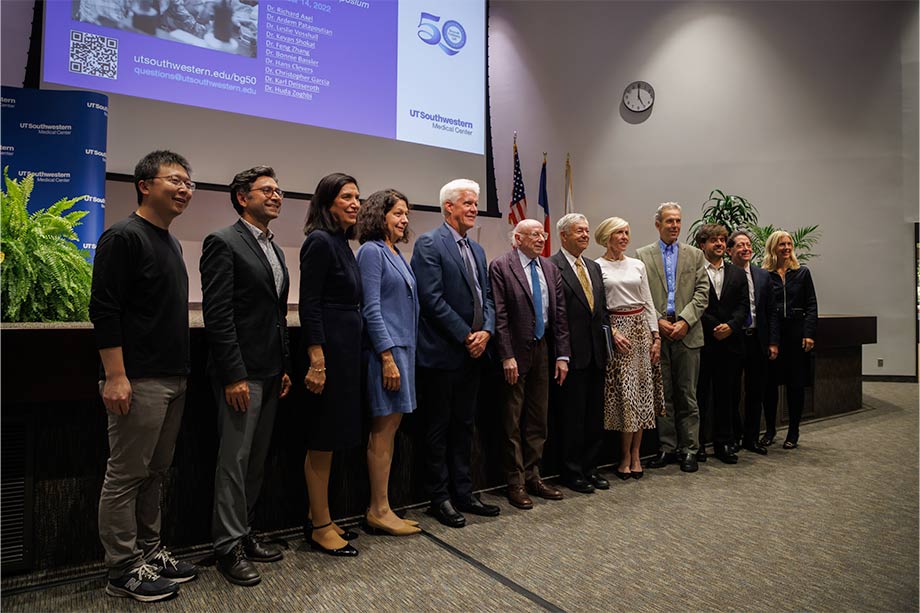 "We have assembled an amazing lineup of 10 of the best scientists in the world to discuss a broad range of topics ranging from the mysteries of human consciousness and perception to cutting-edge technologies," said Dr. Hobbs, who was a fellow in the Brown-Goldstein lab when the researchers were awarded the Nobel. That work provided the scientific basis for the statin class of cholesterol-lowering drugs used by millions of people around the world to reduce the risk of heart attack and stroke.
Dr. Hobbs is a Professor of Internal Medicine and Molecular Genetics at UTSW and an HHMI Investigator who runs a lab with Jonathan Cohen, Ph.D., a Professor of Internal Medicine, in the Center for Human Nutrition, and in the Eugene McDermott Center for Human Growth and Development. Dr. Hobbs won the 2015 Breakthrough Prize in Life Sciences for genetics research techniques she developed and used to identify key genes involved in lipid metabolism. Those insights grew out of the Dallas Heart Study, which she established and is now in its third decade. Most recently, the Hobbs-Cohen lab has identified the first genetic cause of nonalcoholic fatty liver disease in humans.
Inspiring leadership
Throughout the day, Dr. Hobbs provided biographical notes on the honored scientists, such as showing a photo of Dr. Goldstein as a child in South Carolina and sharing the fact that both he and Dr. Brown were editors of their high school and college newspapers, respectively.
"Drs. Brown and Goldstein have led by example. They have fearlessly tackled central problems in medicine with unwavering rigor. Either of them individually is formidable, but the two together are greater than the sum of the parts," said Dr. Olson, founding Chair of the Department of Molecular Biology and Director of both the Hamon Center for Regenerative Science and Medicine and the Sen. Paul D. Wellstone Muscular Dystrophy Cooperative Research Center.
"Especially inspiring is the fact that they could have gone anywhere in the world – but they planted their flag here and maintained their loyalty to UTSW over five decades. They are defined by leadership, intellect, and commitment to excellence. Their values permeate the institution and are a magnet for recruiting other top-notch scientists who strive for the same ideals," he added.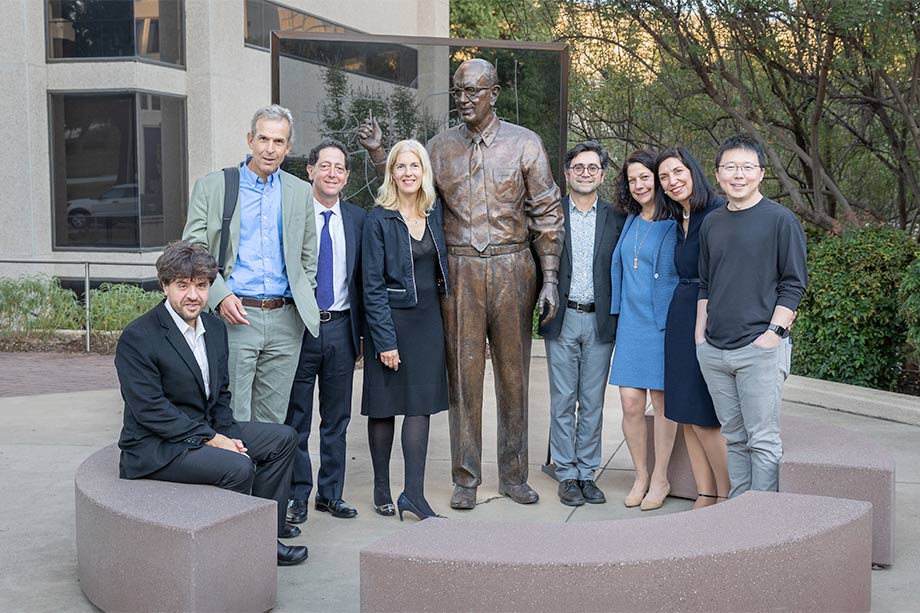 Dr. Hobbs was chief resident at UTSW and heading for a career in patient care when the late Donald Seldin, M.D., Chair of Internal Medicine at the time, suggested she try research. He recommended she learn from the best: Drs. Brown and Goldstein. Dr. Olson's connection to the duo is similarly unique.
"Mike and Joe changed my life and the life of my family when they recruited me to UTSW 27 years ago when I had already accepted a position at another institution," Dr. Olson said. Perhaps Dr. Olson heard an early version of the recruiting pitch for which Drs. Goldstein and Brown have become famous across campus: With Dallas lacking both mountains and beaches, scientists could avoid distractions at UT Southwestern and use the nearby international airport to get away when needed. Plus, UTSW would give them the freedom to follow the science.
"Coming to UTSW was the best decision of my career. I have watched them closely over all these years and have learned from their example," said Dr. Olson.
After identifying many genes involved in muscle development and disease, Dr. Olson's lab recently uncovered a strategy for correcting Duchenne muscular dystrophy using CRISPR gene-editing technology.
Words from Dr. Brown
Finally, at the pinnacle of the day filled with inspiring research presentations, Drs. Brown and Goldstein took to the stage – separately – for closing remarks that showed how a researcher who sits down behind a microscope and zooms out to grasp the big picture could work elbow-to-elbow for 50 years with a partner who always zooms in to see the details.
After joking that he was lucky early in his career to discover the only two people who could tolerate him – his wife of 58 years, Alice, and Dr. Goldstein – Dr. Brown spoke to the majority in the audience who lack a long-standing scientific partner.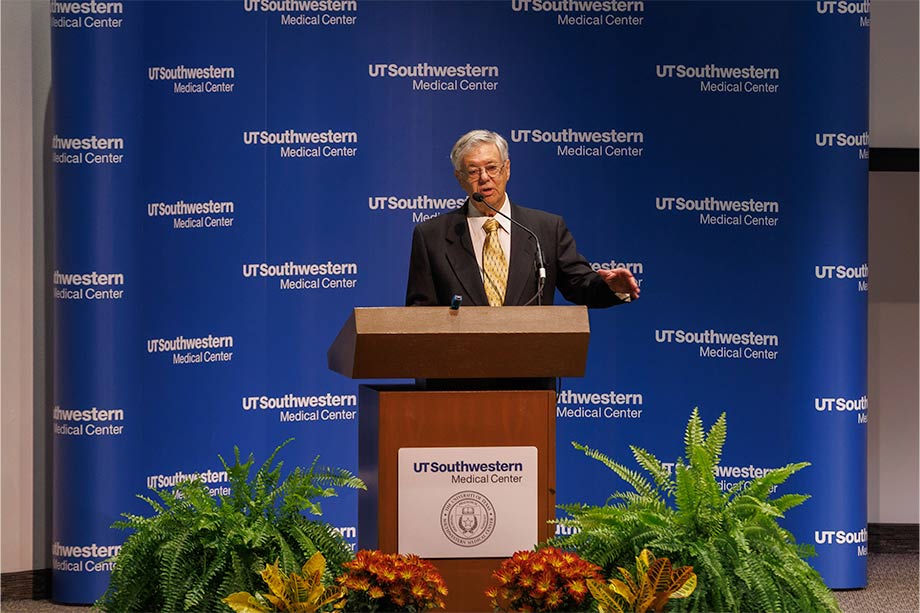 "I just feel sorry for all of you because you've never known what it's like to share an adventure," he said. "When you answer a question or you open up a new door into a new area of science, having somebody right there to share that experience – the thrill of it – and then immediately have this intense discussion about what the next steps are going to be is amazing. I can't imagine doing science any other way. So, to the young people here, think about it."
Dr. Brown added that both he and Dr. Goldstein fell under the spell of Dr. Seldin's vision of medicine and science as a unified endeavor, a view common as Southwestern Medical College evolved into The University of Texas Southwestern Health Science Center at Dallas in 1972, and eventually to UT Southwestern Medical Center.
"The amazing thing is that our institution recognized our partnership so that at every level, we were promoted at the same time," Dr. Brown said.
He added that the pair experienced continuous support under the leadership of Dr. Seldin; C. Kern Wildenthal, M.D., Ph.D., President Emeritus and Professor Emeritus, who served more than two decades as UT Southwestern's second President; and now from UTSW's current President, Dr. Podolsky.
"An example of that is this joint celebration. I doubt that any other school in the whole world has ever had a 50-year celebration for a partnership," Dr. Brown said to great applause.
Dr. Goldstein shares insights
Taking the stage next, Dr. Goldstein made one joke about Dr. Brown's enjoyment of storytelling before zeroing in on the details of a particular night early in their time as housestaff at Massachusetts General Hospital, where they met in 1966. The anecdote demonstrates both their fascination with the molecular causes of a disease and their persistence when a scientific problem presents itself.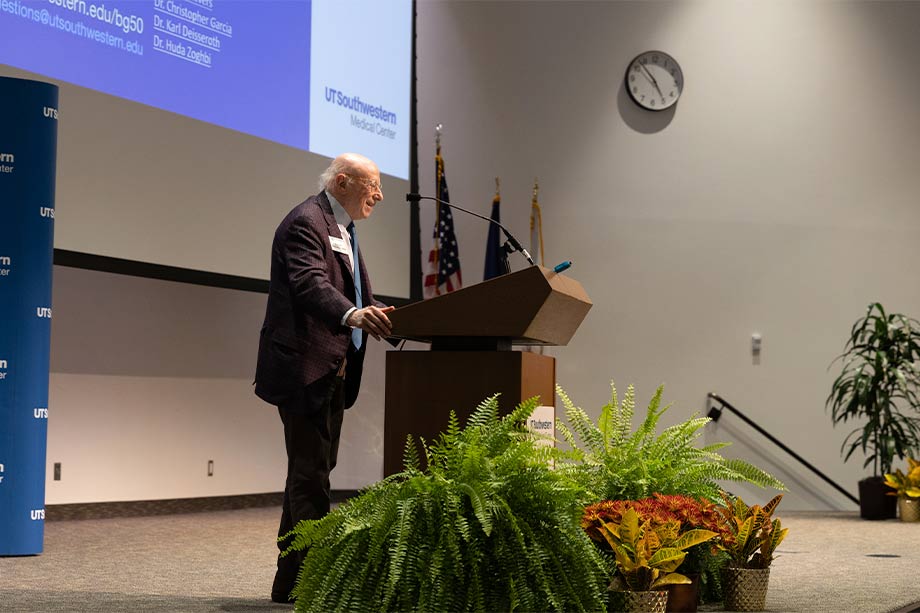 Their daily routine involved providing diagnosis and treatment. Once their patients were asleep, they'd meet for midnight breakfasts in the hospital cafeteria. There, they talked about possible causes of the ailments their patients had been battling. On one particular day, they couldn't let go of a challenging case from the emergency room: a woman with a severe bacterial infection and an unusual chronic condition marked by extreme thinness, diabetes, and an enlarged fatty liver.
"This patient came in with acute meningococcal meningitis, and it turned out she had lipodystrophy. That's a very rare disease in which you have no fat tissue in the periphery of the body, but you have fat in the liver," Dr. Goldstein said. "We talked about what in the world could cause something like that. And that was probably the beginning of the first of now many hundreds of discussions we had about 'sick' molecules that cause sick patients.
"And, you all will find it hard to believe, but 33 years later we serendipitously produced a mouse with lipodystrophy, which was the first example of a model for this human disease."
He added that Jeffrey M. Friedman, M.D., Ph.D., at The Rockefeller University in New York, had recently (1994) identified leptin as a hormone made by fat tissue that acts on neurons in the brain to regulate appetite and weight.
"We found that we could cure the mouse's metabolic derangement with leptin. The fatty liver disappeared and the diabetes disappeared," Dr. Goldstein said. A leptin drug is now used to treat the fatty liver and diabetes seen in lipodystrophy patients.
The day was filled with tales of relationships – among speakers who had trained in other presenters' labs and involving those helped by advice they received early in their careers from Drs. Brown and Goldstein. There were also stories of unexpected connections observed in scientific findings that led to astounding breakthroughs, many of which grew from special mentor-trainee bonds in the labs of the renowned scientists describing their research journeys at the symposium.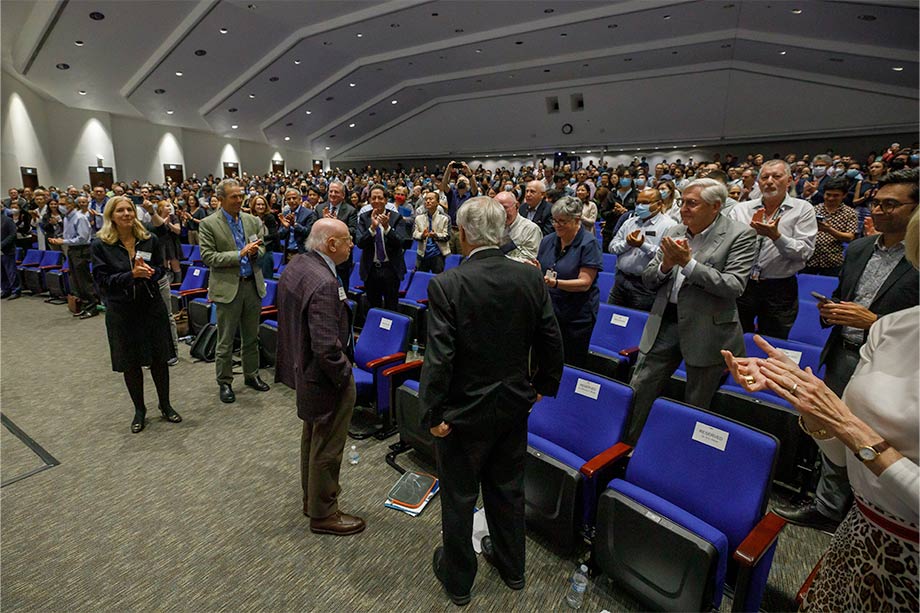 "Brown and Goldstein are the pillars upon which UT Southwestern was built," Dr. Olson said. "Beyond UTSW, they have been role models for scientists, and their foundational discoveries of the molecular basis of cholesterol metabolism have changed the world."
As Dr. Goldstein left the stage, the event ended with a standing ovation.
Celebrating 50 Years: Brown & Goldstein gallery