Brown and Goldstein – good chemistry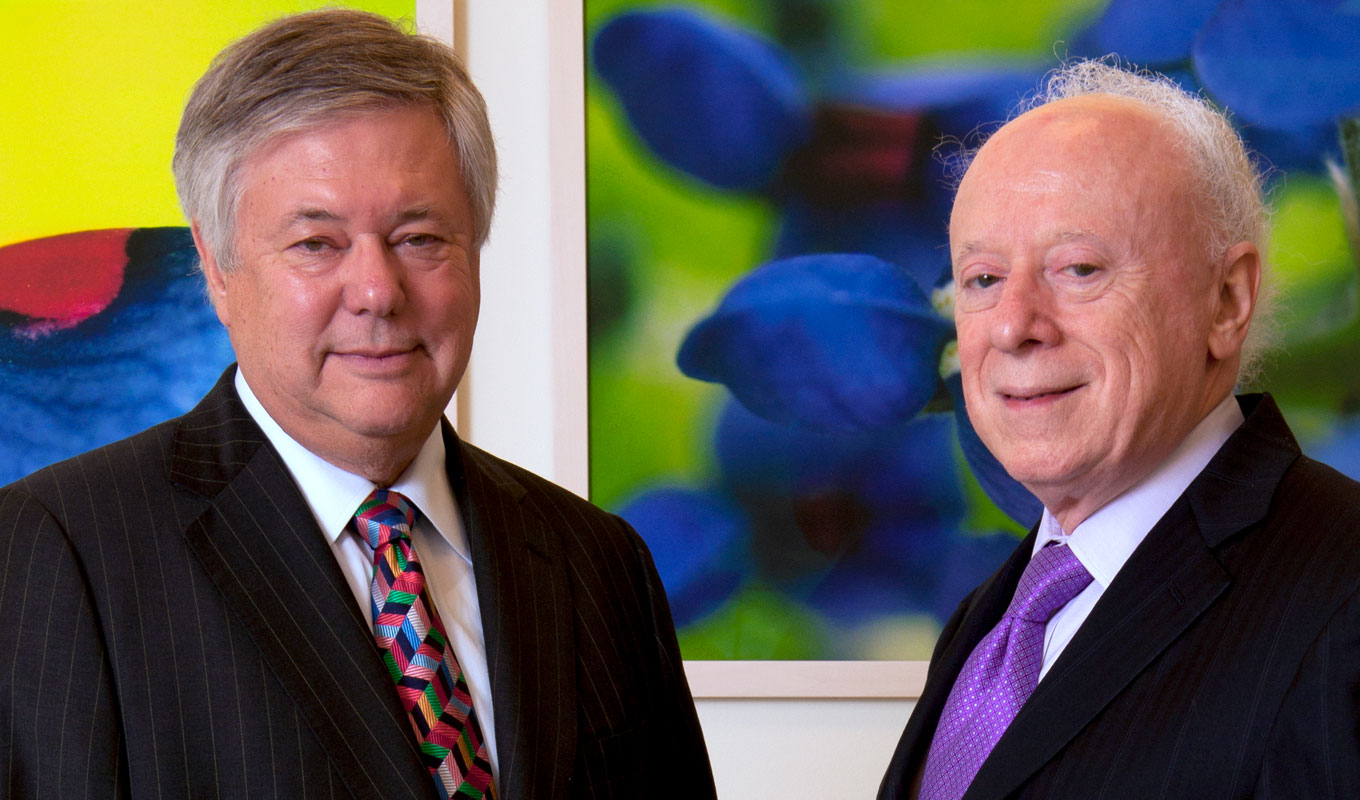 Nobel Laureates Drs. Michael S. Brown and Joseph L. Goldstein – who have rotated authorship on 516 papers that have an exceptionally high h-index* of 188 – possess one of the world's most successful scientific partnerships. They trace the start of their 52-year friendship to a series of conversations that led them to start a joint laboratory in 1972. Thirty-three years after sharing the 1985 Nobel Prize in Physiology or Medicine for their groundbreaking discovery of the LDL receptor, the dynamic duo forges ahead on several concurrent lines of research. Their conversations and the experiments that sparked them resulted in three new concepts that are now part of the common parlance in cell biology – receptor-mediated endocytosis, receptor recycling, and feedback regulation of receptors. They shared their thoughts on the success of their long scientific partnership with In Pursuit. (Unless otherwise noted, the answers come from both of them together.)
Dr. Goldstein, you described how you grew up insulated from the world of ideas and intellectuality in Kingstree, South Carolina. In contrast, Dr. Brown you were born in Brooklyn, went to high school in suburban Philadelphia, and graduated from the University of Pennsylvania. Given your very different backgrounds, how did you begin your long collaboration?
Dr. Brown: I met Joe on our first day of residency in Boston. I'd seen his name on the list of fellow interns and wondered why Massachusetts General Hospital (MGH) had accepted anyone from this obscure place I'd never heard of – a place called Southwestern Medical School. My doubts were dispelled when I met Joe Goldstein. He seemed to know more than anybody else, and he wanted to understand why the patient had his or her disease. That question interested me, too. When we finished our long days on the wards and the patients were asleep, Joe and I would meet in the cafeteria and talk into the night about the underlying pathologies of their illnesses. Our mutual interest in the mechanisms of disease sparked our friendship.
Dr. Joseph Goldstein: About three months into the internship, we saw a patient with a rare disease called lipodystrophy. Treating that patient led to an animated discussion between Mike and me about the possible metabolic defect in lipodystrophy, not knowing that 33 years later the two of us would create a mouse model of the condition.
Explain how you both ended up at UT Southwestern?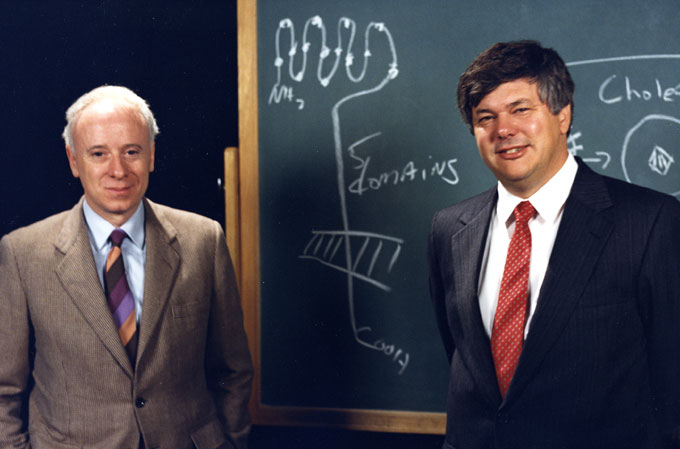 Dr. Goldstein: As a medical student, Dr. Donald Seldin offered me a job to start a medical genetics group in his department after getting training elsewhere. After my internship and residency at MGH and my training at the National Institutes of Health where I did research and treated patients, I went to the University of Washington in Seattle and trained in medical genetics with Dr. Arno Motulsky. I always planned to return to Dallas. While I was at the NIH, I was assigned to care for two siblings who were affected with the severe form of familial hypercholesterolemia (FH), a condition in which the blood cholesterol level is around 800 mg/dl and heart attacks occur in the first 10 years of life. Stimulated by these unique patients, Mike and I began our conversation on FH at the NIH, where he too was doing research and caring for patients.
Dr. Brown: Both of us came under the sway of the late Dr. Seldin – Joe as a medical student and me when I came to Dallas as a GI Fellow following my residency at the MGH and the NIH, where Joe and I were postdocs in different laboratories. Early on, Joe made it clear that he had acquired his mechanistic curiosity at Southwestern, so I visited Dallas. There, I discovered Dr. Seldin's department, which had a dozen "Joe Goldsteins" – all focused on disease mechanisms and running their own laboratories. They followed the mantra that sick molecules make for sick patients. I also witnessed the excellent care they provided at Parkland Hospital.
My wife, Alice, and I moved to Dallas in 1971. Joe was still in Seattle, finishing his training in medical genetics. I think the timing helped our partnership. Joe's unequaled record as a medical student had already made him famous at UT Southwestern. I was an unknown. However, by the time Joe returned in 1972, I had set up my lab. I had solved an important biochemical problem, and I had started building my own reputation. As a result, Dr. Seldin and the senior faculty came to view Joe and me as equals. At first, each of us had our own projects. Cholesterol metabolism was a side project that we collaborated on. As our discoveries became more and more interesting, cholesterol metabolism took center stage. We left our independent projects, merged our laboratories, and devoted ourselves to solving the problem of familial hypercholesterolemia. Through a lot of back-and-forth discussion, we were able to pare this complex genetic disease down to a very simple system where we could pursue precise questions and gather daily data. We fell into a pattern of examining the data each evening and planning the next day's experiment, a process that took lots of dialogue.
What are the secrets to keeping a partnership going?
Dr. Goldstein: I always say the secret is to have lots of ideas – good or bad. In order to be creative, you must have lots of bad ideas. Only by sorting through the bad ideas can you hit upon the rare, good idea. This is where a good partner comes in. The constant dialogue between two close partners allows you to get rid of the bad ideas rapidly so that you can discover the good ones.
Dr. Brown: We've disagreed on many small things over the years, but we always come together in the end. Through our early discussions, we realized that it is impossible to credit ideas to either one of us. Those early conversations about the mechanics of our partnership may have helped it to endure.
Dr. Goldstein: Also, I think, another factor was starting together at the very earliest stage of our careers when our ideas about science were still evolving and we could form them together.
At the bench, one of you prefers to turn the microscope down to the most detailed level while the other zooms out to see the big picture. What does that demonstrate about an effective long-term partnership for scientific discovery?
Both perspectives are crucial: You need to consider the big picture and pay attention to details, and it is challenging for one person to do both. Just to answer your question with a question: What better way to acquire a dualistic vision than with two people, two minds, two perspectives?
What things can derail a partnership?
How can those things be avoided?
Dr. Goldstein: Find a partner with whom you have good chemistry and one who is smarter than you, or at least one who thinks he is smarter than you!
Dr. Brown: I always say that one of you and only one of you has to be a saint. If there are no saints, you'll fight and won't stay together long. If you are both saints, you will be too nice to get anything done. If you can't have no saints and you can't have two saints, the only other possibility is one saint. I am not a saint.
The finding for which you both shared the Nobel Prize in Physiology or Medicine laid the scientific foundation for the development of cholesterol-lowering statin drugs. Do you think either of you could have achieved this on your own? Why or why not?
Dr. Brown: Who can say? One thing I do know: If one of us had done it alone, the work would not have been done with the same completeness that we were able to achieve together.
Your partnership has spun off multiple other scientific collaborations, including the recruitment of Dr. Scott Grundy, and the collaboration of Dr. Helen Hobbs, Dr. Jonathan Cohen, and Dr. Jay Horton, among others. What is it about the culture at UT Southwestern that nurtures collaboration?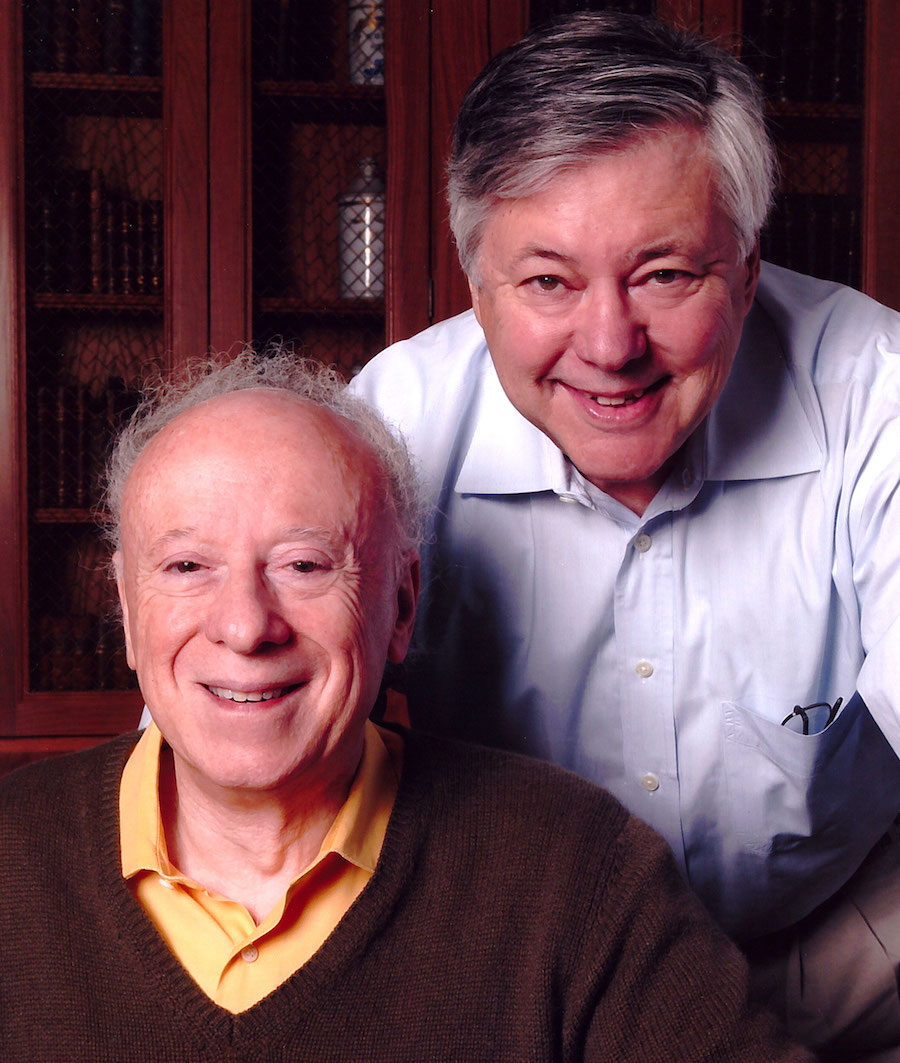 Dr. Goldstein: An emphasis on finding the answers to scientific questions with projects that transcend individual laboratory and departmental boundaries. Much of this is reflected in the University's culture of interactions between colleagues in our scientific and clinical areas who are interested in understanding the mechanisms of disease.
Dr. Brown: The environment and leadership at UT Southwestern also helped by being willing to recognize the partnership. We are both competitive people who graduated at the top of our classes in medical school. Luckily, no one here ever forced us to claim individual credit for discoveries, as might have occurred elsewhere. When one of us got a promotion, the other always did. That willingness to recognize the partnership helped its success. I think other partnerships across campus have benefited from that outlook.
Do you have any advice for early career scientists seeking to forge scientific collaborations?
Dr. Goldstein: With the right partner, it doesn't seem like work, it seems like fun.
Dr. Brown: In particular, there is the fun of sharing a discovery – that electric moment when a result comes in and you look at each other and you know how the other is thinking.
Dr. Goldstein, a Regental Professor, is Chair of Molecular Genetics and a Professor of Molecular Genetics and Internal Medicine. He holds the Julie and Louis A. Beecherl, Jr. Distinguished Chair in Biomedical Research and the Paul J. Thomas Chair in Medicine.
Dr. Brown, a Regental Professor, is Director of the Erik Jonsson Center for Research in Molecular Genetics and Human Disease, as well as a Professor of Molecular Genetics and Internal Medicine. He holds The W.A. (Monty) Moncrief Distinguished Chair in Cholesterol and Arteriosclerosis Research and the Paul J. Thomas Chair in Medicine.
* The h-index is a metric to measure a researcher's productivity and citation impact.