Customizing cures with CRISPR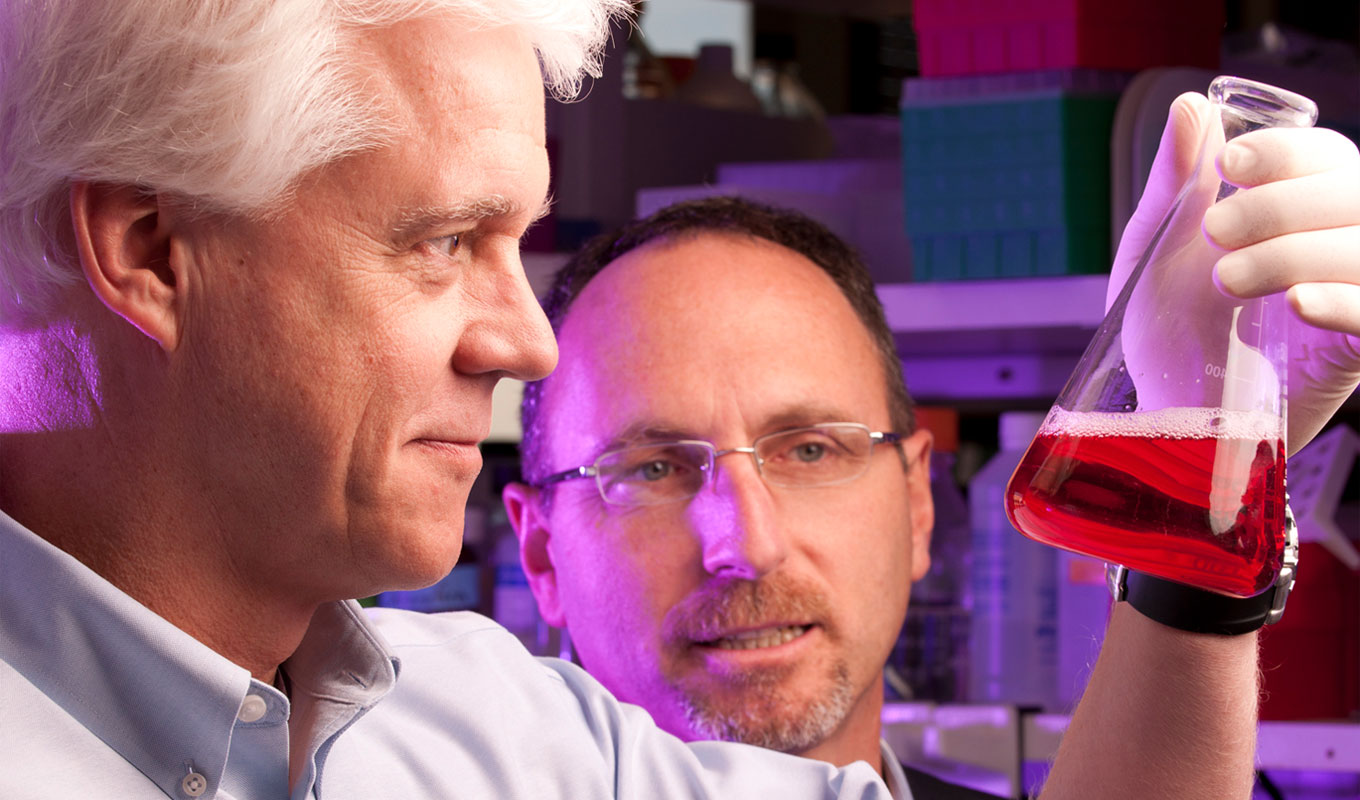 Dr. Eric Olson, Chair of the Department of Molecular Biology at UT Southwestern and Director of the Hamon Center for Regenerative Science and Medicine, runs a successful research program credited with identifying many of the molecules involved in muscle development and differentiation.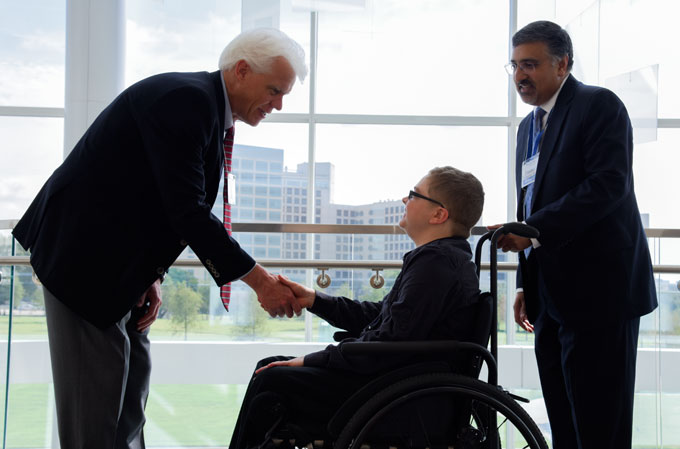 Dr. Olson received international recognition – including the Lefoulon-Delalande Grand Prize in Science, the Passano Award, and the March of Dimes Prize in Developmental Biology – after discovering essential molecules and pathways involved in muscle formation. Most recently, his laboratory developed a CRISPR-Cas9 gene-editing method that might one day repair many of the mutations that cause Duchenne muscular dystrophy (DMD). After successfully using the method in mice and heart muscle cells from DMD patients, the Olson laboratory is now testing the method for adverse side effects.
In his spare time, Dr. Olson fronts a rock band named The Transactivators, which in May provided musical entertainment as the UT Southwestern community celebrated its 75th anniversary. Dr. Olson, holder of the Annie and Willie Nelson Professorship in Stem Cell Research, recently took a moment to talk with In Pursuit:
Tell us about your childhood and your family. What influenced you to become the scientist you are today?
My father, a chemist, always talked about science. My mother was a pianist and music teacher. As a child, I already knew that I would pursue a career in science and was drawn to the freedom to explore the mysteries of biology. I never imagined myself on a typical career path, nor did I envision myself as a physician. As my career matured, I realized that I was most motivated by life in the lab … interacting with students, hatching new ideas, pushing the edges of knowledge to their limits.
What drew you to the field of molecular biology?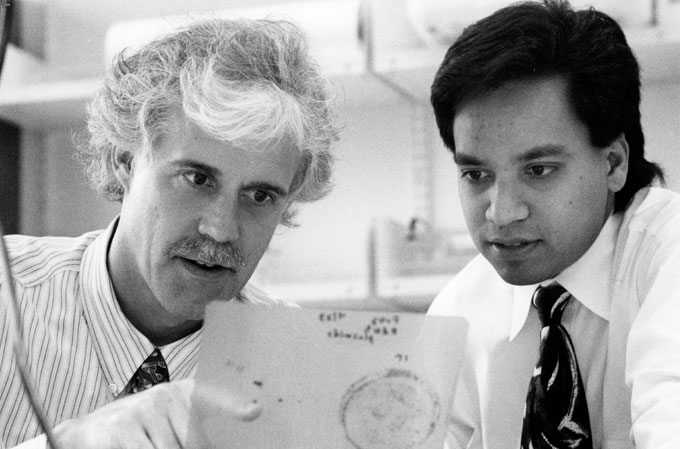 When I started my academic career in the early 1980s, it was the dawn of molecular biology. It was clear back then that understanding how DNA encoded the blueprint of life and how genes were turned on and off represented the next great frontier in science. I thought deeply about how I might be able to enter this field and pursue interesting and important questions that would sustain my laboratory over the long term. Trying to understand how the heart and other muscles formed, how the genes that define those tissues were expressed, and how errors in those genes led to disease seemed like wide-open territory, so that's what I chose to pursue.
How did you end up at UT Southwestern?
My first independent faculty position was at MD Anderson Cancer Center in Houston, where I became Chair of the Department of Biochemistry and Molecular Biology at the age of 35. I was happy there, but felt the itch to shake things up. I spent much of my life in North Carolina, where I met my wife, Laurie. So I accepted a position at Duke University.
But then there was a serendipitous moment. Joe Goldstein (Nobel Laureate and Chair of the Department of Molecular Genetics at UT Southwestern) visited my Department at MD Anderson to present a seminar. My secretary told him my upcoming move to Duke wasn't proceeding smoothly. Joe, along with Mike Brown (another Nobel Laureate at UT Southwestern) and Bill Neaves (former Dean of the Graduate School of Biomedical Sciences), put on a full-court press to divert me to UT Southwestern to start the Department of Molecular Biology. I was attracted to the opportunity to build an entire department from scratch and to the scientific excellence at UT Southwestern – so I made the eleventh-hour decision to move to Dallas. I am extremely proud of my colleagues in our Department and the vibrant atmosphere we've created together.
What do you think it is about UT Southwestern that cultivates groundbreaking discoveries?
There is a commitment to scientific excellence here and an overall culture of mutual respect and support among scientists that is unique. It's a great place to do science.
What drew you to your research focus on Duchenne muscular dystrophy (DMD)? Could you describe some of your recent advances and say where you see that line of research going?
Having worked my entire career on muscle development and disease, I was ultimately drawn to work on DMD, which is the holy grail of muscle disease research. DMD is a devastating disorder, and patients and their families are desperate for a therapy. To date, only one drug has been approved for DMD, and it is not effective enough. So, we decided to try to develop a therapy that treats the cause of the disease – the genetic mutations in the dystrophin gene – rather than the consequences. We are encouraged by our latest results with gene editing.
Describe your work in the area of heart regeneration.
We've identified more than two dozen genes that control development and differentiation of all the muscles of the body. Among these discoveries was MEF2, which turns on all the proteins that allow muscles to contract, and Hand1 and Hand2 that control the growth of the heart's chambers, and many others. More recently, we discovered a pair of proteins, which we named Myomaker and Myomixer, that direct the formation of all skeletal muscles in the body.
How did the Annie and Willie Nelson Professorship come about?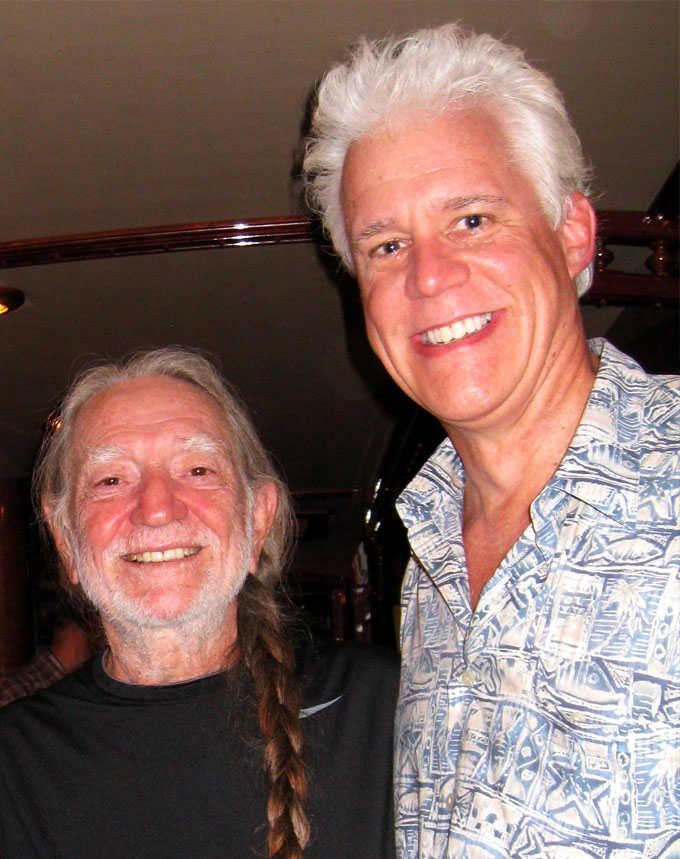 Willie Nelson is a national treasure – and my personal musical hero. One day, he and Annie brought their two sons to UT Southwestern for a checkup and then-President Kern Wildenthal arranged for us to meet over lunch. We really hit it off. Willie held a benefit concert to raise money to support the research, creating the Professorship. I use much of the money to buy equipment to share across the Department. Since our first meeting, I have had memorable moments with Annie and Willie and their sons on Willie's tour bus before concerts and on their ranch.
What led you to start your band, The Transactivators?
There are several musicians in my family – my mother and grandmother taught piano at the Eastman School of Music. I'd always wanted to front a band and when my 50th birthday was coming up I thought, why not now? Luckily, there are several scientists on campus who are great musicians. We have performed at scientific conferences around the country, and our annual Halloween party is always a blast.
Is there something people might not know about you?
I'm actually a reserved person, but when I get on stage to talk about the science from my lab, and especially when I have a guitar and a harmonica and am playing with my band, I am able to switch into a different mode. Something about telling people about our discoveries or making a big sound with my bandmates just transforms me. Then, I'm a different person.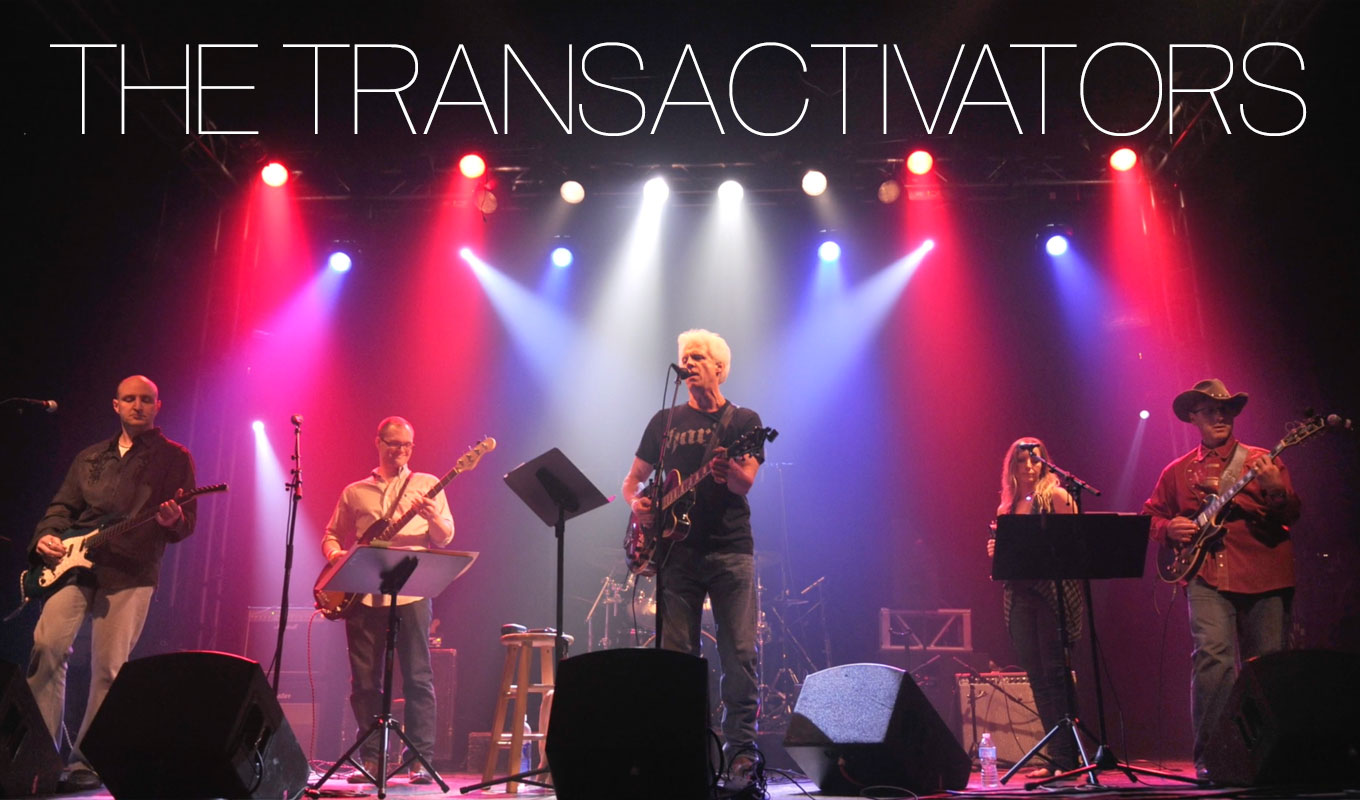 What are your long-term goals?
I want to discover things that have never been imagined and deepen our understanding of the biology of muscle cells to the point where we can improve human health. As a Department Chair, Professor, and bench scientist, I also want to fill our field with independent thinkers and scientific leaders. I am so grateful and fortunate to have found a career path that fulfills me.
Dr. Brown is Director of the Erik Jonsson Center for Research in Molecular Genetics and Human Disease. A Regental Professor, he holds the W.A. (Monty) Moncrief Distinguished Chair in Cholesterol and Arteriosclerosis Research, and the Paul J. Thomas Chair in Medicine.
Dr. Goldstein, a Regental Professor, holds the Julie and Louis A. Beecherl, Jr. Distinguished Chair in Biomedical Research, and the Paul J. Thomas Chair in Medicine.
Dr. Olson is also Co-Director of the Wellstone Muscular Dystrophy Cooperative Research Center and a member of the National Academy of Sciences, the National Academy of Medicine (formerly the Institute of Medicine) and the American Academy of Arts and Sciences. He holds the Pogue Distinguished Chair in Research on Cardiac Birth Defects, and the Robert A. Welch Distinguished Chair in Science.