Maps and Directions – Visitor Information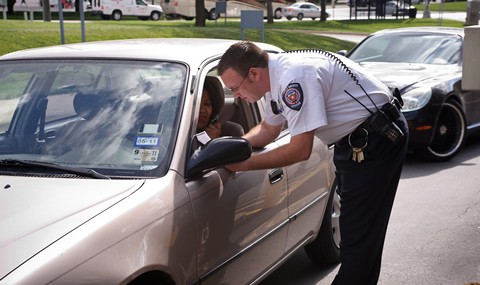 Directions to UT Southwestern Medical Center
UT Southwestern Medical Center is located in the heart of the Southwestern Medical District – a nearly 400-acre medical complex 10 minutes north of downtown Dallas that incorporates UT Southwestern, Children's Medical Center Dallas, and Parkland Memorial Hospital. The district is bordered by Mockingbird Lane, Medical District Drive, Interstate 35E (Stemmons Freeway), and Maple Avenue.
Located near the main entrance to UT Southwestern on Inner Campus Drive (opposite Harry Hines Boulevard from Butler Street; Campus Map), the visitor information booth is staffed on weekdays. It is a convenient resource for visitors arriving on campus.
After parking, visitors can walk to the Visitor Information Center (Building A), where the staff can provide maps, parking and shuttle information, and directions to specific campus buildings. The Center is located at the entrance to the Plaza and is open from 7:30 a.m. to 5 p.m., Monday through Friday.
Main Entrance
5323 Harry Hines Blvd.
Dallas, TX 75390
Phone: 214-648-3111
Campus Map
For Automated Directions: 214-648-6264
Directions to a Clinical Building
For detailed directions to a particular clinical building, select a location below or call 866-645-6455. For automated directions, call 214-648-6264.