Molecular biologist wins Brown-Goldstein Award for immunity work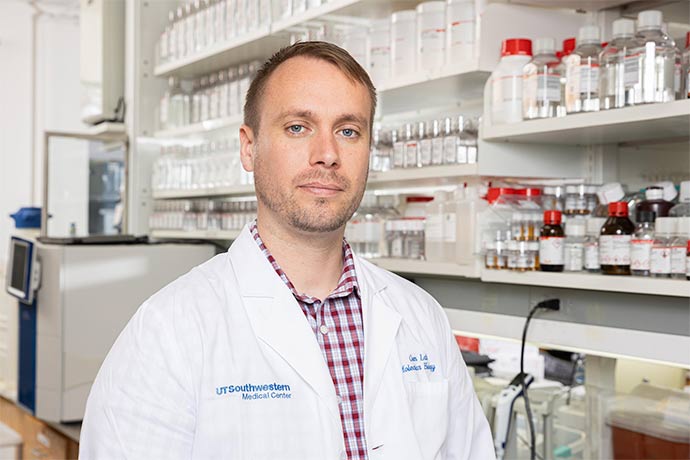 Justin Jenson, Ph.D., a postdoctoral researcher in the laboratory of Zhijian "James" Chen, Ph.D., has won the 2023 Brown-Goldstein Award for Excellence in Postdoctoral Research for work published in Nature related to immunity defenses that bacteria use to fend off invasion by viruses.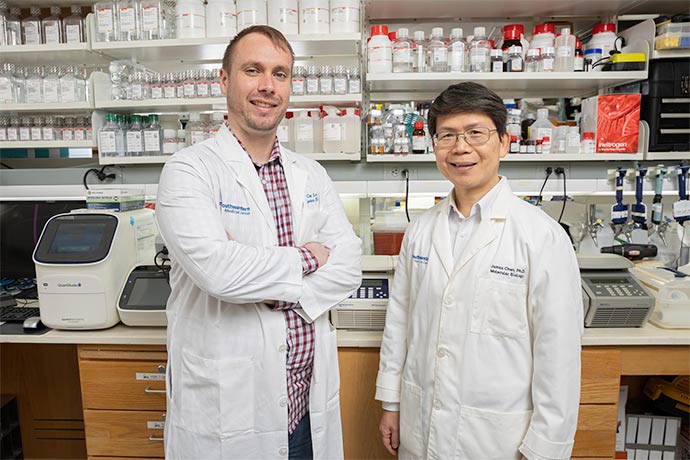 The study revealed a new antiviral strategy in bacteria for the enzyme cGAS, which Dr. Chen had found acts as the trigger of a cellular signaling pathway that alerts the human immune system to invasion by disease-causing microbes.
"Our lab studies mammalian cGAS. I wanted to study bacterial cGAS and how it battles the viruses that infect bacteria called bacteriophages, so I introduced bacterial systems into our lab here at UT Southwestern," Dr. Jenson said. "I'm very excited and honored to get this award. It's been a long path to get this project to completion, and it took a large collaborative team, including my co-authors and colleagues in the Structural Biology Lab and the Macromolecular Biophysics Resource facilities."
The award honors the contributions that UT Southwestern's first Nobel Laureates, Drs. Michael S. Brown and Joseph L. Goldstein, made to training the next generation of scientists. Dr. Brown is Director of the Erik Jonsson Center for Research in Molecular Genetics and Human Disease, and Dr. Goldstein is Chair of Molecular Genetics. Both are Professors of Molecular Genetics and Internal Medicine.
The prize represents the highest recognition that the Graduate School of Biomedical Sciences bestows on a postdoctoral researcher. In recognition of his work, Dr. Jenson received a monetary award and the opportunity to deliver a University Lecture. This year's lecture (both live and virtual) is scheduled at 4 p.m. on April 26 in the North Campus Simmons Auditorium (NB2.EEF).
"Justin is a brilliant biochemist who is destined to do great things. He was fearless in setting up a new system to study anti-phage immunity in bacteria, which is quite a departure from what my lab has been doing in the mammalian system. He then followed his data and made a series of novel discoveries concerning the role of bacterial cGAS in anti-phage immune defense. The Brown-Goldstein Award is a wonderful recognition of Justin's talents, creativity, and contribution to research as a young scientist."
In her nomination letter, Dr. Jenson's graduate school mentor, Amy E. Keating, Ph.D., of MIT, provided details of his flexibility. "Justin is fearless and readily able to change fields and learn new things as he did when he joined my group," Dr. Keating wrote. "Finally, he is personally and intellectually generous to his lab mates and to junior students, including undergraduates, and he is able to work with a wide range of people and lead effective teams."
Dr. Jenson's research, which centers on anti-phage innate immune signaling pathways in bacteria, used host-phage model systems to identify a novel protein modification in the bacteria that enhances their anti-phage response. The team then identified a phage-encoded protein that defends against the bacteria's actions. This then revealed a counterassault that bacteria use to overcome the viral defense.
For unrelated research, award finalist Ashley Solmonson, Ph.D., received a Dean's Discretionary Award. Dr. Solmonson is a former postdoctoral scholar who has since advanced to Assistant Instructor in the laboratory of Ralph DeBerardinis, M.D., Ph.D., Professor in the Children's Medical Center Research Institute at UT Southwestern, Chief of the Division of Pediatric Genetics and Metabolism, and an HHMI Investigator.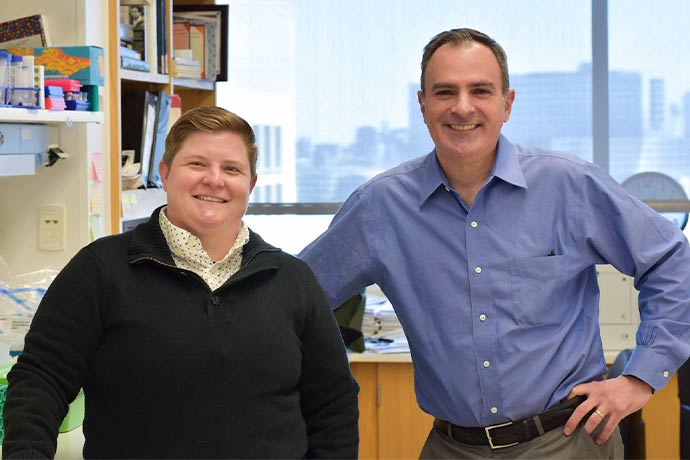 Dr. Solmonson developed an approach to study metabolic changes during fetal and placental development for an inborn error of metabolism associated with mutations in the lipoyltransferase gene LIPT1. Through that work, she was lead author of a Nature study that revealed distinct and organ-specific metabolic changes that are developmentally regulated. The insights from that study are being used to inform potential treatments for patients with this inborn error of metabolism.
Dr. DeBerardinis and Dr. Chen are both members of the Harold C. Simmons Comprehensive Cancer Center. Dr. DeBerardinis also has appointments in the McDermott Center for Human Growth and Development and in Pediatrics.
Dr. Jenson was a Cancer Research Institute Irvington Fellow who also is supported by the Dermatology Research Training Program T32 Grant (T32AR065969).