Town Hall highlights UTSW successes, advancements during pandemic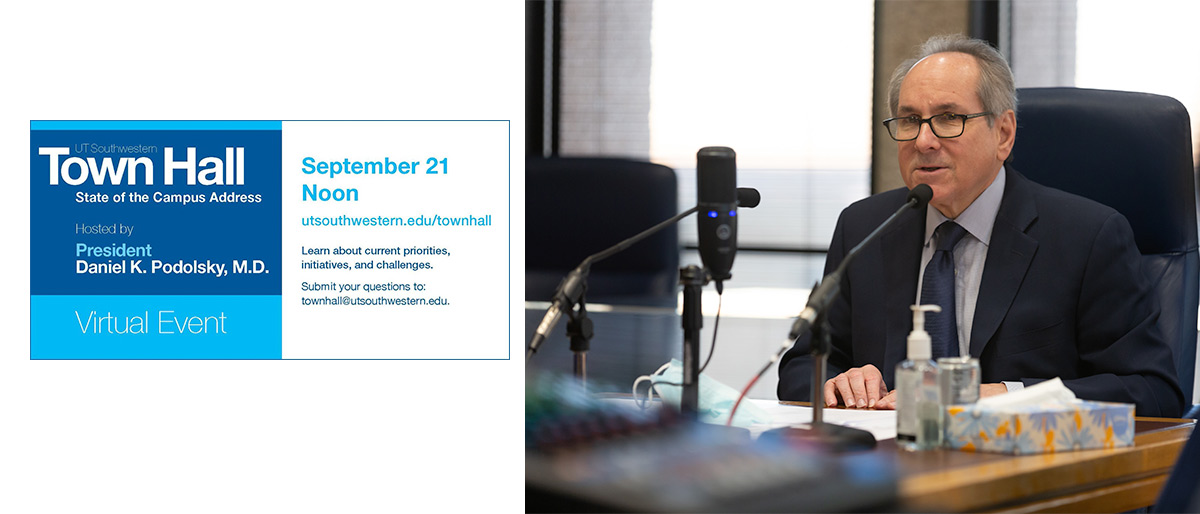 In a virtual Town Hall held on Sept. 21, UT Southwestern President Daniel K. Podolsky, M.D., shared an update on priorities and progress the institution has made over the past year in the midst of fighting a pandemic. In his address, held online due to continuing COVID-19 protocols, Dr. Podolsky also informed the UTSW community about upcoming growth opportunities, planned initiatives, and the institution's identified strategic priorities for the next year.
"Great things have been accomplished throughout the past year by the dedicated people who come to UT Southwestern each day," Dr. Podolsky said. "A foremost priority of FY22 will necessarily be to prepare for and respond to the various challenges that the pandemic presents, including the health and well-being of each of you, along with the patients and families we serve."
Dr. Podolsky outlined other priorities of the new fiscal year, including planning for a School of Public Health; recruiting leadership for several academic departments; expanding equity, diversity, and inclusion efforts; enacting a plan to transform, enhance, and grow clinical efforts; investing in future campus growth; and promoting the well-being of faculty, staff, and learners.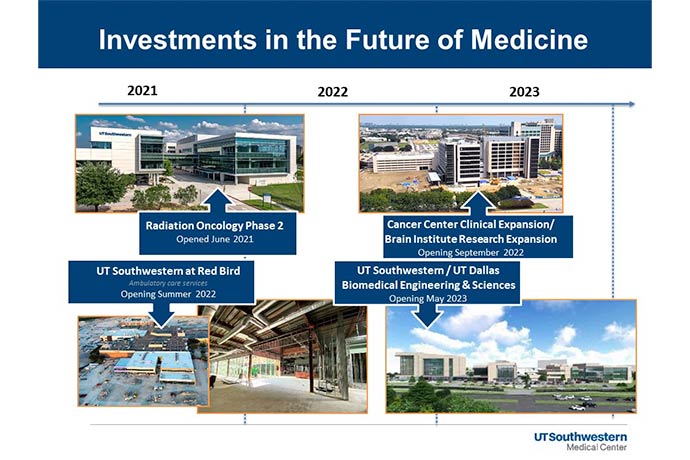 The President discussed how UT Southwestern has successfully addressed the multifaceted challenges of COVID-19 in new ways, focused on improved patient outcomes and greater patient satisfaction. In addition to acknowledging UT Southwestern's success in pivoting thousands of faculty, employees, and students to work and learn remotely, Dr. Podolsky also highlighted UT Southwestern's return to exceptional in-person clinical care and expansion of telemedicine as an option when appropriate.
In 2021, record numbers of patients turned to UT Southwestern seeking help from our physicians, working along with our nursing colleagues and staff as well as our learners, Dr. Podolsky said. There was an increase of more than 10% – fully 4,400,000 patient visits – in the number of patients cared for in our University Hospital and clinics, as well as our partners. The way in which UTSW is delivering that care has continued to evolve, with nearly 20% of patients' visits provided in a virtual format.
Other significant achievements highlighted from the 2021 fiscal year included:
William P. Clements Jr. University Hospital ranked by U.S. News & World Report as the No. 1 Best Hospital in Dallas-Fort Worth for the fifth year in a row
Planning for the first state psychiatric hospital in the Dallas-Fort Worth region, in partnership with the Texas Health and Human Services Commission
Growing UTSW's clinical presence in North Texas, including construction of a new regional medical center at the redeveloped RedBird Mall in southern Dallas
Redesignation of the Harold C. Simmons Comprehensive Cancer Center as a Comprehensive Cancer Center by the National Cancer Institute
Magnet redesignation by the American Nurses Credentialing Center
Continued growth of Southwestern Health Resources as a vital network that provides care for nearly 100,000 Medicare beneficiaries in North Texas – more than any other accountable care organization in the region
In Academic Affairs, Dr. Podolsky said the top priority for the new fiscal year will be to implement plans for a School of Public Health, UTSW's first new school in more than 50 years and the institution's fourth overall. Celette Skinner, Ph.D., Chair of Population and Data Sciences, has been named interim Dean of the new school, which will enroll Master of Public Health students in the fall of 2023 and Ph.D. students in the fall of 2024. "I am especially eager to see our vision to advance the science of public health through research and innovation while preparing a robust public health workforce come to life for the benefit of those who live in North Texas and beyond," Dr. Podolsky said.
Dr. Podolsky also mentioned another important priority for the institution – one that will positively shape and impact the region: a joint project with the Texas Health and Human Services Commission to plan and build DFW's first state-funded psychiatric hospital. UT Southwestern will oversee the construction of the new hospital and will operate it to provide much needed expanded access to this dimension of the continuum of mental health services, said Dr. Podolsky.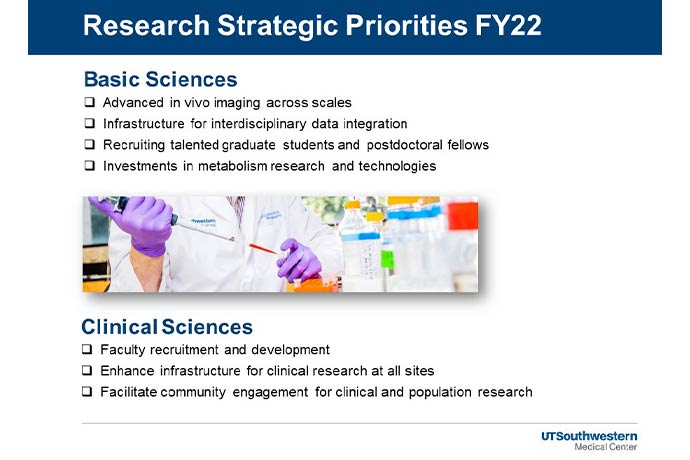 Another key initiative is expansion of the Biomedical Engineering program – in collaboration with UT Dallas – into a full-fledged department that will be led by the inaugural Chair, Samuel Achilefu, Ph.D., and located in a new building to open in 2023 on the East Campus. Other key departmental leadership appointments announced recently include Catherine Spong, M.D., Chair of Obstetrics and Gynecology, and J. William Harbour, M.D., Chair of Ophthalmology.
Dr. Podolsky also cited the continued efforts by researchers, saying, "Our research community has remained focused on the important unanswered questions, particularly those that can eventually lead to better means of treatment, cure, and prevention of disease."
Of note, major accomplishments or key leadership appointments in the research area include:
Dr. Podolsky again emphasized that UT Southwestern is unequivocally committed to promoting diversity, providing equal opportunity, and prohibiting racial discrimination – and to sustaining a safe and secure environment for learning and working for all students, trainees, faculty, and staff.
"We must lean in and assure that our commitment to these values and obligations permeates all aspects of what we do as an institution," he said. "Promoting diversity is a moral imperative for our institution. In addition to being the right thing to do, it is a catalyst for innovation in fulfilling our mission, and it is essential for achieving UT Southwestern's full potential as a leading academic medical center."
To that end, UTSW is launching a national search for a Chief Diversity Officer. This new executive will focus exclusively on diversity, inclusion, equity, and community engagement, with responsibility for identifying barriers that limit opportunity for any historically underrepresented groups on campus and proposing actions to help ensure that each community member develops the cultural awareness and competency needed to advance the Medical Center's mission.