Peterson aims to transform UTSW into a clinical research powerhouse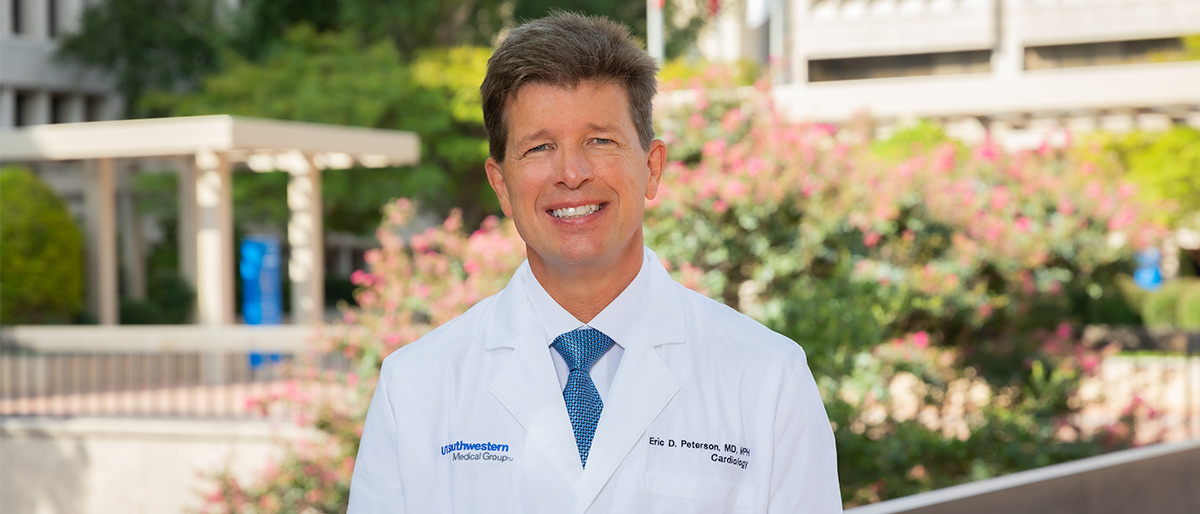 An extensive national search was conducted by UT Southwestern leadership for the right candidate to become its inaugural Vice Provost and Senior Associate Dean for Clinical Research, ultimately recruiting a prolific researcher who had run a major clinical research institute at Duke University.
Eric Peterson, M.D., M.P.H, joined the University last fall, charged with building UT Southwestern's clinical research program – which aims to translate lab findings into the clinic and test potentially lifesaving drugs and treatments in patients – into a powerhouse equal to its long-respected basic science program. His position was created to stimulate and enhance UT Southwestern's growing clinical research enterprise, according to W. P. Andrew Lee, M.D., UTSW's Executive Vice President for Academic Affairs, Provost, and Dean of the Medical School.
"I want UTSW to be a national leader in clinical research," said Dr. Peterson, a cardiologist and Professor of Internal Medicine.
On his agenda: increasing the number of top-notch clinical researchers as well as transforming UTSW research operations into a model for supporting efficient and high-quality clinical research. Dr. Peterson comes well-prepared for the task. For six years, he was Executive Director of the Duke Clinical Research Institute, one of the nation's largest clinical research institutes.
"We want to increase our capacity of high-quality researchers," Dr. Peterson said. "This recruitment will be broad-based and done in conjunction with departmental and center Chairs across the campus."
Dr. Peterson's past as a researcher himself gives him an understanding of what the institution can do to make a clinical researcher's life easier – or more difficult. As such, he also wants to make the operations for clinical research stronger.
He added, "We need to make UT Southwestern a place that clinical researchers want to be. They're not going to come or stay unless we have a solid infrastructure for clinical research."
That means adding faster computers, cloud computing, and other digital and mobile technologies, Dr. Peterson said. It also will mean helping researchers use existing data, such as that contained in the Health System's electronic medical records, to identify and more easily recruit patients into their studies. William P. Clements Jr. University Hospital and Parkland Memorial Hospital, as well as the entire Texas Health Resources system, should all become places where clinical care and research are merged, he said.
Dr. Peterson is also committed to improving the processes supporting research. He said this will include hiring individuals to support grant writing, creating standardized templates for study budgets, and streamlining the ethical review process required for a research project.
Additionally, Dr. Peterson is a strong believer in the need for clinical research training. Through a collaboration with the UTSW School of Health Professions, a Master of Science in Clinical Science program has been relaunched that will give physicians the tools to conduct clinical research. The first class began this fall. He also is committed to creating a series of training modules for study coordinators to support their skills and qualifications.
When asked why he came to UTSW, Dr. Peterson answered emphatically that he saw an institution fully committed to science and primed to soar.
"Here is a place where science is revered. That really isn't as apparent these days at a lot of places in this country," he said.
Dr. Peterson added that he also likes that the institution is not mired down in bureaucracy. "You can get things done here. Change can happen here," he said.
UT Southwestern's research got a boost this June when it won a $46 million, five-year Clinical and Translational Science Award from the National Institutes of Health under the leadership of Dr. Robert Toto, Associate Dean for Clinical and Translational Research.
"UT Southwestern is going to soar over the next few years," Dr. Peterson said. "My goal is to make it rise even faster and higher."