UT Southwestern nurses celebrate earning renewed Magnet recognition, nursing's highest honor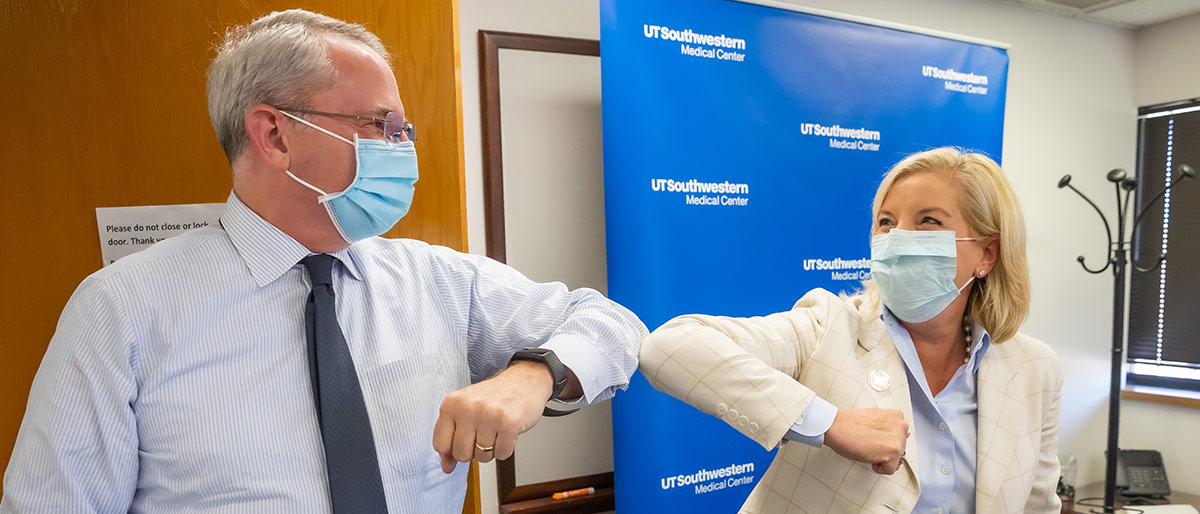 UT Southwestern's nurses were once again honored for excellence Sept. 15 as the Medical Center earned redesignation as a Magnet organization from the American Nurses Credentialing Center (ANCC).
Fewer than 9% of U.S. hospitals have earned Magnet designation, according to the ANCC's Commission on Magnet. It is considered the ANCC's highest honor, given to health care organizations that design nursing goals to improve patient outcomes. Although UT Southwestern first achieved Magnet status in 2016, programs must reapply and be reevaluated every four years. UTSW's appraisal, delayed by the pandemic, was in July.
Watch: In July the ANCC Magnet Committee Visited UT Southwestern and this video helped welcome them to campus.
Nurses and UTSW leaders across the campus watched and listened via Zoom video conference (see video below) that Wednesday morning as the hoped-for call arrived with the Chair of the ANCC's Commission on Magnet, Jeanette Ives Erickson, D.N.P., RN, NEA-BC, FAAN.
"The Commission has reviewed all of your submitted documentation and the findings from your site visit," Dr. Erickson said on the call broadcast to listeners. "… It's my absolute honor to tell you and your colleagues that we are officially notifying you that the Commission on Magnet has unanimously voted to credential UT Southwestern Medical Center as a Magnet organization."
UTSW's Associate Chief Nursing Officer for Nursing Excellence, Victoria England, D.N.P., RN, NE-BC, immediately called for a celebration. "I think we deserve a great big cheer. Everybody unmute," she said, followed by a chorus of "Woohoo!" and "Congratulations everybody!"
"I'm so proud of this team. They're fantastic," said UTSW's Associate Vice President and Chief Nurse Executive Susan Hernandez, D.N.P., M.B.A., BSN, RN, adding that the designation is a reflection of true multidisciplinary teamwork.
"Yes, Magnet is a nursing designation, and yes, I'm a proud nurse," Dr. Hernandez said. "But we don't do this by ourselves, and we know that. So thank you to all the teammates who dove in and helped us along in this five-year journey."
UT Southwestern President Daniel K. Podolsky, M.D., as well as Executive Vice President of Health Systems Affairs John Warner, M.D., also took part in the Zoom video meeting.
"I am thrilled by this recognition of the outstanding work that our Nursing team colleagues here at UT Southwestern carry out day in and day out," Dr. Podolsky said.
Dr. Warner spoke of how he worked with nursing leaders over almost a decade to arrive at this moment of recognition. "You really have come together to produce an amazing Nursing program across UT Southwestern and something I am personally really proud of," he said.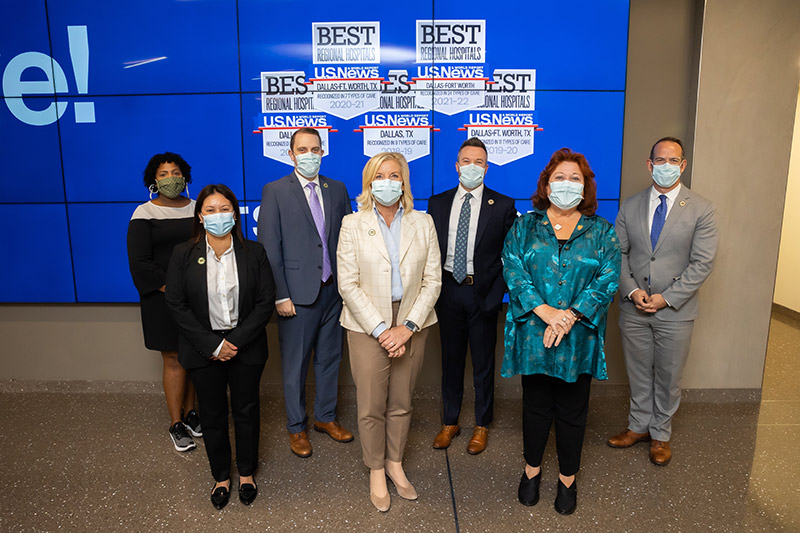 To earn initial Magnet recognition, a medical center must submit a comprehensive application that is reviewed by the Commission on Magnet. Commission reviewers then visit the campus to evaluate the level of nursing care provided and the respect that nurses are given within the institution, as well as opportunities for them to advance their practice through research and professional development.
In announcing the Commission's decision, Dr. Erickson cited four areas of UTSW excellence, referred to as Exemplars:
The Nursing staff's mobilization in response to COVID-19, setting up four community sites and providing 80,000 tests over two months and more than 4,000 vaccinations during the height of the pandemic
Creation of a culture and organizational support network that encourages focus on patients and their families
Support for research and evidence-based practices by nurses
Nurse involvement in leadership and activities to find ways to improve patient care and safety
Such efforts are part of a plan for excellence, Dr. Hernandez said. "We want to be mentioned in the first sentence of the best nursing programs in the United States," she said.
Watch: ANCC's Commission on Magnet Recognition call with UTSW