Overview
The Department of Physical Medicine and Rehabilitation uses an interdisciplinary team approach to deliver compassionate quality health care through an individualized treatment plan. Our outstanding faculty and staff specialize in diagnosis, treatment and prevention of disabilities in individuals affected by stroke, brain injury, burn injury, spinal cord injury, neuromuscular disorders, musculoskeletal disease, pain, and other conditions that limit mobility and function.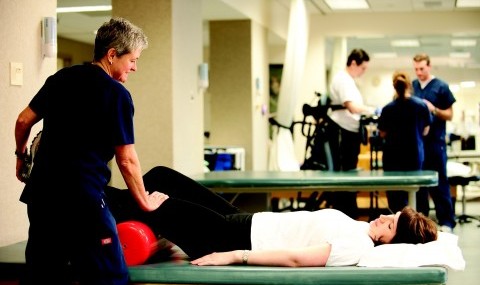 The Department provides services at facilities across the UT Southwestern Medical Center campus, including UT Southwestern University Hospitals, Parkland Memorial Hospital, and Children's Health℠ Children's Medical Center, as well as the VA North Texas Health Care System.
Faculty
Physical Medicine and Rehabilitation faculty are actively involved in both clinical and basic science research in the areas of burn injury, pain, brain injury, multiple sclerosis, spinal cord injury, stroke, and electrodiagnostic medicine.
Education
The Physical Medicine and Rehabilitation Residency Program at UT Southwestern offers clinical experience and research opportunities in addition to didactic course work. There is a balance of outpatient and inpatient rehabilitation experience, including subspecialty rehabilitation programs and electromyography.