Biomedical ambitions
More than 100 Graduate School students prepare to celebrate earning their degrees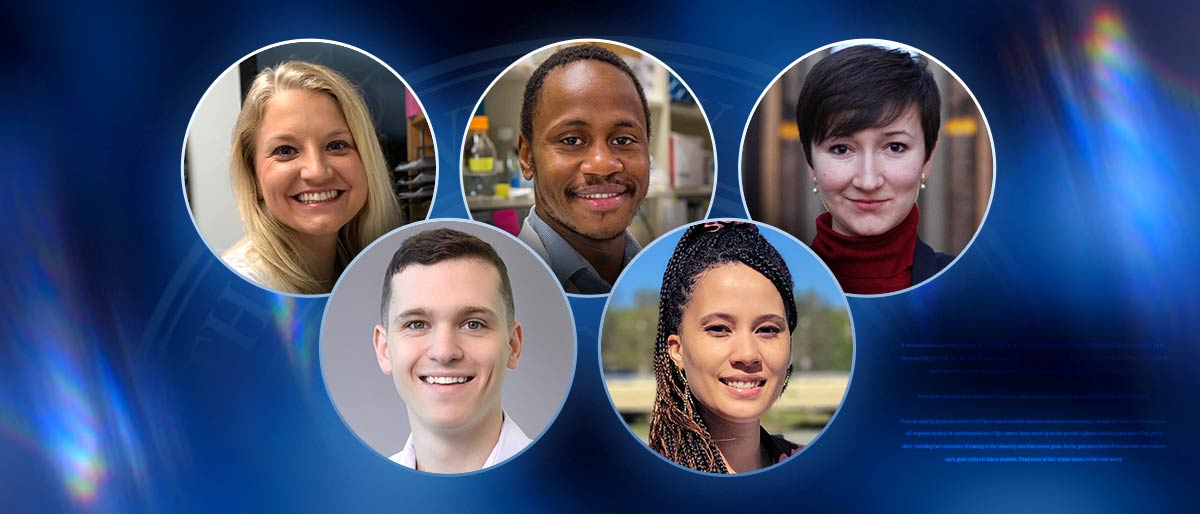 A commencement ceremony recognizing 111 recipients of degrees from the Graduate School of Biomedical Sciences is set for 7 p.m., Thursday, May 18, in the Tom and Lula Gooch Auditorium. As keynote speaker, Joan Conaway, Ph.D., UTSW Vice Provost and Dean of Basic Research, will offer encouraging words to the University's aspiring scientists, clinical psychologists, and health informaticians. A reception will follow in the McDermott Courtyard, and a virtual live stream will be provided for those unable to attend.
From an aspiring physician-scientist striving to reduce parasitic disease and improve neurosurgery around the world to a former chemical engineer hunting for nanotherapeutics to fight cancer, these inspiring stories provide a glimpse into the graduates of this year's class, including their memories of training at the University and their career goals. As the graduates head off to start their new careers, each gives advice to future students. Read more of their stories below in their own words.
Umaru Barrie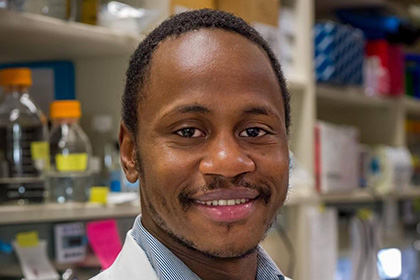 Hometown: New York, New York
Molecular Microbiology
My time in the Graduate School of Biomedical Sciences has been full of self-discovery and bridging the gap between my academic, personal, and community goals. As an aspiring physician-scientist, I was drawn to UT Southwestern's commitment to outstanding biomedical research, its world-class facilities, and the diverse and collaborative research environment.
My training with Dawn Wetzel, M.D., Ph.D., Assistant Professor of Pediatrics and Biochemistry, was very fruitful with discoveries in the lab that we hope will translate into therapies for leishmaniasis, a parasitic disease found in the tropics, subtropics, and Southern Europe.
When I enrolled in the Perot Family Scholars Medical Scientist Training Program (MSTP) at UT Southwestern, I became the first postgraduate student in my family. As a refugee from Sierra Leone, I wondered how I could confront a task no one in my family had accomplished. This is why UT Southwestern's commitment to mentorship was so vital to me. In addition to being accomplished researchers, the faculty members are also dedicated mentors who work closely with their students to develop their scientific and professional skills.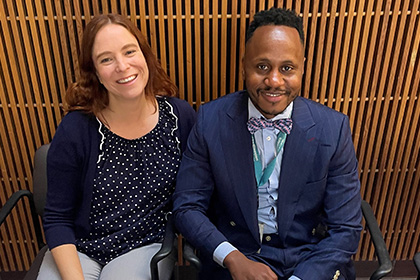 The support I found at UT Southwestern allowed me to pursue my desire to give back to the community. I co-founded the UT Southwestern Patient Navigator Program for Individuals Experiencing Homelessness, participated in the Albert Schweitzer Fellowship, and co-created the Guinean Medical Society, a 501(c)3 nonprofit that advocates for evidence-based health care in Guinea. For my work in the DFW community, I was awarded the 2018 UT Southwestern Martin Luther King Jr. Scholarship for Community Service.
After graduating with my M.D./Ph.D., I aim to pursue a neurological surgery residency to become an academic pediatric neurosurgeon and pursue basic science on molecular immunology and neuromicrobiology as well as conduct public health research on surgical outcomes of neurological diseases and global neurosurgery. Long term, I hope to help build health infrastructure and medical education in developing nations while improving capacities for research, medicine, and surgery within those countries. Another goal is to become the Director-General of the World Health Organization.
Advice for future students: 
Stay motivated by reminding yourself of your career goals and seek support from mentors, peers, and family.
Lindsay Johnson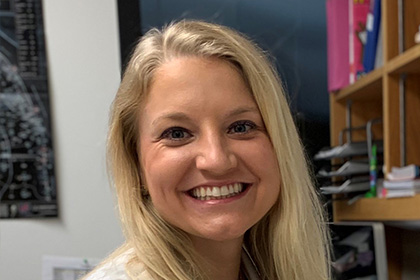 Hometown: Houston, Texas
Biomedical Engineering
My time in Graduate School provided exposure to cutting-edge research, amazing collaborations, and memories that will last a lifetime.
It was important for me to choose an institution that was committed to translating research into treatments and one that offered expertise across multiple disciplines. I wanted to integrate my background as a chemical engineer with additional areas that excite me such as cancer biology, nanomedicine, and drug delivery. UTSW also offered a unique program called the Mechanisms of Disease and Translational Science (MoDTS) that allowed for this integration and provided me with mentors who were both scientists and physicians.
I worked in the laboratory of Daniel Siegwart, Ph.D., – Associate Professor of Biomedical Engineering and Biochemistry and a member of the Harold C. Simmons Comprehensive Cancer Center – studying the cell-specific uptake of RNA lipid nanoparticles. The project got noticed and earned me a predoctoral fellowship from the PhRMA Foundation. One of my proudest accomplishments was having this research published and shared with the scientific community.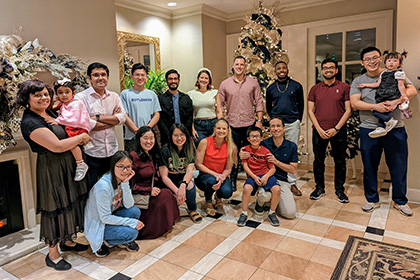 Over the years, the Siegwart laboratory has become family, and I have received support in and out of the lab. My fondest memories include spending holidays and celebrating life accomplishments together.
Outside the lab, I have a passion for giving back to the community. I completed a 200-hour community service project through the Albert Schweitzer Fellowship program and volunteered with United to Serve. For my efforts, I earned the bronze and gold President's Volunteer Service Awards for contributing over 350 service hours.
With my busy schedule and needing an outlet to unwind, I found the joy of long-distance running and joined a local running club upon moving to Dallas. I was able to train and run five full marathons during my time in Graduate School!
I am excited to share that after defending my thesis, my primary doctoral research was published, I married my best friend, moved to California, and started working as a Research Scientist at Gilead Sciences.
Advice for future students:
Stay curious, never give up, and do not let comparison steal your joy!
Martyna Kosno-Vega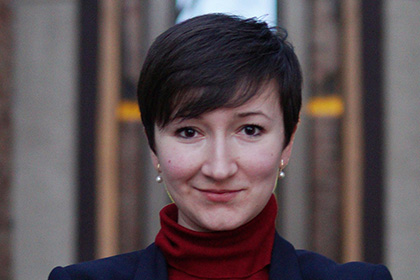 Hometown: Opoczno, Poland
Biological Chemistry
As an international student from Poland, I loved my time in Graduate School! I trained in the Biological Chemistry Program in the lab of Michael Rosen, Ph.D., Professor and Chair of Biophysics and an Investigator in the Howard Hughes Medical Institute.
While in Poland, I completed my master's degree in pharmacy. Toward the end of that degree, I came to UT Southwestern for a one-year research program. During that time, I fell in love with science and wanted to pursue my Ph.D. After applying to several programs in Europe and in the U.S., I gravitated toward UTSW and knew it was the best choice. 
Choosing UTSW allowed me to do very cool, cutting-edge science. In Dr. Rosen's lab, we studied biomolecular condensates, which are collections of biological molecules in cells that are separated from the surrounding medium without a need of a membrane. My research focused on one type of condensate, which has only been observed to form in a deadly type of cancer called NUT carcinoma. 
Research and Graduate School can be challenging, but the obstacles have taught me valuable life skills.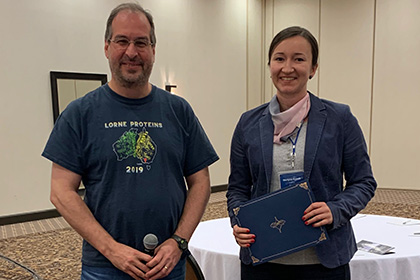 Outside of the lab, I joined United to Serve and the Alliance of Women Scientists to fulfill my passion for community and international outreach. My activities in this area have been noticed and earlier this year, I received the Martin Luther King Jr. Scholarship for Community Service. Additionally, I have developed a great passion for science communication. I was able to master these skills with the help of my mentors, and it resulted in a runner-up award in the inaugural Three Minute Thesis competition at UTSW.
Graduate School has given me amazing opportunities and lifelong friends (including my husband!). After graduating, I will be moving back to Europe. Currently, I am applying for jobs where I can intertwine my pharmaceutical knowledge, scientific expertise, and love for science communication together for the betterment of human health.
Advice for future students: 
Communicate your needs clearly. If you are unsure about something, ask. If you know something that could be helpful to another person, share. Communicate! 
James McGinnis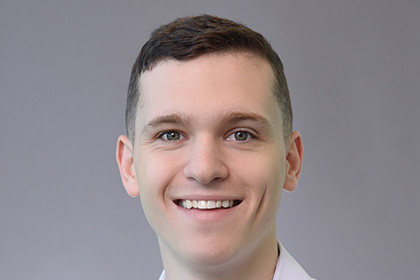 Hometown: Morgantown, Pennsylvania
Biological Chemistry
My time in Graduate School was challenging, yet very rewarding. I have cultivated memories and friendships that will last a lifetime.
On arrival at UT Southwestern, I was impressed by the quality of facilities, resources, and faculty. It is clear that the students are a priority, and we receive extensive support throughout our careers to ensure that we succeed. Additionally, I was drawn to the Graduate School's umbrella programs that provide the flexibility to work across different disciplines.
I joined the Biological Chemistry Program in the lab of David McFadden, M.D., Ph.D., Assistant Professor of Internal Medicine and Biochemistry. My research focused on identifying druggable vulnerabilities in Ewing sarcoma, a type of pediatric bone cancer. Specifically, I worked on completing a high-throughput chemical screen for small molecule inhibitors of EWS-FLI-1 function, the protein considered responsible for the condition.
Academically, highlights include receiving the McKnight Fellowship and representing the UTSW U54 Ewing sarcoma consortium at the annual National Institutes of Health meeting, where I was selected to give a talk on my research.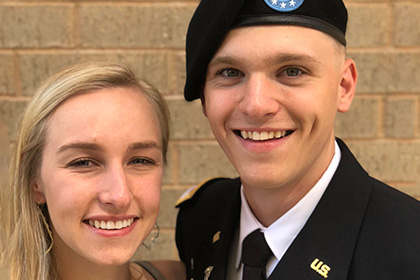 In addition to being a graduate student, I was also a U.S. Army Reserve officer. Upon completing my undergraduate degree, I was commissioned as a Medical Service Corps Second Lieutenant. My obligations in that role include completing military training throughout the year as well as career-specific instruction.
The support of my mentor, Dr. McFadden, helped me successfully juggle both requirements. Although it was challenging, the leadership skills learned in the Army have taught me how to manage cross-department collaborations for my research projects and the critical thinking and problem-solving skills developed in Graduate School have made me a well-rounded Army officer.
After graduation, I plan to work as a scientist at a biotechnology company. I have enjoyed working on high-throughput screens, target identification, and preclinical drug development while at UT Southwestern, and I hope to continue in those areas.
Advice for future students:
Find research that excites you and a mentor who inspires and encourages you. Completing basic research is fundamentally challenging, but if you are working on something that excites you, it will all be worth it.
Lilyana Quigley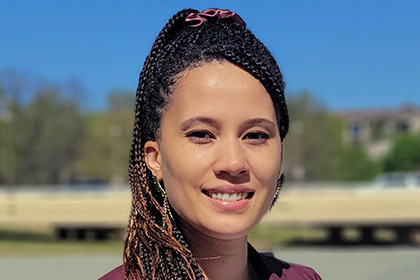 Hometown: Sacramento, California
Neuroscience
Being a Neuroscience doctoral candidate at UT Southwestern has allowed me to engage with incredible scientists for cross-disciplinary training and mentorship.
Working alongside Lenora Volk, Ph.D., Assistant Professor of Neuroscience and Psychiatry, and Brad Pfeiffer, Ph.D., Assistant Professor of Neuroscience, my research focused on how the brain rapidly adapts during learning and how molecular changes at the synaptic level affect brain network function. I studied mice lacking a protein called KIBRA, which is important for learning and memory in humans. I discovered that without KIBRA, the mouse brain failed to adapt to new experiences and showed disruptions in neural activity during highly synchronous brain oscillatory events called ripples and spindles that support memory.
In addition to my research, I participated in the MoDTS, which provides additional courses and opportunities to train students to become leaders in translational science.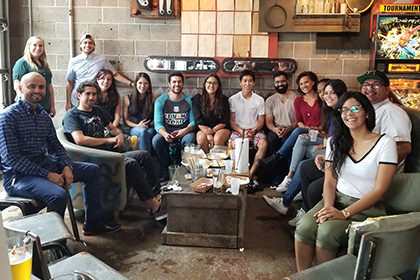 Some of my favorite memories were made as a member of The Association of African American Scientists and the Society for the Advancement of Chicanos/Hispanics and Native Americans in Science. Both groups focused on the development, outreach, and inclusion of scientists from historically excluded groups. Beyond the bench, I am interested in enhancing STEM education, policy, and advocacy for mental health care reform. 
One significant challenge was managing my mental health and finding what balance looked like for me. There were many times that I felt at my breaking point, but each time I did my best to seek out help and take it one step at a time.
I am proud to have attained honors during my journey to discover the kind of scientist I want to be. In 2020, I earned the NIH Blueprint Diversity Specialized Predoctoral to Postdoctoral Advancement in Neuroscience Award and was selected as an awardee for the Mount Sinai Emerging Scholars Program in 2022.
I plan to transition to a postdoctoral research position to expand my current skill set and focus on mechanisms contributing to the risk for neuropsychiatric conditions. I hope my work will ultimately open new diagnostic or therapeutic avenues for patients.
Advice for future students:
Remember who you are and what you bring to the table even when you do not see yourself represented.