Requirements
To meet accreditation requirements and create the high-performance learning environment our students seek, we set the bar high for our applicants. Here are the steps you'll need to take to be considered:
Complete a baccalaureate degree in any field at a school accredited by a UT Southwestern-recognized accreditation body.
Earn a recommended cumulative GPA of 3.0 on a 4.0 scale.
Complete and submit an online application.
Submit an application fee.
Submit at least three letters of recommendation (see online application).
Submit your scores from the Graduate Record Examination.
Submit your TOEFL scores if you're an international student. Read additional requirements for international students.
Earn 44 hours of credit in the following prerequisite courses with a grade of "C" or higher before entering the program.
Prerequisite Courses
We've listed Texas Common Course numbers here as a guide. To be certain about course equivalencies, ask your academic advisor, visit tccns.org or contact the UT Southwestern Admissions Office. You can also contact our Education Coordinator (pt.sshp@utsouthwestern.edu) for a transcript evaluation that will help you determine what courses you need.
Component Areas
Texas Common Course Numbers
Credit Hours
Mathematics
Algebra or higher
MATH 1342
3
Statistics
Any statistics class that includes hypothesis testing may satisfy this admission requirement
3
Natural Sciences
General chemistry with laboratory*
CHEM 1411 and 1412
8
Physics*
PHYS 1401 and 1402
8
General biology*
BIOL 1406 and 1407
8
Human anatomy and physiology*
BIOL 2401 and 2402 or equivalent upper-division course. (Must include all body systems; not satisfied by Exercise Physiology)
8
Social and Behavioral Sciences
General psychology
PSYC 2301
3
Abnormal or developmental psychology
PSYC 2314 (Not satisfied by Child Psychology)
3
Recommended Courses
Medical terminology
Lower or upper division course
1-3
Exercise physiology
Upper division course
3
Total required credit hours
44
*All science classes must be for science majors and include a laboratory component.
Special Notes about Prerequisites
Here are some important points to remember about prerequisite courses.
Time limits. There is no time limit on prerequisite coursework. However, we recommend that your anatomy and physiology courses be taken within the last five years.

Community colleges. It's fine to take prerequisite courses at a community college as long as the description of each course closely matches the prerequisite description.

Applying before prerequisites are completed. You may apply and interview for admission even if you haven't completed all of the prerequisite courses. If you have prerequisite coursework in progress, enter the courses in the Supplemental Application along with the semester you plan to take them. If we offer you a position in an incoming class, it will be conditional until you've completed all courses. We recommend completing most of your prerequisite courses before you apply.

Transfers. We don't accept direct transfers from other Doctor of Physical Therapy programs. If you're interested in transferring, please apply and compete for a position through the admissions process. If we offer you a position, we'll review your previous coursework to see if we can award credit.
Essential Functions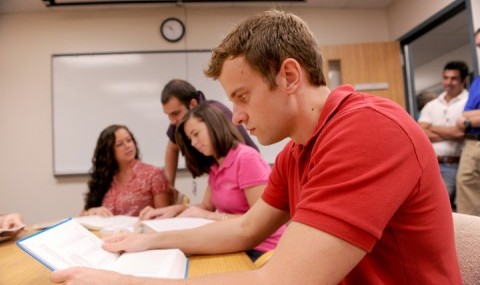 Everyone who applies for admission to the UT Southwestern School of Health Professions, including people with disabilities, must be able to perform specific essential functions, which differ depending upon the academic program. Essential functions are the basic activities that a student must be able to perform to complete the program's curriculum. Applicants who cannot perform the program's essential functions—either with or without reasonable accommodations—may not be considered for admission.
Each UT Southwestern School of Health Professions student must be able to:
Attend scheduled classes and laboratory sessions and be present for examination and testing.
Travel to practicum sites and have mobility within and around the sites.
Assimilate information presented via lecture, handouts, videos, discussions, computer, and/or other educational modalities.
Complete assignments such as written assignments, oral presentations, class participation, examinations, and computer-based activities.
Apply the assimilated information to appropriate clinical situations.
Effectively communicate with patients/clients, their families, faculty, and other professionals using oral, telephonic, written, and computer modalities in private and group settings.
Make effective use of learning resources at UT Southwestern and affiliated facilities.
In addition to essential functions for all students, each student in the Doctor of Physical Therapy Program must be able to:
Participate in supervised clinical activities for eight-hour days.
Demonstrate sufficient vision to perform such tests as interpreting a medical record, inspecting and debriding wounds, and determining gait deviations.
Demonstrate sufficient arm strength, coordination, and sensation to perform such activities as (but not limited to) manual muscle testing, palpation, soft-tissue mobilization, joint mobilization, and cardiopulmonary resuscitation.
Demonstrate sufficient problem-solving skills to learn to make a differential diagnosis, establish appropriate treatment plans, determine effectiveness of those plans, and make appropriate modifications.