Research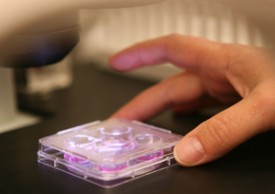 Basic and clinical research are integral to the Division of Reproductive Endocrinology and Infertility education and patient care missions.
Funded by the National Institutes of Health (NIH), private grants, and the Department of Obstetrics and Gynecology, our faculty and fellows are active in clinical trials and basic research – all aimed at increasing our understanding so that we can better care for our patients.
Clinical Research
Elsewhere in the Division, Bruce Carr, M.D. and Victor Beshay, M.D. are studying the role of CYP17 (17-hydroxylase) in polycystic ovary syndrome (PCOS), a hormonal disorder that can affect a woman's ability to become pregnant.

They have identified a transcription factor, c-FOS, which appears to control and inhibit CYP17 production in the ovary. The ultimate goal of this research is to develop new clinical protocols to treat women suffering from PCOS.
Complimenting this basic research, our faculty and fellows are active in clinical research on such topics as endometriosis, leiomyoma, contraception, menopause, PCOS, and infertility.
As a member of the NIH Contraceptive Clinical Trials Network, we are evaluating innovative methods of female contraception. Protocols include the use of spermicides, the vaginal ring, and female condoms. We also collaborate with pharmaceutical companies in the evaluation of new therapies for contraception and the treatment of endocrine conditions that affect reproductive health, fertility, and menopause.