Nesbitt selected as inaugural Vice President and Chief Diversity, Equity, and Inclusion Officer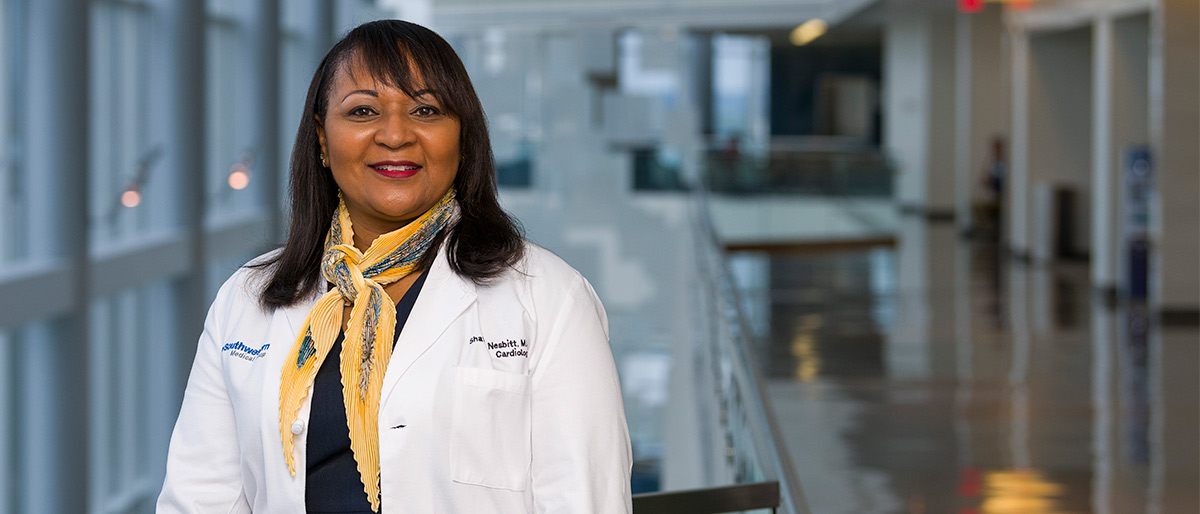 After an extensive national search, UT Southwestern has selected Shawna Nesbitt, M.D., a national advocate for inclusiveness, as its inaugural Vice President and Chief Diversity, Equity, and Inclusion Officer to lead strategic expansion and coordination of diversity and equity initiatives across the University.
In her newly created role, Dr. Nesbitt will lead existing programs, work with the UTSW community to identify and remove barriers that limit opportunities for historically underrepresented groups on campus, and coordinate the broad scope of diversity, equity, and inclusion (DEI) efforts throughout UT Southwestern, including oversight of the Offices of Institutional Equity & Access, Faculty Diversity & Development, and Student Diversity & Inclusion.
"The expansion of our DEI efforts is directly correlated to the growth of UT Southwestern," said Dr. Nesbitt, Professor of Internal Medicine in the Division of Cardiology and Medical Director of Parkland Health's Hypertension Clinic, who began her role Oct. 1. "In leading a cohesive campuswide DEI strategy, I look forward to partnering with leaders across campus to build greater collaboration and synergy that will ensure UTSW leverages its vast strengths and successes for the greatest impact with an emphasis on excellence, innovation, teamwork, and compassion."
Building UTSW's foundation for diversity
For more than a decade, Dr. Nesbitt has spearheaded student diversity efforts at UT Southwestern as Associate Dean of Student Affairs in the Office of Student Diversity & Inclusion, while contributing to international initiatives, such as serving as past President and current Trustee of the International Society on Hypertension in Blacks and Chair of the Health Equity Committee of the American Heart Association's SouthWest Affiliate. She has served as a community health equity advocate on a variety of boards and national studies and frequently speaks on the topics of hypertension, DEI, and health equity.
"Dr. Nesbitt's decades of work in the areas of health inequity and hypertension, as well as the progress she helped the institution achieve in further diversifying our student population in her role as Associate Dean of Student Affairs, have prepared her for this important leadership position," said Daniel K. Podolsky, M.D., President of UT Southwestern. "I look forward to the progress she and her team will help UT Southwestern make as an institution committed to the values of diversity and inclusion, ensuring we are equitable as a workplace and in the ways we advance our mission."
Dr. Nesbitt serves as a member of the President's Council on Institutional Opportunity, which Dr. Podolsky launched in 2016 to engage faculty, staff, and the student body through education and training to ensure that they develop the cultural awareness competency required to effectively serve the mission of UT Southwestern across research, clinical, education, and training activities.
"Dr. Podolsky came in with a strategic goal to enhance diversity and inclusion on the campus, and he's been very vigilant about creating opportunity and support for doing that," she said. "The results have been very strong."
A resume of accomplishment
Under Dr. Nesbitt's leadership, recruitment strategies to develop a more diverse student body were expanded across UT Southwestern Medical School, Graduate School of Biomedical Sciences, and School of Health Professions. She grew underrepresented minority student populations to historic levels, helping to create a pipeline of physician talent that more appropriately reflects the region's diverse patient population. Most recently, UT Southwestern welcomed its most diverse class of medical students, including a historic majority of first-year female students.
Dr. Nesbitt developed UTSW's cultural competency curriculum to help medical students treat patients who come from different ethnic, economic, and geographic backgrounds, including an elective called Healthcare Disparities in Underserved Communities that helps physicians understand how to better diagnose and manage that diverse population of patients.
She has published scores of scholarly articles, authored and co-authored a number of book chapters, and delivered numerous national- and international-invited lectures. She is funded by the National Institutes of Health to study the relationship of oxidative stress and genetics in the development of hypertension. Her research interests include clinical trials and epidemiology of hypertension and cardiovascular risk, specializing in hypertension in African Americans, insulin resistance, and hyperlipidemia. Dr. Nesbitt serves as the national coordinator for the TROPHY Study (Trial of Preventing Hypertension), a four-year trial that includes over 71 sites and more than 800 patients.
Her outreach efforts in the community include extensive STEMM advocacy, working with organizations such as Jack and Jill of America Inc., whose outreach programs target African American children as young as age 2, and UT Southwestern initiatives such as the Health Professions Recruitment and Exposure Program (HPREP), which focuses on high school students.
A member of the Gold Humanism Honor Society at UT Southwestern, Dr. Nesbitt has been recognized by, among others, the Dallas Chapter of The Links Inc. with a 2019 Women Who STEAM Award honoring her efforts to introduce young girls to science careers; was nominated for the AHA's 2016 Louis B. Russell Award for Service in Healthcare Disparities to Minorities; and was named a 2014 Visionary in Diversity in Medicine by INSIGHT Into Diversity magazine.
"UT Southwestern's missions for research, care, and training are dependent upon and ultimately fueled by achieving and expanding the diversity of UTSW faculty, staff, and learners; uncovering and educating ourselves and the community about unconscious and conscious bias; and leveraging that knowledge to address disparities in order to deliver the best possible care to every patient and every community," Dr. Nesbitt said.