A life spent pushing toward her passion despite stereotypes, others' expectations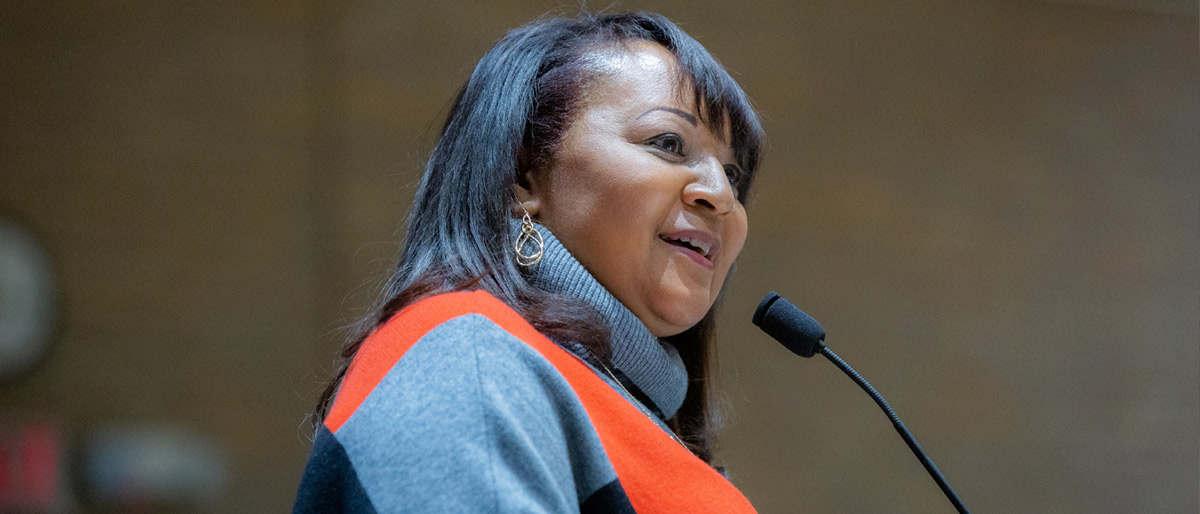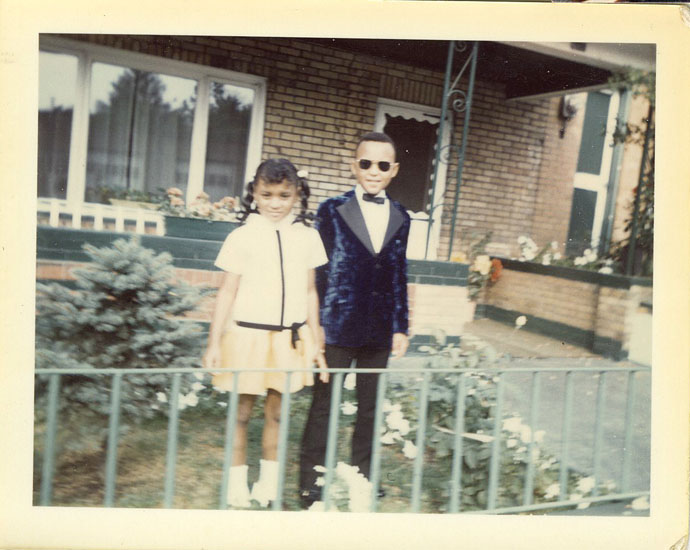 In 1960s and '70s Pittsburgh, Shawna Nesbitt soon learned girls weren't expected to be doctors – especially not black girls.
"Girls are teachers and nurses, why don't you do that?" her mother asked when she talked about her dream. "Let your brother be a doctor."
Later, as a teen, it was their white family doctor who tried to dissuade her, saying she should have a family instead.
She didn't let either discourage her. Dr. Shawna Nesbitt is now Associate Dean for Student Affairs in the Office of Student Diversity and Inclusion as well as Medical Director of the UT Southwestern-affiliated Parkland Health & Hospital System's Hypertension Clinic.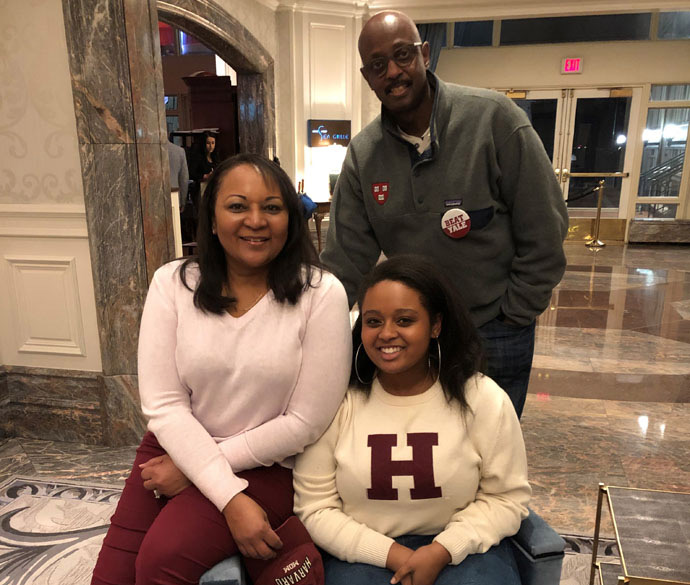 Oh, there were supporters as well along the way. Her childhood dentist, also a white man, encouraged and mentored her, letting her learn in his office while his female partner helped her navigate the steps into medical school. Even her mother, an administrative assistant, came on board after some intervention from an older cousin.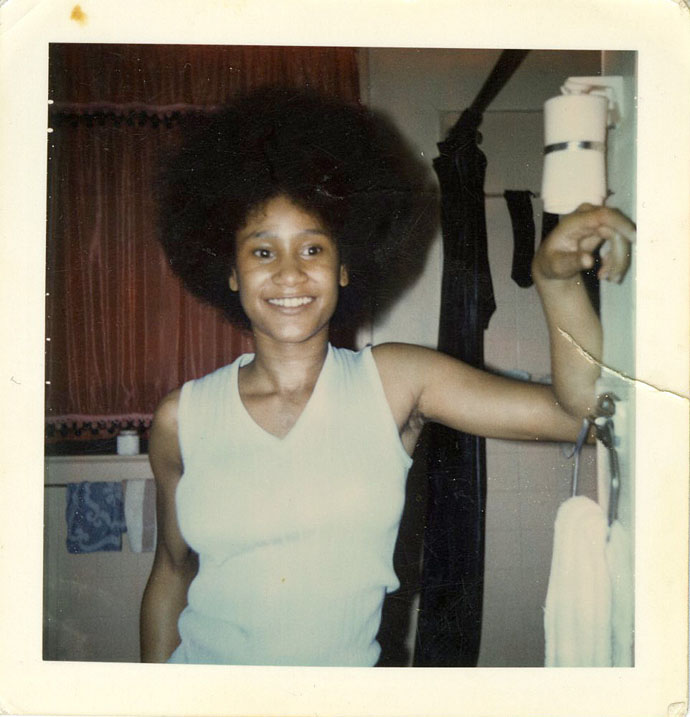 "If she were a boy, would you tell her the same thing?" the cousin asked. "My mother struggled for a moment and then said, 'I would never say that.' And so from that moment on it was, 'You can do what you want to do – girl or boy,'" Dr. Nesbitt said.
Now her mother, Yvonne Smith, said she's proud of her daughter's determination. "If she decides it's something she wants to do, she does it," Mrs. Smith said.
In fact, learning there can be limits despite your best efforts was one of Dr. Nesbitt's hardest lessons.
A doctor is born
In 1988, Dr. Nesbitt graduated from Hahnemann University College of Medicine (now Drexel University College of Medicine) in Philadelphia, then headed for a residency at a Pittsburgh hospital.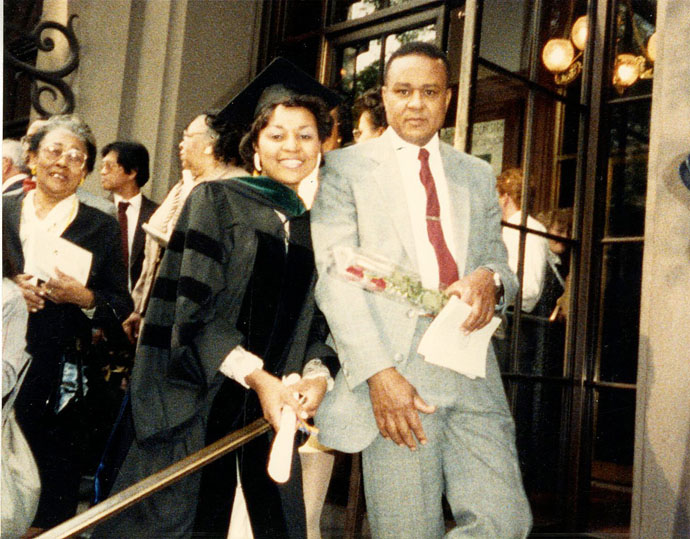 While working as a resident, Dr. Nesbitt treated a pancreatic cancer patient in his 30s. One day, the man was trying to hold on long enough to see his wife and kids. But he died before his family could make it to the hospital.
"After that, I felt empty in terms of power because I think as physicians we learn to think of ourselves as people who can change things," said Dr. Nesbitt, now a cardiologist specializing in the treatment of hypertension.
Dr. Nesbitt said she learned an important lesson – that you can't control everything, so make sure you prioritize the things you're actually passionate about. As an educator and a Professor of Internal Medicine at UT Southwestern, it's one of the lessons she tries to instill in her students.
"I often tell them, if you follow your passion, you will never be tired of what you do. If you follow someone's direction without your passion, you will be fatigued very quickly," Dr. Nesbitt said.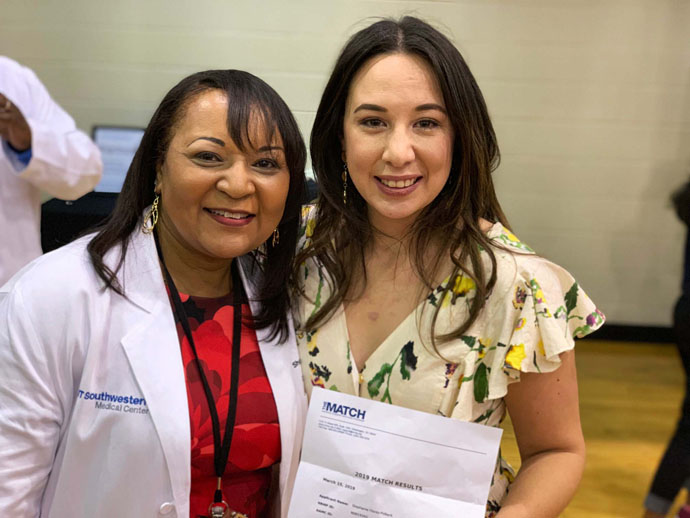 Passion is what kept her on track to become a doctor despite the naysayers. Science allowed her to understand why something occurred, she explained. Her desire to become a doctor was so great that she actually turned down a full engineering scholarship.
Passion is also why she became a hypertension specialist. The condition is personal to her. "Blood pressure was why my entire family went to the doctor – every single family member had hypertension. So I thought, 'I'll become a doctor who takes care of hypertension,'" Dr. Nesbitt said.
But as she prepared to leave medical school, Dr. Nesbitt was concerned about her student loan debt and became focused on finding a position that would allow her to pay it off. As she considered the possible paths, a mentor gave her similar advice to what she now shares with her students: "Always live by passion. Never live by finance. Your passion will determine your excellence, and excellence will drive your finance. You're passionate about hypertension; that's where you should be."
So she took that advice, and after completing her residency headed to Michigan to earn a master's of clinical research and statistical analysis from the School of Public Health at the University of Michigan. Dr. Nesbitt then spent several years doing hypertension research.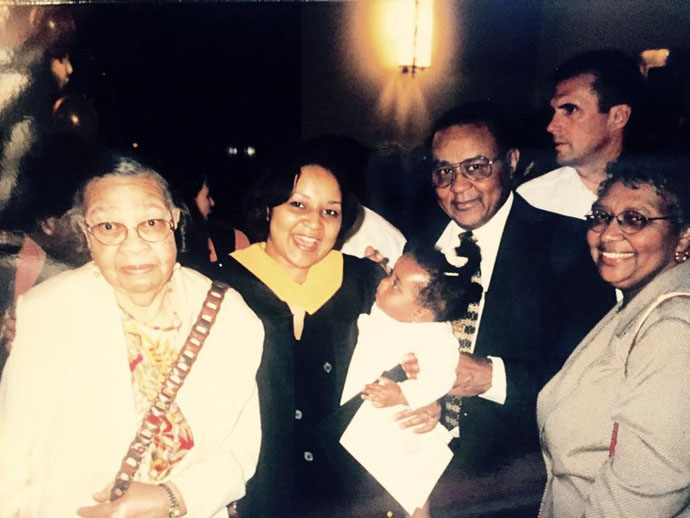 "The research part of it opened my eyes to contributing in a different way. You'll take care of a few hundred thousand people during your career, but doing research addresses a problem many people who will never meet you have, and you may impact their lives in a positive way that is like a wave on an ocean," Dr. Nesbitt said.
In 2001, because of that research, UT Southwestern recruited Dr. Nesbitt to join its faculty. Soon after, the Associate Dean position in what was formerly known as the Office of Minority Student Affairs became available.
Paying it forward
Dr. Nesbitt sees the role as another way to fulfill her goal of serving her community.
"My passion was to be able to give back to people who look like me. My job allows me to do that in clinical care; it allows me to do that in research; and now I can do that with students as well," Dr. Nesbitt said. "Influencing them is paying it forward in terms of all the things I have learned and can share with them and help ensure their success."
Dr. Byron Cryer, Associate Dean for Faculty Diversity and Development and Professor of Internal Medicine, previously held Dr. Nesbitt's job. When he left to take on his current position, he encouraged Dr. Nesbitt to apply for the position because he recognized she had the passion, talent, and ability to motivate students.
"You want to feel like you're handing off your efforts to somebody who's going to be a responsible steward of the investment that was developed in terms of prior programs," Dr. Cryer said. "I am able to sleep comfortably knowing that I handed those things over to somebody who very capably took them over and continued to grow and expand."
Since assuming the leadership of the Office of Student Diversity and Inclusion, Dr. Nesbitt has developed the cultural competency curriculum to help medical students treat patients who come from different ethnic, economic, and geographic backgrounds. As part of that curriculum, Dr. Nesbitt teaches an elective called Healthcare Disparities in Underserved Communities.
"In Dallas, we have a very culturally diverse patient population and the experience of the patients we're treating is commonly not the background nor the experience of our students," Dr. Cryer explained. "So Dr. Nesbitt's course is helping physicians understand how to better diagnose and manage that diverse population of patients."
Dr. Cryer also credits Dr. Nesbitt with developing and coordinating a strategy to deliver student diversity initiatives across UT Southwestern's Medical School, Graduate School of Biomedical Sciences, and School of Health Professions. The Office of Student Diversity and Inclusion formerly focused solely on the Medical School.
Medical educators recognize the importance of reaching students as early as possible to foster an interest in the field, particularly in minority communities. Dr. Nesbitt has worked with community organizations such as Jack and Jill of America Inc., whose outreach programs target African American children as young as age 2, and UT Southwestern initiatives such as the Health Professions Recruitment and Exposure Program, which focuses on high school students.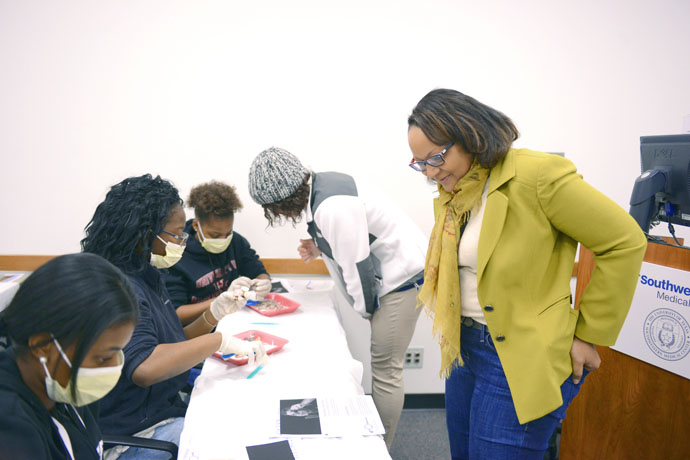 "I think I can give back to students and help them accomplish their goals by showing them the example that 'I look like you. I speak like you. I come from where you came from, and you can be just like me,'" Dr. Nesbitt said.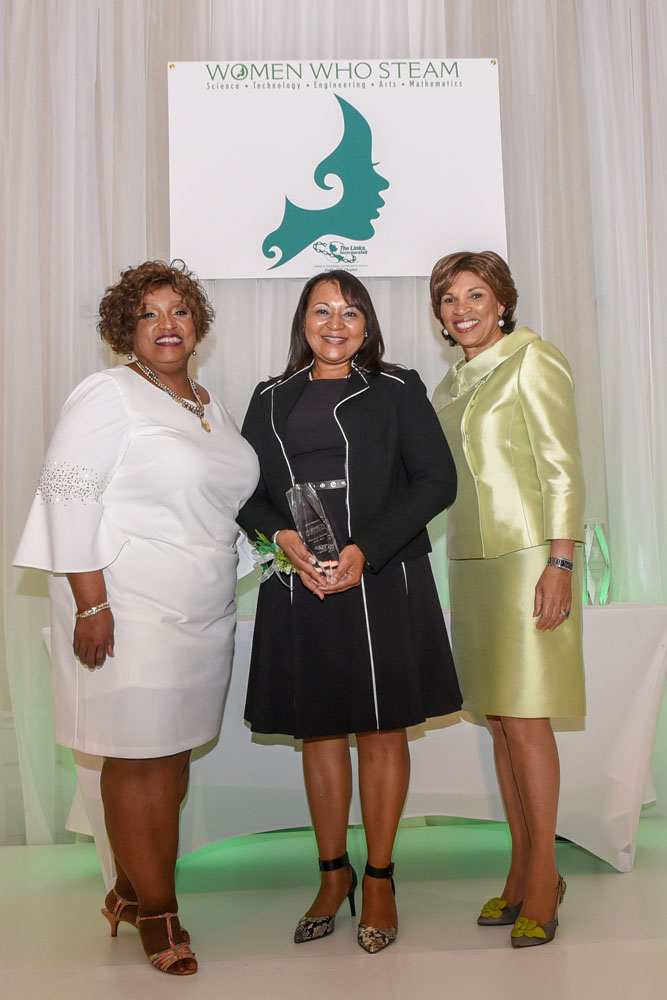 Dr. Nesbitt's achievements and commitment to the next generation of health care professionals has been recognized by outside organizations. Most recently, in April, she was honored by the Dallas Chapter of The Links Inc. with a 2019 Women Who STEAM Award, honoring her efforts to introduce young girls to science careers. (The Links is a national African American women's service group.)
"It is a distinct honor. It's one thing to be honored by people that you don't know, but it is really wonderful to be recognized by a group of your peers — largely African American women who are doing wonderful things. To have them recognize that I've done something really good for the Dallas community and for the community at large really just warms my heart," Dr. Nesbitt said.
The confidence to succeed
One of Dr. Nesbitt's priorities when working with girls in particular, she said, is instilling confidence because developing that characteristic can be particularly difficult for females.
"I find that confidence is the most important determinant of your success, because there are so many challenges that you will have to fight against, so many stereotypes and biases you will have to fight. If you're not internally confident in your own abilities, you can't do very much," she said.
In her own life, confidence has often made all the difference.
When the white family doctor told her to start a family instead of following her dream, for example, Dr. Nesbitt became determined to prove him wrong.
Related Video: Dr. Nesbitt explains overcoming bias
When her parents sent her to a mostly white private elementary school in the face of riots against public school desegregation at the time, the other children didn't want to play with her at first. Dr. Nesbitt said she survived by learning how to make cultural adjustments to fit in, both at school and in her African American neighborhood.
The experience helped her navigate college and medical school as an adult, she said, since neither had many students like her.
In her current position, that childhood experience helps her empathize with medical students from underrepresented groups.
"Isolation for anyone is a significant challenge to overcome in becoming successful," Dr. Nesbitt said. "Beating that really requires that you build a sense of community, both with people who are similar to you and have similar interests — but also to educate remaining parts of the community to help bridge that gap."
After years of fighting against stereotypes to move toward her passions, Dr. Nesbitt is in a position to have an impact on such issues – not just for minority students, but by teaching all students how race, gender, and other demographic and social issues impact patients.