UT Southwestern SACNAS chapter honored with national award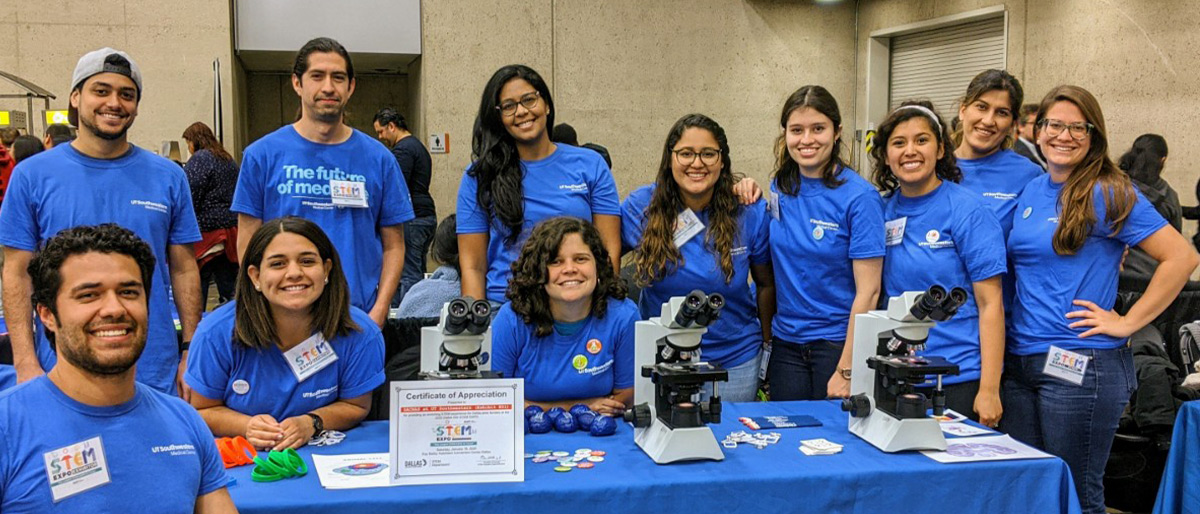 The challenges of the pandemic this past year did not hinder the UT Southwestern SACNAS chapter's commitment to service, diversity, and inclusivity. The group remained steadfast in its mission to inspire underrepresented minority students to pursue careers in STEM, launching outreach efforts to alleviate COVID-19 vaccination concerns and creating videos to thank clinical workers.
In October, the chapter received a 2021 SACNAS Chapter Award in recognition of its dedication to science, education, and professional development. UTSW was one of seven chapters honored with the national award.
SACNAS, or the Society for Advancement of Chicanos/Hispanics and Native Americans in Science, is an inclusive organization of college students and professionals dedicated to fostering the success of Chicanos/Hispanics and Native Americans in attaining advanced degrees, careers, and positions of leadership in STEM. The UTSW chapter, founded in 2014, has 12 officers and 20 active members.
"Our SACNAS chapter continues to work tirelessly to support one another during students' Ph.D. journeys and to encourage the scientists of the future through their substantial outreach efforts," said Nancy Street, Ph.D., Associate Dean, Graduate School of Biomedical Sciences and co-adviser of the UTSW chapter. "Receiving the 2021 National SACNAS award is a great honor and signifies that the efforts of our SACNAS members are promoting change and inspiring those who will follow in their footsteps."
Hoping to inspire STEM careers among underrepresented minorities, members participated in panel discussions for high school and undergraduate students, sharing about their personal journeys. They also helped parents and students with fun science experiments through a virtual booth at the Dallas ISD STEM Expo.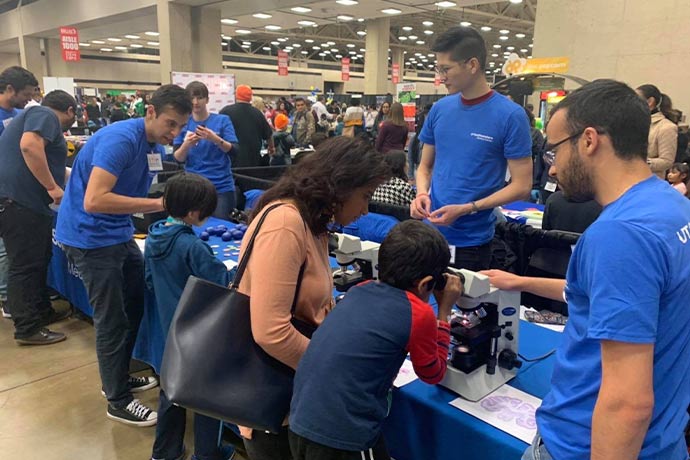 In addition, the UTSW chapter presented a seminar at the virtual SACNAS National Conference on how to organize outreach events.
"This award represents the hard work and dedication of our members and officers," said UTSW SACNAS chapter president Jesus Vega-Lugo, a Ph.D. candidate in molecular biophysics. "In a year where everything was challenging and happening virtually, we were able to accomplish our mission. The award is a recognition that reaffirms that we were able to impact the community during challenging times.
"I am very excited that our chapter is awarded for its work," said Natalia Rodríguez-Sosa, a Ph.D. candidate in neuroscience, who served as chapter president during the prior academic year. "We put in time for the love of service and outreach, but it always feels good to be recognized. Recognition strengthens our desire to continue and makes us realize we are on the right path. Hopefully, we can inspire younger students to join our organization to continue spreading our values of fraternity and service."
The UTSW SACNAS chapter was founded by six Hispanic graduate students with goals to bolster the confidence of young researchers in order to retain underrepresented minority Ph.D. students in science, build a UTSW community that supports minority students' Ph.D. education, and develop outreach efforts to increase representation of minority groups in STEM. It registered as a chapter with the national SACNAS organization in 2015 and was recognized as Chapter of the Year in Professional Development in 2017 and Chapter of the Year in Community Outreach in 2019 and 2020.
Arnaldo Díaz Vázquez, Ph.D., Assistant Dean for Diversity and Inclusion in the Graduate School and co-adviser of the UTSW chapter, is an alumnus of the Linton-Poodry SACNAS Leadership Institute and has attended the SACNAS National Conference for more than 12 years.
"SACNAS celebrates science and culture in a welcoming and inclusive environment. As a member of a group historically underrepresented in science and medicine, I know firsthand the value that our SACNAS chapter brings to our community and the importance of creating a sense of belonging in its members' well-being and professional development," Dr. Díaz Vázquez said. "Ensuring our students have that sense of community and support network is a priority for me as a first-gen mentor. I am very excited and proud of the accomplishment of our SACNAS chapter here at UT Southwestern."