New Assistant Dean to lead diversity, inclusion efforts in Graduate School with focus on mentorship, community outreach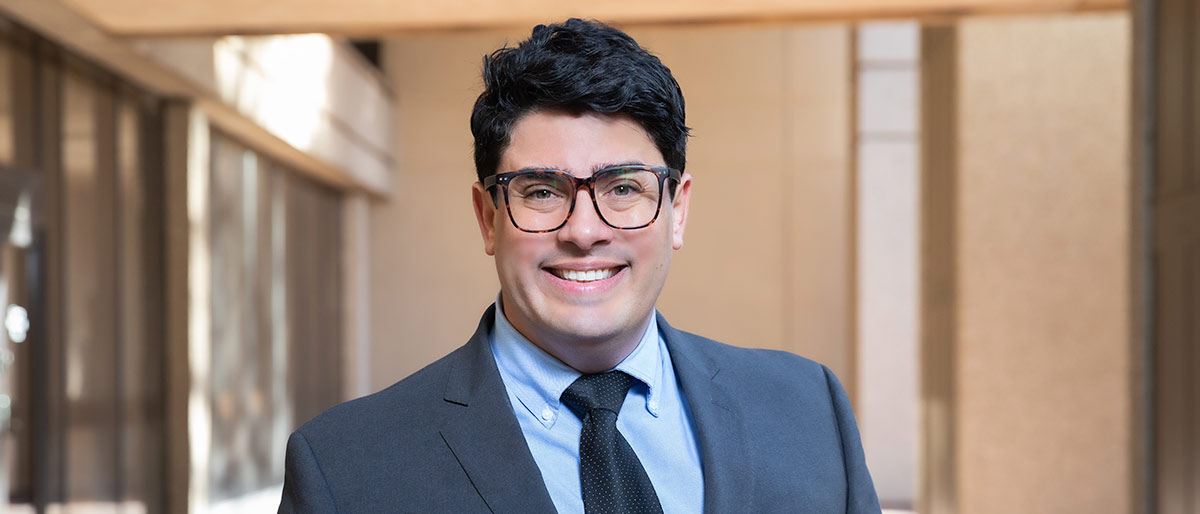 Dr. Arnaldo Díaz Vázquez joined UT Southwestern in January as the inaugural Assistant Dean for Diversity and Inclusion in the Graduate School of Biomedical Sciences, part of broader efforts to expand racial and ethnic diversity among students, trainees, and faculty across the institution's three schools.
In his new role, Dr. Díaz Vázquez is tasked with strengthening the school's focus on recruitment, retention, and mentorship, partnering with Associate Dean Dr. Nancy Street, who has spearheaded existing diversity and inclusion efforts. Dr. Díaz Vázquez will join the executive leadership of all the Graduate School's diversity initiatives, including the Provost's Initiative for Diverse Emerging Scholars Program (PROVIDES), launched last year to mentor postdoctoral fellows from underrepresented minority (URM) groups and support their advancement to faculty positions. Dr. Díaz Vázquez will also work to fill a gap in the Graduate School's diversity pipeline programs – the lack of a postbaccalaureate fellowship program which would enable students who missed out on research experience in college to gain hands-on research experience and be prepared for graduate school.
"While the Graduate School student population is very diverse overall, we recognized that certain populations continue to be underrepresented, and we wanted an Assistant Dean to be able to extend our current recruitment efforts to these populations," said Dr. Andrew Zinn, Dean of the Graduate School. "Additionally, we realized that just having student diversity is not enough; we needed an additional Dean to enhance our efforts to foster an inclusive environment for basic science trainees and faculty at UT Southwestern."
Dr. Díaz Vázquez, who comes to UT Southwestern from the University of Pennsylvania where he held a comparable role, said community outreach and mentoring will be key to recruiting more students and postdoctoral fellows from underrepresented populations – those who identify as Black/African American, Hispanic/Latinx, or indigenous peoples. While UTSW has seen significant growth in URM graduate students over the past two decades – with student enrollment above national averages across those three demographics – leaders strive to do better.
"If we invest in our community and in mentoring, I think we can make a huge difference," Dr. Díaz Vázquez said. "The talent is there, but it's about creating opportunities and awareness as well as providing resources to help students and trainees pursue the careers they want."
Dr. Díaz Vázquez said he intends to lean on his many relationships with historically Black colleges and universities and Hispanic-serving institutions to attract recruits. Other long-term recruitment strategies might include developing outreach initiatives for students in grades K-12 and providing graduate students and fellows a platform to share their educational experiences with the community.
"I came from the public school system, so I think that is a way to make a difference," he said. "I think it's important to get our trainees and faculty out there connecting with the community and talking about science with kids and their parents in order to expand our reach so students aren't waiting too late to learn about pursuing a Ph.D."
A native of Puerto Rico, Dr. Díaz Vázquez earned his Ph.D. in biochemistry at Texas A&M University and completed his postdoctoral training at the University of Pennsylvania. Initially interested in becoming a physician, he discovered research as a college junior. Following postdoctoral training, he shifted his focus to mentoring because he said that was often a missing piece in his own development.
Dr. Díaz Vázquez is a proponent of using social media as a networking tool with students and to engage the public. Throughout the COVID-19 pandemic, he has further learned the benefits of digital engagement, such as virtual conferences, to connect with prospective students.
"The way we think about mentoring and outreach has to adjust moving forward. While we will eventually attend conferences in person again, we also need to utilize virtual visits for those who might not have the means to go to a conference and to reach out to schools we've haven't engaged with before," he said.
Overall, leaders said creating diverse learning environments to better help students and trainees find the professional path that suits them is the goal.
"We have long known that there is more that we can do to promote a diverse and inclusive environment for basic science research at UT Southwestern," Dr. Zinn said. "Advocacy by graduate students and postdoctoral fellows in the wake of the racial injustices that came to the fore during the pandemic prompted us to redouble our efforts. Adding a new Assistant Dean for Diversity and Inclusion was one of the key recommendations by graduate students and postdocs."
The appointment of Dr. Díaz Vázquez follows the arrival of Dr. Quinn Capers IV, a nationally recognized leader on diversity and inclusion in academic medicine, who joined UT Southwestern as Associate Dean for Faculty Diversity late last year.