Match Day 2020: Student Spotlights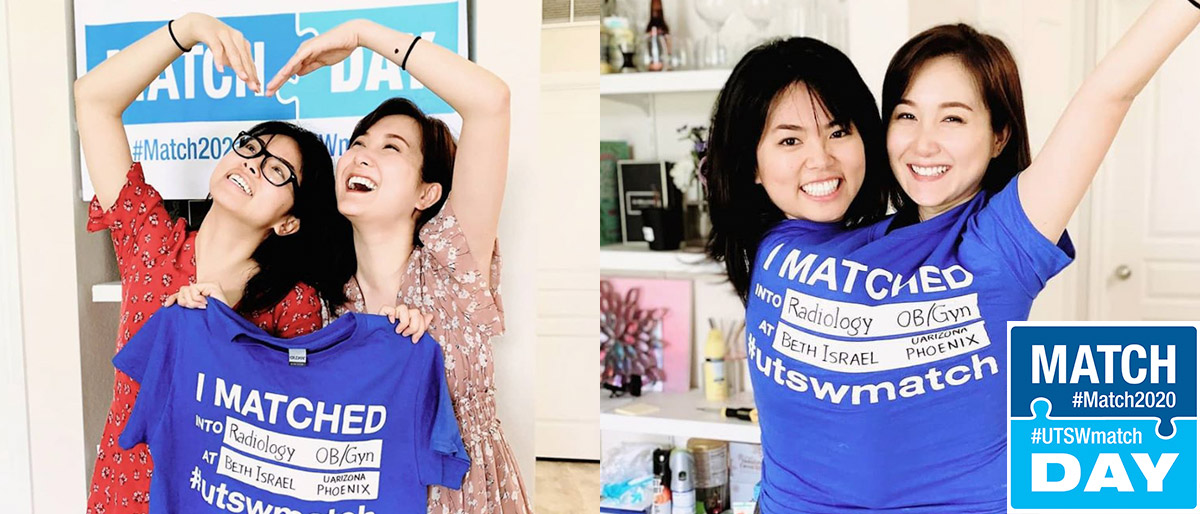 Every medical student has a compelling story. Several from the Class of 2020 shared thoughts about their future careers in medicine and their reactions upon learning where they matched.
For a full list of the students and their specialty matches, view the full match list.
---
---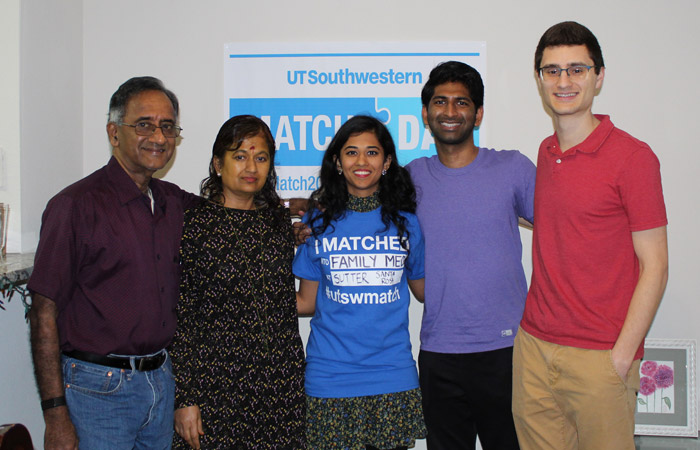 Anita Vasudevan
Where she matched: Sutter Santa Rosa Regional Hospital
Specialty: Family Medicine
Reaction: "Sutter was my first choice because of its community advocacy and emphasis on social justice. I am so excited to be a part of that and I am so honored that they wanted me. I'm ready for this new adventure. Even though everyone wasn't physically around us for Match Day, I still enjoyed it. I initially thought it wouldn't be as exciting, but it was actually really, really exciting – and all of my classmates are texting each other furiously right now. I think the thing that I am going to miss the most are my friends. I am moving really far away and most of my friends matched all over the country, but the best things I found at UT Southwestern were the amazing people."
Ms. Vasudevan has lived in some of the largest metropolitan areas within Texas for her entire life – and is both scared and excited to begin her residency in family medicine outside her home state.
She is a servant leader to the core. She has participated in United to Serve initiatives like community health fairs since her first year in medical school. The public health courses she took as an undergraduate also helped inspire her career pathway into family medicine.
At UT Southwestern, she founded a service organization last spring to further connect with local community members and better grasp their health needs. She serves as President of the Southwestern Alliance Against Food Insecurity at UT Southwestern, which is dedicated to expanding medical students' knowledge about food insecurity and its impact on health.
"We volunteered with groups like Meals on Wheels and Hunger Busters within the community and created a podcast to ignite more meaningful conversations about food insecurity in the Dallas area and on a national level," she said.
Ms. Vasudevan is eager to put her education into action. She is completing her master's degree in public health and hopes to carry that knowledge over into family medicine.
For her, understanding community and population health is key to this medical specialty. "A lot of what we are treating in the clinic can be traced back to what is happening in the community," Ms. Vasudevan said. "Social determinants of health like someone's socioeconomic status, nutrition, education, or access to health care play such an influential role in a person's health risks and outcomes. A patient's ZIP code alone has a huge impact on their health and what they have access to."
In order for her to be fulfilled as a primary care provider, she feels the need to focus on more than just treatment for a patient. "You have to think about what the patient is going to be experiencing once they go home and leave the clinic," she said.
Ms. Vasudevan is excited to match with a residency program that fuels her passion for public health and working with underserved populations. She aspires to continue shedding light on these issues and improving health outcomes for those she encounters throughout her medical career.
"Sutter Santa Rosa Regional Hospital is in a community that has a lot of inequities, and the family medicine doctors are a really important part of trying to bridge those gaps in health," she said.
Ms. Vasudevan logged into the UTSW virtual Zoom room on Match Day to participate in the countdown with her classmates. She opened her match email with her family, fiancé, and best friend in the living room of her apartment.
Match Day means carrying the torch for her family. "My grandmother grew up in India in a small village and didn't really have the opportunities that I have – like becoming a doctor," Ms. Vasudevan said. "She was a really important person to me growing up. She passed away my first year in medical school, which was really tough, but I think a lot about how proud she would be and how much this accomplishment would mean to her too."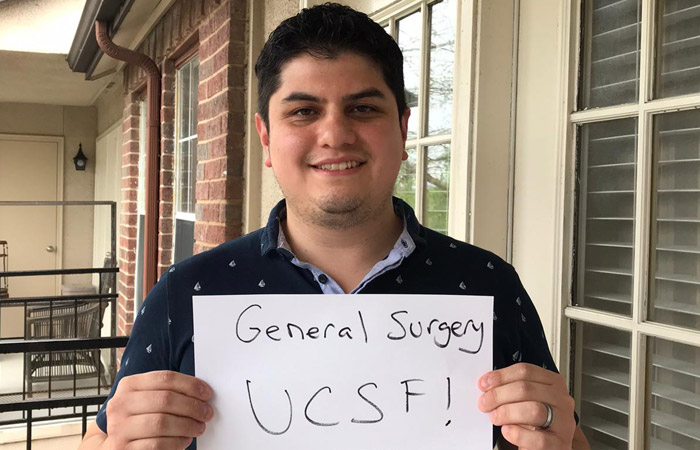 Juan Reyna
Where he matched: University of California, San Francisco
Specialty: Surgery
Reaction: "I initially set out to do this in 2010 and it felt like a pipe dream. There were so many hurdles I had to get through to get to this point. Granted I still have residency, but now that I am poised to become a surgeon, I am very thankful. It's surreal in itself that I was able to make it. It bummed me out that they canceled the event, but I liked that they did the virtual Match Day. I appreciate that they put that effort in to still make it feel like a special event."
Mr. Reyna took the road less traveled when he decided to shift gears and career paths. For 11 years, he worked as an automotive mechanic in Houston before attending UT Southwestern.
"Being a mechanic actually showed me that I was a good learner," he said. "In high school, I was a very underachieving student, and the last person you would expect to go to medical school."
It was his love of cars that helped him grow his mind and delve deeper into vehicle manuals, engine mechanics, and electrical systems. "It fed my curiosity and continued to open up more and more questions for me," Mr. Reyna said.
A pivotal event that took place in the mechanic shop heavily influenced him to pursue a medical degree. He witnessed a co-worker get his hand caught in between a gear and a timing chain. Despite the severity of the injury, the employee returned to work about four months later.
"It was frightening having no idea what to do in that situation," he said. "At the end of the day, they were able to fix him the same way we fix cars. It piqued my interest and I typed into Google, 'how to become a doctor.'"
The internet search guided him on steps needed to continue his education. The process involved borrowing his younger sister's biology textbook to read during his lunch breaks, completing community college courses after work and on weekends, obtaining an undergraduate degree, and more. He was aware of how difficult the path would be and accepted the challenge.
"The ability to intervene when necessary sparks my interest the most, and that really comes from my time that I spent working as a mechanic," he said. "In short, both involve diagnostics, intervention, and finding a solution. A mechanic might look under the hood and complete a visual inspection or do a test drive, whereas a doctor might perform a physical exam or request additional testing. It's very parallel."
In 2016, he arrived in Dallas as a medical student at UT Southwestern with a goal of going into general surgery. He has stuck to his objective and is excited to blend his two worlds together. Mr. Reyna and his wife will be moving to his first choice in San Francisco, a place reminiscent of his wife's hometown in Mexico. This will be his first time living out of state.
Ready to become the best surgeon he can be, Mr. Reyna will be leaving Texas feeling prepared for what lies ahead.
"UT Southwestern is a top 10 surgery program, so it gave me confidence that I was doing my subinternships at a nationally ranked academic institution," he said. "It gave me confidence that if I could excel at UT Southwestern, then I can excel anywhere."
Mr. Reyna said coming to school at a later age was a blessing. "Whenever I arrived at school, I felt so thankful to be there and it kept me motivated to learn as much as I could," he said. "I felt lucky to have this opportunity, and Match Day really signifies the culmination of all the years of work that I've put in to get to this point."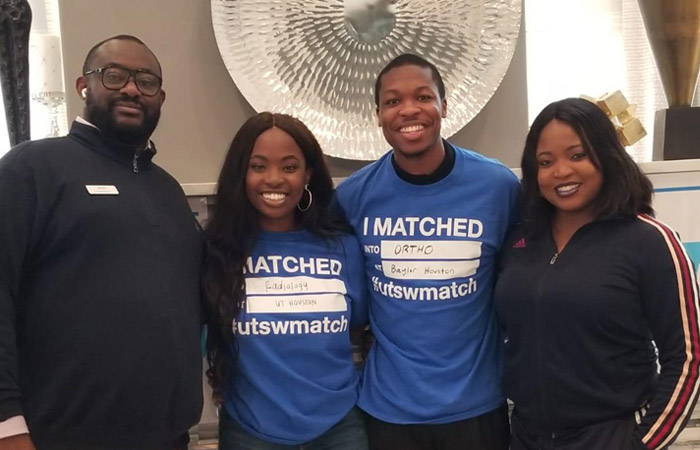 Nicole Akinseye
Where she matched: UT Medical School at Houston
Specialty: Radiology
Reaction: "My fiancé and I are going to be in Houston! We're so happy that we're going to be together, and we both really love the programs we interviewed with. We're super excited because Houston was one of our top picks. My little brother printed out our results so we could open up an envelope instead of an email. We would have loved for all of our friends to be here with us, but it was still really awesome opening Match Day results in front of my family and having Shawn's family on FaceTime."
Ms. Akinseye is not waiting for a seat at the table; she is bringing her own – and extras for the next generation of minority medical students. She finds purpose in empowering others through mentoring, working with underserved communities, and teaching.
While in medical school she was involved with the Student National Medical Association (SNMA), which is committed to increasing the number of African Americans and other underrepresented groups participating in the medical field, a mission that Ms. Akinseye holds dearly.
"I've always been a part of the minority throughout my schooling, and I believe it is important to try to get more minorities in medicine," she said. "Our presence in the community is needed to show people that anyone can become a physician, no matter your background."
Ms. Akinseye has dedicated much of her time to mentoring high school and college students and to teaching fellow medical students. In her time at UT Southwestern, she worked as a tutor for first- and second-year students in immunology, microbiology, and many other courses.
Proud to have contributed to bettering her North Texas community during her time on campus, Ms. Akinseye has served as a health fair chair for United to Serve, coordinated health projects for middle school students, and assisted women in the Dallas area with obtaining free mammograms.
To prepare for Match Day, Ms. Akinseye completed interviews for about 22 radiology programs across the U.S. She has also expressed a strong interest in women's health and hopes to eventually become a breast and women's imaging specialist. To make things more complicated, she went through the NRMP Match with her fiancé, Shawn Okpara, who is pursuing orthopedic surgery. Any two applicants can choose to couples match to increase their chances of matching in the same location.
"You try to go somewhere that fits for both of you, but that means we also had to go on a lot more interviews than some of our other classmates to increase our chances of matching at the same place," she said.
Meeting her future husband while in medical school was beneficial in many ways. "We were able to study together and learn together as we went through medical school," she said. "It was good to know he was by my side throughout the entire process. We even had a lot of our clinical rotations together."
Ms. Akinseye said the amount of personal and professional growth she experienced while attending UT Southwestern is immeasurable. "I learned about myself and how I cope with stress," she said. "You get really adaptable after four years of medical school. Match Day came faster than I thought it would, but I'll forever remember all of the friends that I made while being here."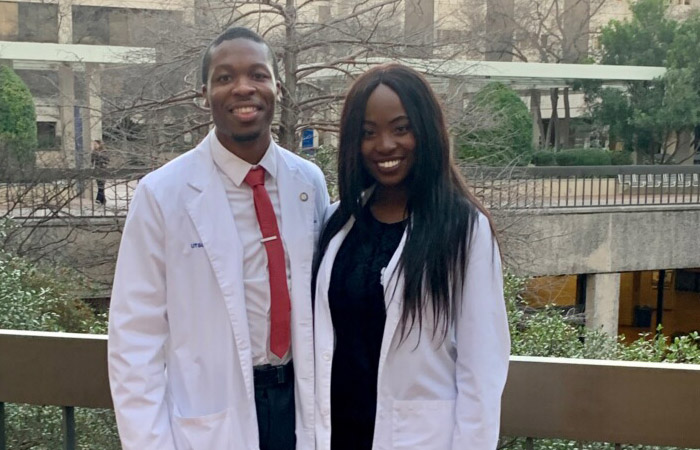 Shawn Okpara
Where he matched: Baylor College of Medicine
Specialty: Orthopedic Surgery
Reaction: "I'm from Houston so it is nice to be able to return back. I'm looking forward to going home. Match Day was not how my fiancée and I imagined it, but it was still a lot of fun. We still found ways to incorporate family into the Match Day experience. Nicole and I are just really happy to have matched together at one of our top picks. We're looking forward to moving to Houston and starting this new phase of our lives."
Mr. Okpara and his fiancée, Nicole Akinseye, who are entering into orthopedic surgery and radiology, respectively, participated in couples matching this year in hopes of obtaining residency positions in the same city. Combined, the couple went on about 37 interviews, resulting in up to 200 possible matches.
The couple has largely relied on each other for support in medical school. "It's been great and I think it's been that much easier having a significant other go through everything with you," he said. "You automatically have a good friend, a study partner, and someone to bounce ideas off of – I'm fortunate to have met Nicole during my time here at UT Southwestern."
Mr. Okpara said Match Day plans were thrown for a loop this year due to the coronavirus pandemic. The engaged couple ended up sharing their results with Ms. Akinseye's family members at her home while FaceTiming with Mr. Okpara's parents.​
"I think in medical school you have to come in with an open mind, and you may have no idea what specialty or location you will be in for the next few years," he said. "Match Day is able to pull all of those pieces together in one day."
He recalled going into a clinic on campus and seeing patients beaming with joy after an orthopedic surgery. "There was such a noticeable improvement in their function afterward, and I saw the power that orthopedic surgery can have on someone's quality of life," he said. "That experience is really what pushed me toward this specialty." As someone who has had an orthopedic operation in the past, Mr. Okpara identifies with the patient population.
The lack of diversity in medicine is an issue that Mr. Okpara has worked to bring more visibility to during his education. During his time at UT Southwestern, he served as co-President of the Student National Medical Association (SNMA) and worked to encourage more people from underrepresented groups to enter medicine. "I had really great mentors along the way, and I think it is important to give back to your community." Mr. Okpara has participated in volunteer outreach at local middle schools and has mentored several students from area universities throughout their pre-health education.
Mr. Okpara is someone who will keep pressing forward even if waves are crashing down on him. He focuses on staying optimistic and encourages others to do the same – no matter what result Match Day unveils.
"Things are easier when you're positive," he said. "We've all reached the end, despite any obstacles, and accomplished the ultimate goal of becoming an M.D. We're all very capable and accomplished, no matter what we do or where we go."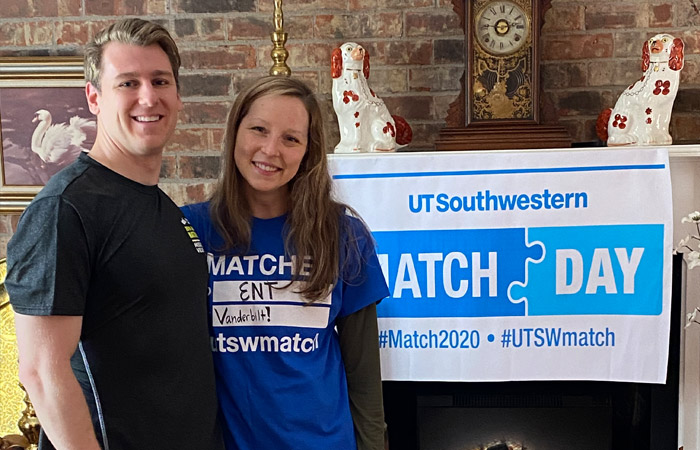 Natalie Schauwecker
Where she matched: Vanderbilt University Medical Center
Specialty: Otolaryngology
Reaction: "Me and my husband are ecstatic. We couldn't be happier. During December and January I was flying across the country, seeing programs that would be interesting to me and interested in me. It was stressful, but I took for granted the ability to do this. A lot has happened since then and it's good to be reminded that we are the luckiest people in the world. The virtual Match Day was kind of neat, but hopefully our class will be the only one that has to do it."
Ms. Schauwecker is a Dallas-Fort Worth native who swam for Southern Methodist University before attending UT Southwestern Medical School. An athlete her whole life, she was preparing for her second Boston Marathon in the weeks leading up to Match Day.
Before learning where she matched, she said not knowing where she and her husband, Jacob Stieb, would spend the next five years of their lives was the most nerve-wracking part of the wait. "I keep thinking about how much more of medicine there still is to learn – it's exciting and overwhelming," Ms. Schauwecker said.
Friday's message that the family will soon head off to Nashville, Tennessee, was welcomed and reassuring.
"I received great experience at UT Southwestern and know that I will be prepared," Ms. Schauwecker said. "Vanderbilt was my first choice. I did a rotation there for a month and felt at home. It came down to the people and knowing it was a place where I would be supported."
Ms. Schauwecker is going into otolaryngology, a medical specialty focused on the ears, nose, and throat. In addition to the inspiring mentorship she received from her main research mentor, Dr. Jacob Hunter, Assistant Professor of Otolaryngology – Head & Neck Surgery, she said the autonomy she was given in her research allowed her to control projects from start to finish. "Overall, the experience was very rewarding, and I was able to be seen as a person going into this field rather than just a student," she said.
She plans on staying in academic medicine, saying, "I would love to find myself in Dr. Hunter's role someday and be able to not only teach medicine, but also inspire students and show them what they can do in their careers."
Passion and perseverance have helped Ms. Schauwecker overcome many of life's obstacles. She has had to learn how to channel her inner strength in a variety of difficult circumstances, especially when she suddenly lost her mother during her second year of medical school. "I knew that the one thing that would have absolutely broken her heart after she passed away would have been for me to stop pursuing medicine – to stop doing the thing that I loved," she said.
Ms. Schauwecker chose to persist. She turned this emotional experience into a chance to reflect, gain perspective, and lead first and foremost with compassion in her work.
"I made sure my patients were my priority and that I was advocating for them," she said. "I feel like I was able to connect with my patients more so on a personal level. Being able to take care of patients is a real honor, and even now I am just humbled every time a patient thanks me for coming in and taking care of them."
On her first day of medical school, Ms. Schauwecker was assigned to Cary College. It has remained her learning community for the last four years. The College's mascot is a unicorn: a perfect pairing for someone who holds such a positive outlook on life and a source of endless amusement for Ms. Schauwecker's family. "My sister and dad would give me a stuffed unicorn, unicorn T-shirt, or mug at the end of each clinical rotation, for any special occasion, or just because," she said. Now, at the end of medical school, these silly gifts have resulted in a large collection of unicorn belongings. And that collection is not going anywhere.
"The one thing I will always keep from UT Southwestern is this association with me, my family, and unicorns," she said.
Note: Staff members Nyshicka Jordan and Patrick Wascovich contributed to this report.