A great foundation: Dr. Shayna Ratner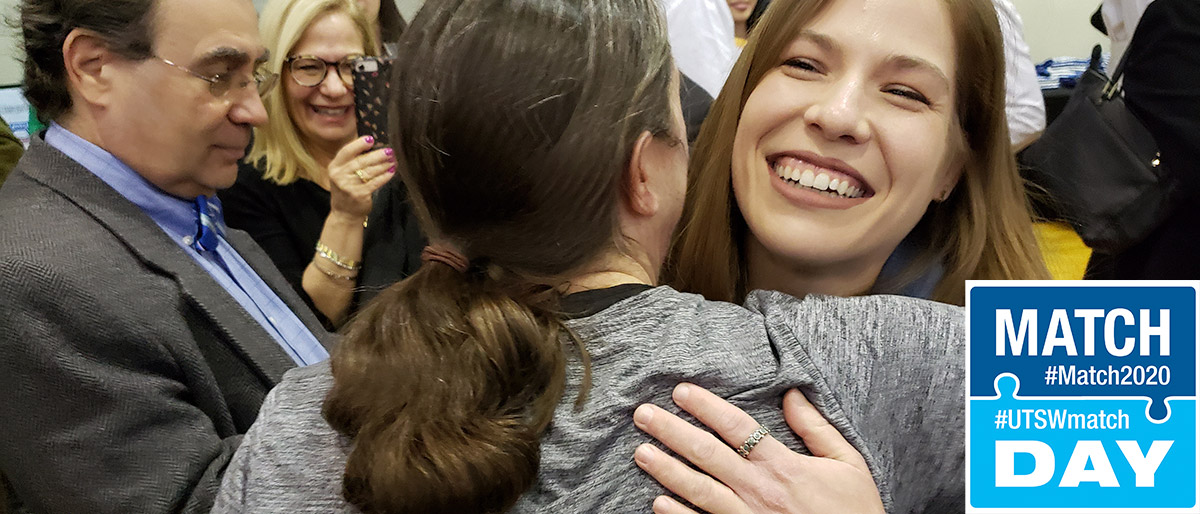 As the drumroll echoed through the Bryan Williams, M.D. Student Center gym on Match Day last year, Dr. Shayna Ratner held on tightly to her medical residency acceptance letter. Surrounded by her parents and boyfriend, and connected to her brother on FaceTime, the then fourth-year medical student braced herself to open the envelope. But when the drumroll stopped, she hesitated.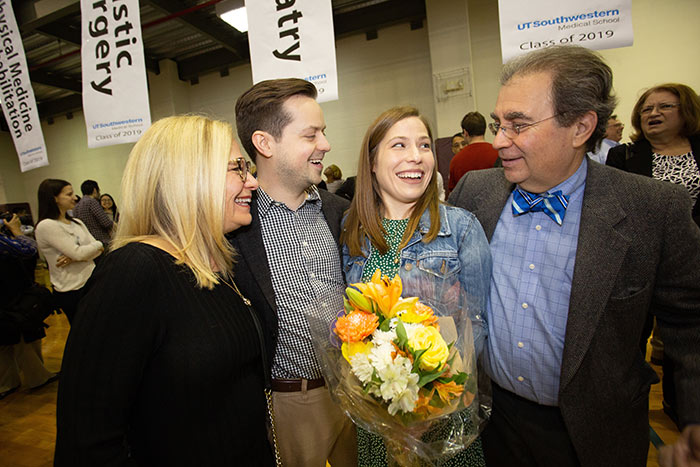 "It took me a few seconds to build up the confidence to be ready," she said. When she finally saw the letter, it read "Columbia University Medical Center" – her top choice to complete her training in psychiatry.

"I think I squealed when I saw it," she recalled. However, the realization that she would be moving to New York City was bittersweet.

"I had mixed feelings about leaving UT Southwestern because I had such a good experience there. When I opened the envelope, it all kind of became real that I was going to leave and move on to a different part of my career," the San Antonio native said.
Related Video: Dr. Ratner remembers Match Day 2019

While UT Southwestern was among her top choices for residency, she felt that training at another institution would broaden her medical perspective.
"UT Southwestern provided me with a great foundation, which has really made the transition as smooth as it could be," she said.

Doing good work
Dr. Ratner's interest in psychiatry was first piqued in the Brain and Behavior class she took early in medical school, and her decision to pursue the specialty was firmed up after completing her psychiatry rotation.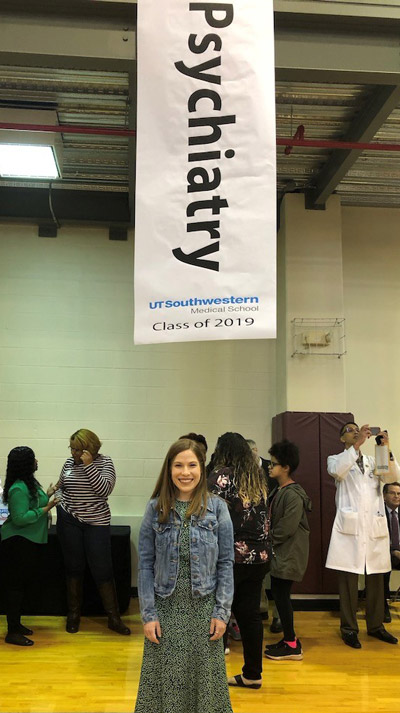 "I think mental health is not only interesting, but it's something that is not given enough weight when we're thinking about a patient's overall health," Dr. Ratner said.
While at UT Southwestern, she said she benefited from training in Dallas County's public health system at Parkland Memorial Hospital, as well as at William P. Clements Jr. University Hospital.
"UT Southwestern is a great school and I think having those two training hospitals is incredibly beneficial so that as a resident you are prepared to train at all types of hospitals," she said.
Because Parkland is used as a training hospital for UT Southwestern medical students Dr. Ratner also learned how to navigate social services and about the types of resources and support available for patients, she said.
"That's an important part of being a doctor because you need to understand how you can help a patient be healthy after they leave the hospital," Dr. Ratner said. "If you only work at a private hospital, you might not understand the differences at a public hospital where patients don't have the same resources or insurance access."
While still early in her career, she thinks she would like to pursue geriatric psychiatry or transition into palliative care.
"Both of my grandmothers were in home hospice at the end of their lives and that had a strong impact on me," she said, "trying to make that difficult time in life as meaningful as possible."
She recalled working with terminally ill patients on her palliative care rotation at UT Southwestern as "doing good work."
"Trying to make a patient comfortable at such a critical time is incredibly fulfilling," she said. "Managing a patient's pain or a bowel regimen or working on their energy and appetite level might not appear to have the same value as saving a life, but those things are important to anyone's day-to-day existence."
Becoming Dr. Ratner
As another Match Day approaches, Dr. Ratner said that students in the Class of 2020 should prepare to shift their thinking from making good grades to providing good care. It was a big adjustment for her.
"Caring for people is a big responsibility. It's definitely hard going from being a medical student to being a doctor. Those first few days of introducing myself as Dr. Ratner were very surreal," she said.
As she sees patients at NewYork-Presbyterian/Columbia University Medical Center and the New York State Psychiatric Institute, she often falls back on her training at UT Southwestern.
"From just practical skills to being a good team member, I think at UT Southwestern I learned how to be a good doctor because the environment on the clinical services is really collaborative," she said.
"I had so many meaningful patient interactions in medical school that I think of often and sometimes when I have interactions with patients now, there are conversations that remind me of things I learned at UT Southwestern."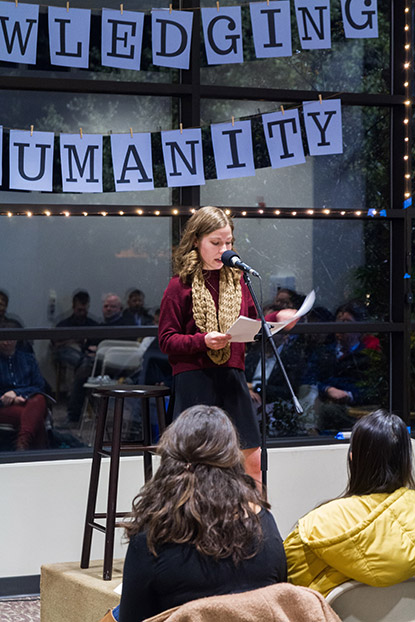 Entering professional life and beginning to make clinical decisions on your own can initially be overwhelming, Dr. Ratner said. So graduating students should lean on the training structure at their hospitals.
"It's important to know you can ask for help, and you should when you are outside your comfort zone," she said. "A part of residency is learning how to be independent and making decisions on our own, but of course you shouldn't just be a cowboy. There is a fear that you have to do it on your own, but there is a reason a training structure is in place. So, you shouldn't be afraid to say what you don't know and ask for help."
She said students might find it surprising that patient rounds are less stressful when you're a physician and not worried about being graded.
"Second-year residents remind us that our job is to take care of patients, not to be the most impressive student," she said.