Patients are prized: Dr. Michael Kutschke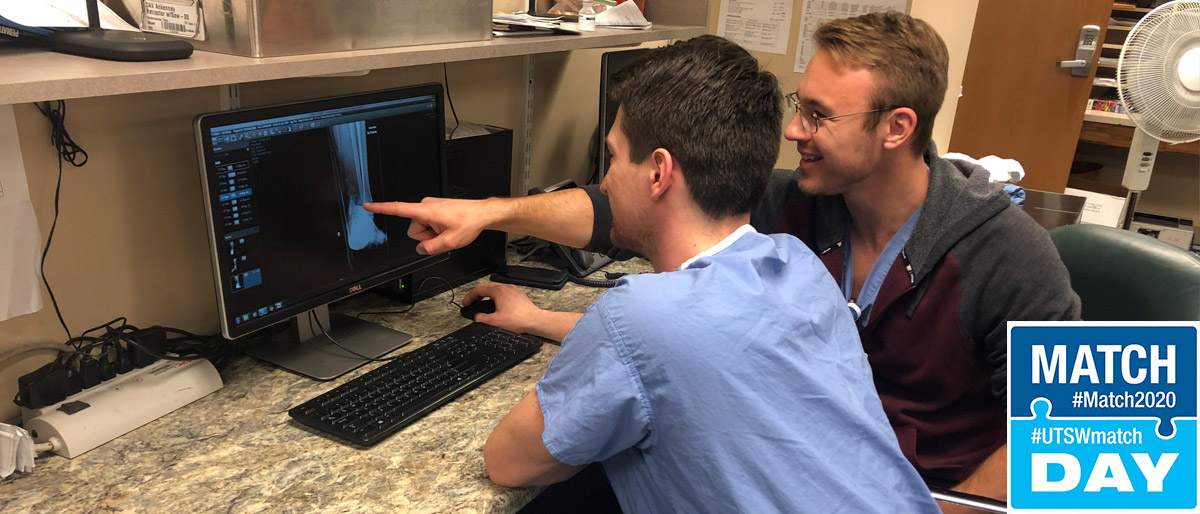 The road to becoming a doctor is long, and finishing medical school is just one milestone along the journey.
But Dr. Michael Kutschke, a first-year resident in orthopedic surgery at Brown University, said UT Southwestern equipped him with experiences that eased his transition into residency, the next phase of that journey.
"The level of independent thinking that we were expected to have as medical students at UT Southwestern helped prepare me for those times when I'm on call in the middle of night, the only one on service, and I'm expected to make a decision," said Dr. Kutschke. "It's only because of the training that I received as a medical student that I'm able to make those decisions quickly and accurately."
Related Video: Dr. Kutschke's reflects on his pride in attending UT Southwestern

Although he is grateful for the many people who poured their time and resources into training him for this chapter of his life, he credits the patients he encountered during his time at UT Southwestern for his ability to be well rounded.
"I think the prized possession of UT Southwestern is the patients. That is really where I learned the most," he said. "The volume of patients that we saw across William P. Clements Jr. University Hospital, Parkland Memorial Hospital, and Children's Medical Center provides depth. I think having that broad exposure clinically is always going to be something that I cling to throughout the rest of my career."
Excitement and humility
Looking back a year ago to Match Day, Dr. Kutschke recalls the thrill of learning that he would be heading to Brown to continue his training.
"If I think back to the exact moment that I opened my envelope last year, I was most surprised to find out that I matched at a place I was really, really excited to go to," he said.
Just months after receiving the news, he had packed up his belongings and moved with his wife, Brittani, and Labrador retriever mix, Fitzgerald, to Rhode Island. He said life since then has been a truly exhilarating and enlightening experience.
"It's still kind of surreal that we're here all the way across the country," he said.
Dr. Kutschke learned a valuable lesson within minutes of his first shift on the orthopedic trauma service: intellectual humility. He was able to step back and take inventory of the knowledge he possessed along with any blind spots he would need to conquer to be a successful first-year surgical resident.
"I was eager to get in the operating room as soon as possible to start developing those hand skills and operative skills that are needed to be a surgeon," he said. "It took me all of 15 seconds of being on the job to realize I've got a lot to learn before I can go into the operating room and start wielding all of those instruments. I had to first learn how to manage patients in the perioperative period."
Dreams become reality
Dr. Kutschke's interest in the specialty traces back to his childhood, when he sustained an injury to his arm that required multiple orthopedic operations to ultimately repair. Teams of physicians, surgeons, and support staff were eventually able to revive his health and restore function. Witnessing those medical professionals in action left a lasting impression on him.
Fast forward to today and everything has fallen into place. What was once a dream has become a reality. Dr. Kutschke suggests that medical students trust in the process and the skills they have acquired as they face the unknown this spring.
"It is going to be OK," he said. "You already know what you need to know – it is just a matter of putting it all into practice."