Two Texans in Wisconsin: Drs. Madison Argo and Juan Favela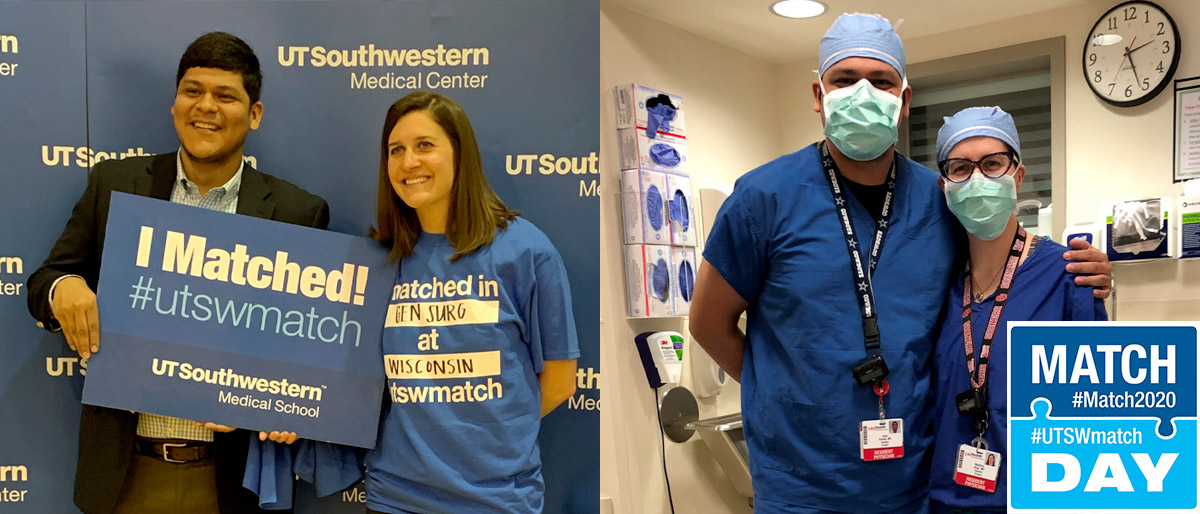 It's common for temperatures in Madison, Wisconsin, to drop below zero in the winter. Yet, even on the coldest of days, Dr. Madison Argo, a UT Southwestern Medical School alumna who is now an intern at the University of Wisconsin Hospital and Clinics, said it's never hard to find an ice cream treat in the state known as America's Dairyland.
"The hospital has ice cream everywhere and I think it's funny that you can find it 24/7 in all varieties," Dr. Argo said. "When there are rough days in the hospital, I appreciate that Juan and I can go get ice cream together."
"Juan" is her fiancé, Dr. Juan Favela and also a UT Southwestern Medical School alumnus. The couple, who became engaged in October, were among seven medical interns from across the U.S. selected for the University of Wisconsin's general surgery residency program on Match Day a year ago.
"Match Day was a scary time, but we were all very excited because you and your friends are about to find out where you're going to spend the next few years of your life," Dr. Favela said.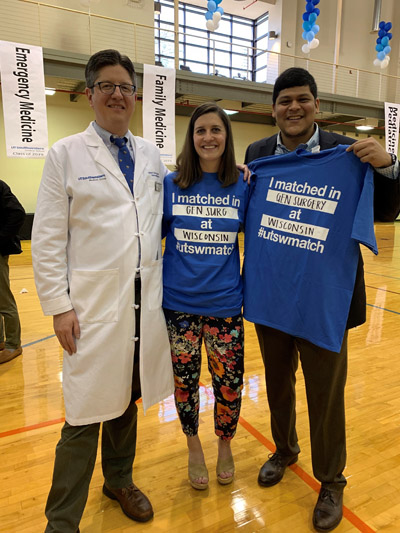 "I remember thinking everything I've worked so hard for comes down to this moment," Dr. Argo added.
That special mix of excitement and anxiety was heightened by the fact that Drs. Favela and Argo, who met at UT Southwestern, were hoping to match to the same place. Medical students who go through the match process with their significant other have the option to link their match lists in the National Resident Matching Program.
"More than anything, the idea that we would not be together for the next five to seven years for our surgery training was just very scary that day," Dr. Favela said.
Their fears dissipated just seconds after reading what was inside their envelopes.
"I opened my letter right next to Madison and we were immediately able to see that we were at the same place. So I was ecstatic," Dr. Favela said.
Related Video: Drs. Argo & Favela remember Match Day 2019
In all, 21 UT Southwestern medical students applied and placed for general surgery residency spots last year.
"I think those match results speak to the quality of training and preparation that UT Southwestern affords its students," Dr. Favela said.
'Residency is hard'
The transition from medical student to physician was quick. On June 24, just weeks after graduating from medical school, Drs. Favela and Argo arrived at the University of Wisconsin Hospital to begin rotations for the first time.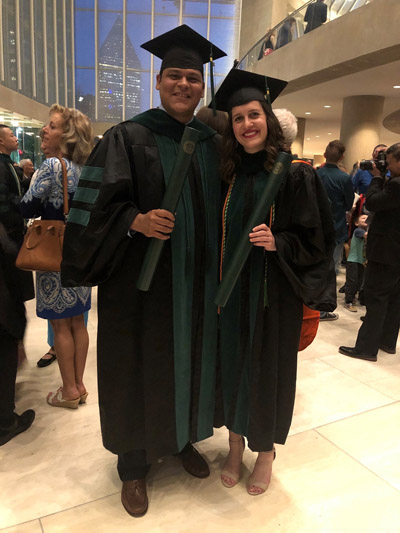 "My third day of residency, a patient I was taking care of went into cardiac arrest, and the upper-level residents quickly came to help me and knew exactly what to do. So that realization sets in quickly about the seriousness of what you do and it's a humbling experience," Dr. Favela said.
On a typical day, Drs. Favela and Argo arrive at the hospital as early as 4:30 a.m. to begin rounds. Days at the hospital are long. Their routine schedule is 12 days on, two days off, and 12-hour shifts that regularly go over because patient care does not adhere to set schedules.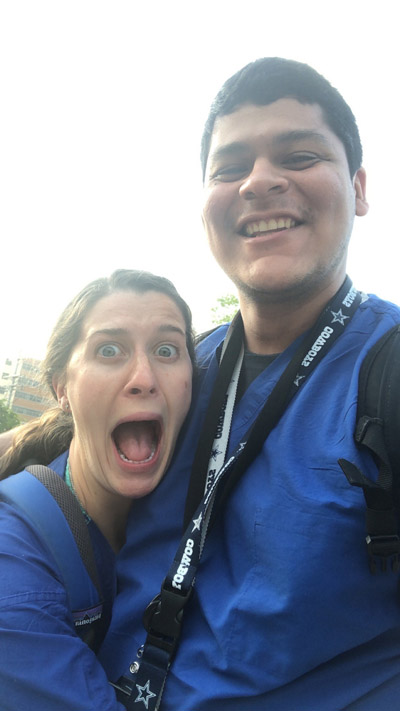 "Residency is hard, and that's true for anybody, not just surgery residents," Dr. Argo said.
But both interns said the training they received at UT Southwestern prepared them well to face the challenges of residency.
"When you're a medical student at UT Southwestern, you definitely get a good experience and view of what residency is going to be like," Dr. Favela said.
"I still vividly remember rounding with many of the UT Southwestern residents, and they are people I looked up to as a medical student and they pushed me to do better every day," he added. "Likewise, having the mentorship of attending surgeons such as Dr. Sergio Huerta (Associate Professor of Surgery), Dr. Rachel Wooldridge (Assistant Professor of Surgery), and Dr. Rohit Sharma (Assistant Professor of Surgery) was instrumental throughout clerkships and the residency application process, and for that I will always be grateful."
Dr. Huerta on mentoring Dr. Favela: "Juan was an ideal medical student because he sought advice and followed it closely. He possesses the intelligence and hard work habits that accompany a surgical academic path, but also a tremendous degree of grit well founded on interest, deliberate practice, purpose, and hope. Not only will Juan become an excellent surgeon, but a leader in academic surgery and an inspirational mentor to students in their careers."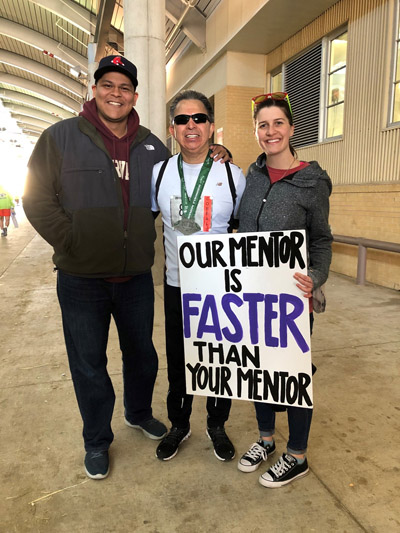 Entering residency was nerve-wracking for Dr. Argo, who initially feared she might not be ready to start caring for patients. But over the last several months she has been able to lean on her medical school training.
"I refer back to some of my clinical experiences from when I was a medical student and rely on the information learned at that time as well as the specific treatment the patient received," she said. "UT Southwestern is such a large institution, which grants its students the ability to be exposed to a huge variety of patients and pathology, and these experiences are priceless for trainees."
Dr. Huerta on mentoring Dr. Argo: "It has been a privilege to be able to contribute to her career goals as she was a remarkable student and has been an incredible intern as I continue to follow her progress at the University of Wisconsin. At UT Southwestern, Madison was an incredibly talented student. She is intelligent, hardworking, a quick learner and a wonderful person with a great deal of team spirit."
Home away from home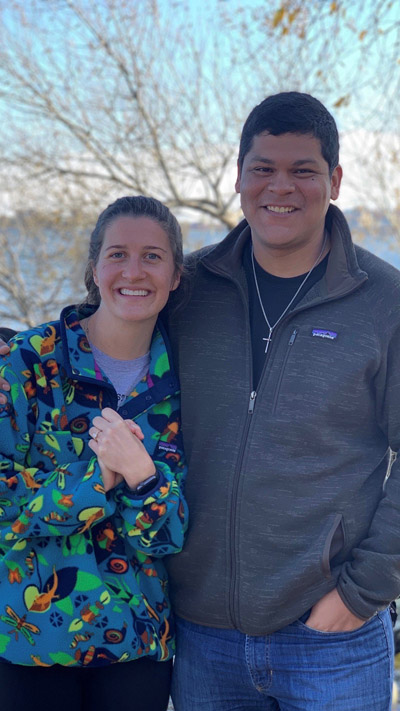 The couple said they feel fortunate to be going through this professional transition together.
"We both see it as such a huge blessing that we're in the same hospital," Dr. Argo said. "I can text Juan who, for example, has been on vascular surgery and ask him a very specific clinical question, such as what imaging order to use for a certain scenario, and he can tell me what was used in the past. So that's just nice."
And the benefits are personal as well.
"I think it's awesome that we get to share this journey together," Dr. Favela said. "Sharing the same frustrations, problems, or successes, I think, has been key in getting through our training and even being able to relax at home."
Of course their new home in Madison is a far cry from their childhood homes.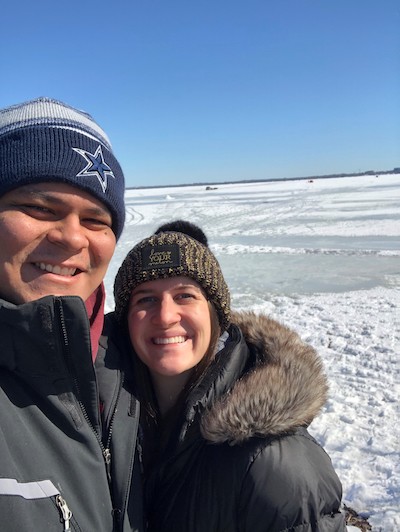 Dr. Argo grew up in Borger, near Amarillo, and Dr. Favela grew up in La Rosita, Coahuila, Mexico, and at age 10 moved to the south side of Fort Worth with his family. They said being so far from their families on holidays has been another difficult aspect of their jobs, but both felt drawn to Wisconsin during their interviews.
"There were jokes from our friends about whether two Texans can survive in Wisconsin, and we have," Dr. Argo said. "Juan and I were excited to be able to explore different parts of the United States and even live in a different climate. We like it so far, but of course our jobs keep us inside when it's negative 1 outside."