Education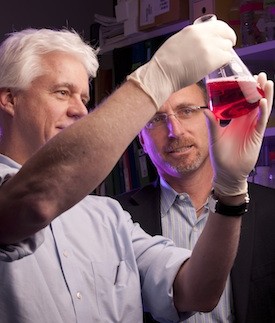 The Hamon Center for Regenerative Science and Medicine (CRSM) will provide a number of educational opportunities for both local scientists and interested members of the greater Dallas/Fort Worth community.
We have organized a seminar series focused on stem cell biology and regenerative medicine. This series began in September 2014 and will include internal and world-renowned external speakers.
In addition, the CRSM plans to provide a number of competitive graduate student and postdoctoral fellowships. Scientists who receive these awards will participate in a regular works-in-progress meeting and we anticipate that both the seminar series and works-in-progress will help foster interactions between many UT Southwestern Medical Center scientists interested in tissue formation and regeneration.
In the future, we also hope to create web-based resources that will provide both basic and advanced information about stem cell biology and the great promise of regenerative medicine.
CRSM Faculty Featured WIPS Speaker
You are invited to attend the 2014-2015 Parasitology WIPS Seminar Series on Friday November 14, 2014, from 4 - 5 p.m. in ND 8.218 (Conference Room).
The featured speaker will be Jay Schneider M.D., Ph.D., Associate Director, Hamon Center for Regenerative Science and Medicine at UT Southwestern. His talk will be titled, "Trypanosoma cruzi and Chagas heart disease: new regenerative medicine approaches."
Jim Collins, Ph.D., Assistant Professor in the Department of Pharmacology at UT Southwestern, will host the seminar.
Fellowship Awards
The Hamon Center for Regenerative Science and Medicine is proud to announce the award recipients of the first Trainee Fellowship Competition. Fellowships in the amount of $25,000 each were given to talented graduate students and postdoctoral trainees whose research focuses on tissue formation in health and disease, tissue repair, or tissue regeneration.
Graduate Students
Student: Gina Aloisio
Title: Biologic role of Pax7 in spermatogonial stem cells
PI: Diego Castrillon, M.D., Ph.D.
Department: Pathology

Student: Harini Ramalingam
Title: In-vitro culture of nephron progenitors to generate fully patterned nephrons
PI: Tom Carroll, Ph.D.
Department: Nephrology
Postdoctoral Fellows
Postdoc: Xuxu Sun
Title: Defining the mechanistic connections between liver injury, regeneration, and cancer
PI: Hao Zhu, M.D.
Department: Internal Medicine-Pediatrics, Children's Research Institute at UT Southwestern

Postdoc: Lei-Lei Wang
Title: Injury-induced regeneration in the adult spinal cord
PI: Chun-Li Zhang, Ph.D.
Department: Molecular Biology