Education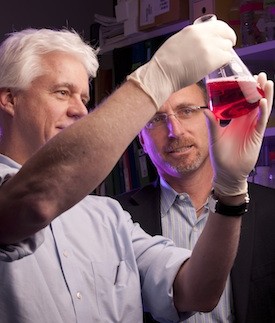 The Hamon Center for Regenerative Science and Medicine (CRSM) will provide a number of educational opportunities for both local scientists and interested members of the greater Dallas/Fort Worth community.
We have organized a seminar series focused on stem cell biology and regenerative medicine. This series began in September 2014 and will include internal and world-renowned external speakers.
In addition, the CRSM plans to provide a number of competitive graduate student and postdoctoral fellowships. Scientists who receive these awards will participate in a regular works-in-progress meeting and we anticipate that both the seminar series and works-in-progress will help foster interactions between many UT Southwestern Medical Center scientists interested in tissue formation and regeneration.
In the future, we also hope to create web-based resources that will provide both basic and advanced information about stem cell biology and the great promise of regenerative medicine.
PCBC Crispr Stem Cell Engineering Course
A Progenitor Cell Biology Consortium course, CRISPR/Cas9 Genome Engineering for Human Progenitor Cell Biology and Translation, will take place September 8-11 at UT Southwestern.
The course includes both lectures and lab activities. It is open to graduate students, postdoctoral students, researchers, and faculty members who are interested in applying CRISPR/Cas9 tools and systems to genome engineering in human progenitor cells and/or other experimental models.
Register and learn more online. To attend only the lectures, email Chengzu Long, Ph.D.
chengzu.long@utsouthwestern.edu