Clinical Rotations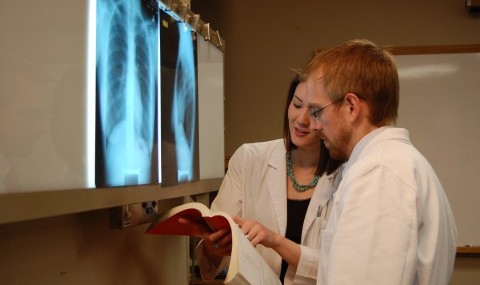 After four semesters of in-depth academic preparation, you'll be ready to put what you've learned into action. In challenging clinical rotations, you'll work with internationally acclaimed preceptors to strengthen your skills as part of the patient care team in a broad range of settings.
Although the order of these rotations varies for each student, you'll complete them all and be exposed to private, public, inpatient, and outpatient care locations. At the end of your clinical rotations, we'll support your transition into a professional career with a resume workshop, job fair, and a PANCE Review course.
Internal Medicine
During this eight-week inpatient rotation you'll become an integral member of the medical team that includes medical students, interns, residents, and attending physicians. You'll become proficient in gathering medical data and making tentative assessments and plans as you participate in the management of patients on general medicine wards.
Emergency Medicine
This four-week rotation in area hospital emergency departments emphasizes the roles and functions of in-hospital emergency care. In high-intensity shifts, you will gain experience in trauma evaluation and management, and learn the medical and surgical aspects of emergency intervention. You will gain firsthand experience in the management and treatment of patients triaged to urgent care and fast tracks for health care delivery.
Surgery
During this four-week rotation, you will gain practical experience with general surgical problems, you'll participate in the management of hospitalized patients seven days a week, including assisting in surgery, preoperative and postoperative care, and daily ward rounds. You'll also attend structured teaching conferences and tutorials.
Pediatrics
This six-week outpatient rotation in general pediatrics puts you in touch with well and sick children in private physician practices and community-oriented primary care clinics. As you participate in ambulatory care, you'll gain a deeper understanding of normal childhood development and become proficient in providing anticipatory guidance to parents and caregivers.
Obstetrics and Gynecology
This six-week rotation is divided into two three‑week experiences—one inpatient and one outpatient. You will gain experience in the management of labor and delivery, outpatient gynecology, family planning, and outpatient prenatal and postpartum care.
Family Medicine
This eight-week rotation in a private physician practice gives you practical outpatient care experience in a primary care setting. You'll deliver acute and chronic care as well as health maintenance issues in partnership with your supervising physician. During this rotation, you'll demonstrate evidence‑based medicine practice skills and complete an evidence‑based research project.
Psychiatry
This four-week rotation in hospital and correctional-facility settings provides a powerful mix of inpatient and outpatient experience. You'll gain practical experience and assume patient care responsibilities in the continuing care of patients in a psychiatric setting. You'll learn the fundamentals of DSM‑V diagnostic criteria and psychiatric nosology, while you deepen your understanding of the clinical presentation and treatment of psychiatric disorders.
Infectious Disease
This four-week rotation gives you firsthand experience in the evaluation and treatment of patients with infectious diseases. You'll be directly involved in the multidisciplinary approach to patient management in inpatient and outpatient settings.
Clinical Selective Rotation
This four-week rotation gives you a chance to focus on a medical or surgical subspecialty that has special appeal for you. Your options include adolescent medicine, allergy/immunology, bariatric surgery, dermatology, hematology, internal medicine, nephrology, orthopedics, rheumatology, surgery, trauma care, and urology.
Clinical Elective Rotation
This four-week rotation gives you even more freedom. Choose from more than two dozen fields of medicine for in-depth exploration. Some of the most popular choices are dermatology, emergency medicine, and surgery subspecialities. Depending on the field you choose, some international opportunities may be available.