Curriculum
The Master of Physician Assistant Studies curriculum is designed to give you the knowledge, skill, and confidence to care for a wide range of patients in varied settings. Your studies begin with four semesters of high-intensity lecture and bedside demonstration focused on science, concepts of health care and disease, and medical history and physical examination skills.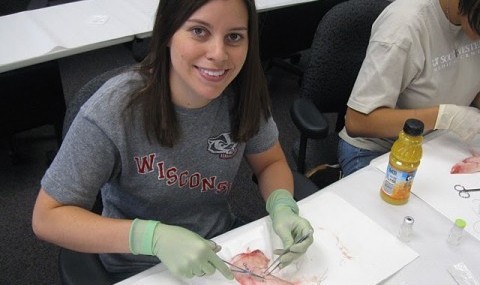 In the first semester, you'll concentrate on basic sciences and professional practice issues. In the fall semester, the emphasis shifts to basic patient evaluation skills balanced with disease process identification, pharmacology, and pathology. In the following spring and summer semesters, you'll continue these studies and add clinical prevention, population health, evidence-based medicine, and psychiatry.
After successfully completing your course work, you'll participate in 59 weeks of clinical rotations that will expose you to the entire range of medical practice. This innovative clinical curriculum includes rotations in emergency medicine, family medicine, infectious disease, internal medicine, obstetrics and gynecology, pediatrics, psychiatry, and surgery, plus two rotations in fields you select.
We've sequenced the curriculum to create an effective and efficient path for learning. All of the courses in a given semester are prerequisites for the courses that follow in the next semester. Download our catalog.
Degree Plan
Year
Term
Title
Credit Hour
Total Credit Hours Per Term

First Year

Summer

MPA 5101 Professional Practice Issues I

1

13

HCS 5407 Human Physiology

4

HCS 5308 Human Anatomy

3

HCS 5309 Human Anatomy Lab

3

HCS 5207 Introduction to Human Neuroscience

2

Fall

MPA 5215 Pharmacology I

2

14

MPA 5102 Integration Skills I

1

MPA 5305 Patient Evaluation I

3

MPA 5509 Clinical Medicine I

5

HCS 5306 Introduction to Pathology

3

HCS 5106 Professional Development (grade in Spring 1)

0

Spring

MPA 5216 Pharmacology II

2

14

MPA 5103 Integration Skills II

1

MPA 5204 Clinical Prevention and Population Health

2

MPA 5206 Patient Evaluation II

2

MPA 5510 Clinical Medicine II

5

MPA 5103 Evidence Based Medicine

1

HCS 5106 Professional Development

1

Second Year

Summer

MPA 5231 Psychiatry

2

12

MPA 5308 Clinical Skills

2

MPA 5307 Patient Evaluation III

3

MPA 5511 Clinical Medicine III

5

Clinical Rotations

MPA 5831 Family Medicine

8 weeks

MPA 5830 Internal Medicine

8 weeks

MPA 5622 Obstetrics/Gynecology

6 weeks

MPA 5623 Pediatrics

6 weeks

MPA 5433 Surgery

4 weeks

MPA 5432 Emergency Medicine

4 weeks

MPA 5430 Psychiatry

4 weeks

MPA 5450 Infectious Disease

4 weeks

MPA 5429 Clinical Selective

4 weeks

MPA 5428 Clinical Elective

4 weeks

MPA 5350 Professional Practice II

3 weeks

MPA 5440 Directed Study

4 weeks

59

TOTAL PROGRAM HOURS

112
Special Requirements
Throughout the program, students:
Are expected to maintain high academic performance and display appropriate professional and ethical behavior during all phases of their education.

Must maintain a cumulative GPA of 2.75 or better in all first‑year courses in order to participate in clinical rotations. Adequate clinical knowledge and judgment and appropriate professional behavior are factors determining satisfactory performance. All academic and professional behavior policies are detailed in the

Physician Assistant's Student Guidelines.
Graduation Requirements
A candidate for the degree of Master of Physician Assistant Studies in Southwestern School of Health Professions must meet all of the following requirements:
The student must demonstrate a high order of scholarly achievement in the Department of Physician Assistant Studies, including appropriate professional competencies. The Program's Student Progress Committee determines whether adequate mastery has been acquired.

The student must complete satisfactorily a minimum of 112 semester hours at Southwestern School of Health Professions.

The student must discharge all financial obligations to the medical center. In the event of nonpayment, one or more actions may be taken by the Dean: a) readmission may be denied; b) a student's grades and official transcript may be withheld; and c) the degree to which the student would otherwise be entitled may be withheld.

The student must maintain at least a 2.75 cumulative grade point average, have no academic deficiencies, and have no incompletes. An F (or failure to pass) in any required subject must be removed prior to graduation.

The student must complete the academic requirements listed on his/her degree plan, including completion of any academic deficiencies in prerequisite courses, by the times stated in the student's official letter of acceptance. The student is responsible for submitting official documentation of successful completion of the prerequisites to the Office of the Registrar.

Pay a graduation fee designated to partially offset the costs associated with diploma and diploma cover production, regalia, and the commencement ceremony. All students completing a degree or certification must pay the fee without regard to whether they attend the commencement ceremony or not.

The student must complete all required courses in the degree plan. For courses with letter grades, a grade of "C" or higher must be maintained in every letter grade course, with the exception of MPA 5509, MPA 5510, and MPA 5511, in which minimum grades of "B" must be maintained. A cumulative grade point average of 2.75 must be maintained. For courses graded Pass/Fail, a grade of pass must be achieved. The student must successfully complete all clinical rotations. Clinical evaluations must reflect an acceptable level of performance and professional conduct.

The student must complete and submit a Physician Assistant Clinical Knowledge Rating and Assessment Test (PACKRAT) examination following completion of didactic curriculum and again after completion of the majority of clinical rotations.

The student must successfully complete all required summative assessments at the end of the clinical curriculum.

The student must successfully complete a graduate project as approved by Program faculty.