Our Medical Students
Great students make for a great medical school experience. At UT Southwestern Medical School, you'll be among the best and the brightest. Our diverse, motivated student body will stimulate you intellectually and inspire you to reach your full potential.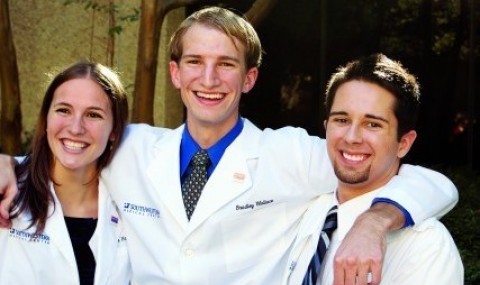 "Everyone is exceptionally talented with unique backgrounds and influences. I honestly can't imagine having a better medical school experience. I feel like I'm having one of the best experiences of my life."

– Jonathan Tran, Class of 2013
UT Southwestern students' performance consistently exceeds that of students at other medical schools. Nearly 100 percent pass Step 1 of the United States Medical Licensing Exam (USMLE), well above the national average.
Pass rates of incoming students taking Step 1 of USMLE for the first time
Pass Rate
Mean Score
UT Southwestern
All U.S. Medical Schools
UT Southwestern
All U.S. Medical Schools
2011
98%
94%
233
224
2012
98%
95%
235
227
2013
99%
96%
236
228
Our medical students also do well when they move on to residency programs. The graduating class of 2014 began residencies in 22 specialties across 87 locations in 31 states.
Undergraduate colleges of incoming students, 2014
(Boldface indicates 3 or more from the university)
Angelo State University
Texas State University–San Marcos
Austin College
Texas Tech University
Baylor University
The University of Texas at Austin
Brigham Young University
Trinity University
Brown University
United States Air Force Academy
Carnegie Mellon University
United States Military Academy
City University of New York
University of Alabama
CUNY Graduate Center
University of Chicago
Clemson University
University of Colorado at Boulder
Cornell University
University of Dallas
Dartmouth College
University of Florida
Duke University
University of Houston-Main Campus
Emory University
University of Illinois at Urbana-Champaign
Georgetown University
University of Miami
Hampton University
University of New Hampshire
Harding University
University of North Carolina at Chapel Hill
Hendrix College
University of North Texas
Hofstra University
University of Notre Dame
Houston Baptist University
University of Oklahoma Norman Campus
Iowa State University
University of Pennsylvania
Johns Hopkins University
University of Rochester
Kansas State University
University of Southern California
Lamar University
University of Tennessee, Knoxville
Louisiana State University A&M
University of Texas at Arlington
Louisiana State University in Shreveport
University of Texas at Dallas
Massachusetts Institute of Technology
University of Texas at San Antonio
New York University
University of Texas HSC
North Carolina State University
University of Virginia
Northwestern University
University of Washington
Oakwood University
University of Washington-Madison
Oklahoma Baptist University
Utah State University
Oregon State University
Vanderbilt University
San Jose State University
Washington and Lee University
Southern Methodist University
Washington University in Saint Louis
Southwestern University
Wayland Baptist University
Swarthmore College
Wellesley College
Texas A&M University
William Marsh Rice University
Texas Christian University
Yale University