Little hats spread heart health awareness to families
Jennifer and Derek Anderson gazed at the red knitted hat on the head of their daughter, Mackenzie, in the NICU at William P. Clements Jr. University Hospital.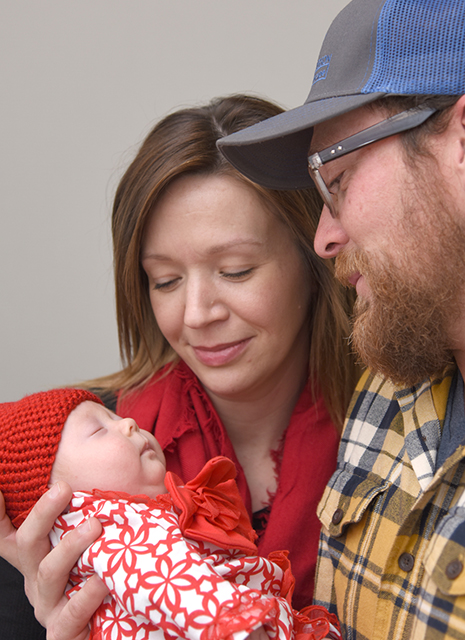 "This will go in a box with a note so she can see it and know what it is later on," Ms. Anderson said.
Hers is just one of many tiny red hats keeping tiny heads warm in nurseries at UT Southwestern and hospitals nationwide this February.
Volunteers with the American Heart Association (AHA) and UT Southwestern joined knitters around the country to make and distribute the hats to newborn babies as part of the AHA's Little Hats, Big Hearts initiative.
The hats were distributed at the beginning of Congenital Heart Defect Awareness Week, Feb. 7-14. This year, knitters across the U.S. donated more than 200,000 hats; North Texas contributed roughly 7,000. UT Southwestern patients received more than 150 hats.
The hats send a vibrant message, spreading heart health awareness to the community, and will be keepsakes for children like Mackenzie for years to come.
Mackenzie Anderson was born two months prematurely. Still, her parents felt lucky that she was born as healthy as she was, and emphasized that staying healthy starts with education and awareness.
"I think heart health starts with the parents and is taught to children," Mr. Anderson said. "Healthy eating and exercise are very important, especially in this day and age when we have such issues with heart disease and obesity. If we can instill these good practices now, hopefully it will carry through her life."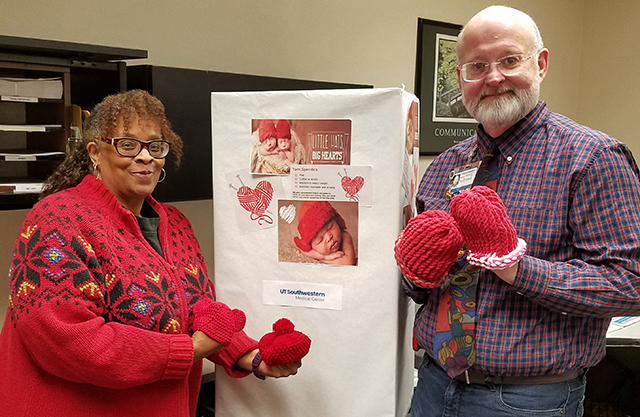 The American Heart Association program began in 2014 in Chicago with a collection of 300 hats to raise awareness for congenital heart defects. It has now expanded to more than 40 states. This was the first year that UT Southwestern participated in the program; UTSW volunteers knitted and donated more than 100 hats and dropped them off at donation centers in the Bass Center and Clements University Hospital.
Another recipient was 3-day-old Aaliyah Tennell, who was born at Clements University Hospital on Super Bowl Sunday and stayed in the NICU following her birth. Aaliyah's mother, Ashley, has two other daughters who were waiting to meet their new sister.
"They just did jump roping at school to raise awareness and learn more about heart health," Ms. Tennell said. "So I'm going to send them a picture of Aaliyah wearing this hat so they know she's joining them."
Dr. Colin Kane, Associate Professor of Pediatrics, emphasized that heart health begins in infancy.
"Developing heart-healthy habits as young as infants and toddlers, developing a love for exercise and good, healthy foods will keep the heart healthy through a lifetime," Dr. Kane said.
For those children with congenital heart defects, UT Southwestern can help. Last year, UTSW and Children's Health performed almost 500 surgeries on children with congenital heart defects, including 18 heart transplants.
"A lot of families aren't prepared to have a child with congenital heart disease," Dr. Kane said. "Thankfully, we can diagnose a lot of heart problems before the child is even born. Unfortunately, we don't know a lot about what causes congenital heart defects. We're learning more every day, so for a family that's planning to have a child, good prenatal care is essential."