'Celebrating Breakthroughs Together'
Campus display honors and inspires with unique installation, website of trailblazing UTSW women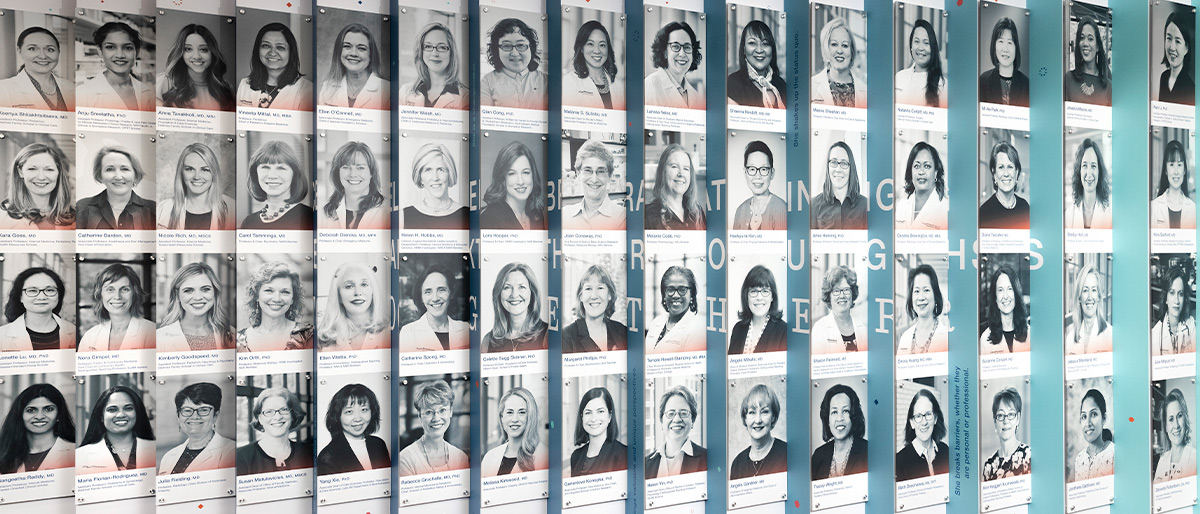 Celebrating Breakthroughs Together, a multimedia display officially unveiled July 19, highlights the accomplishments of trailblazing women at UT Southwestern. The display at the west end of Eugene McDermott Plaza and Lecture Halls on the South Campus includes a wall of photos and a video timeline with an accompanying online component.
The project is designed to honor groundbreaking women at UTSW and to inspire female students and adults to pursue careers in STEMM (science, technology, engineering, mathematics, and medicine) fields.
"Seeing and knowing these diverse women will inspire not only the 14,000 students who come through our campus every year, but also our own faculty, staff, and visitors," said Julie Mirpuri, M.D., Associate Professor of Pediatrics. She, along with Helen Yin, Ph.D., Associate Dean, Office of Women's Careers, came up with the idea for the project. Dr. Yin is also a Professor of Physiology and a Distinguished Teaching Professor.
"This is truly a celebration of their breakthroughs," Dr. Mirpuri said of the women featured in the project.
The project was partially funded by the UTSW Office of the President as well as a grant from the American Association for the Advancement of Science and its IF/THEN Ambassadors program, supported by Lyda Hill Philanthropies. The goal of the IF/THEN Ambassadors program is to highlight contemporary women in STEMM fields who will inspire young girls to pursue careers in those specialties. The premise is "IF" they see it, they will "THEN" be it.
UT Southwestern has three IF/THEN Ambassadors, including Dr. Mirpuri, Nina Sanford, M.D., and Danielle Robertson, O.D., Ph.D. Dr. Sanford is an Assistant Professor of Radiation Oncology and Dr. Robertson is an Associate Professor of Ophthalmology. They were among 125 women selected nationwide in 2019 as Ambassadors based on contributions in their fields. UTSW's Ambassadors also obtained a grant from IF/THEN to further increase the visibility of female STEMM pioneers.
The wall highlights 60 women with a mix of senior, midcareer, and junior faculty members. The women featured – selected by a committee based on objective criteria – are from multiple departments and specialties who have made an impact in advancing the science, education, and clinical care missions at UT Southwestern. Senior honorees include Larissa Velez, M.D., Professor of Emergency Medicine, Associate Dean for Graduate Medical Education, and a Distinguished Teaching Professor; Helen Hobbs, M.D., Director of the Eugene McDermott Center for Human Growth and Development, a Howard Hughes Medical Institute Investigator, and member of the National Academy of Sciences (NAS); and Joan Conaway, Ph.D., Vice Provost and Dean of Basic Research, Professor of Molecular Biology, and a member of the NAS.
While UTSW has several walls of honor, Dr. Mirpuri said the project honoring female trailblazers is the first of its kind here and "will have a tremendous impact at so many levels."
Featuring a striking architectural lenticular design, the contemporary wall will be refreshed every three to five years to reflect additional women who contribute to the mission and success of UTSW.
When UTSW was originally founded as Southwestern Medical College in 1943, women faced significant barriers to entering the medical profession. Those who persisted became fundamental to the success of this institution. Celebrating Breakthroughs Together honors the resilience of these women while showcasing the increasing gender and ethnic diversity at UT Southwestern, noted Dr. Mirpuri.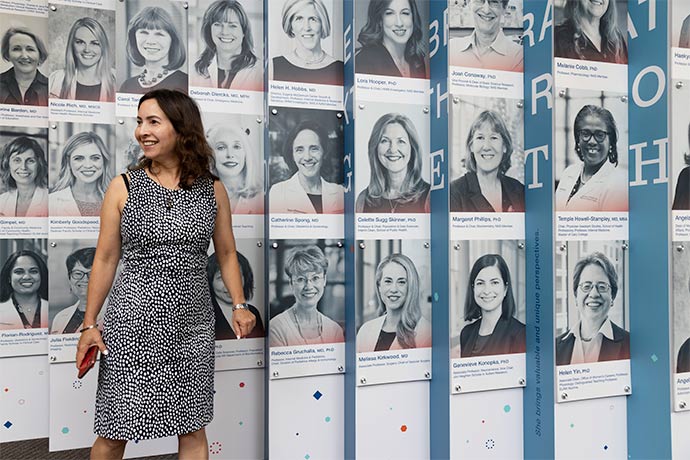 The wall is accompanied by a streaming video of the history of trailblazing women at UTSW and a website that highlights 100 of them who have made breakthroughs. Features of the website include quotes, stories, and advice from the women on their STEMM journeys.
The website will be updated regularly to display the accomplishments of more women on campus. The streaming video next to the wall features a timeline component that traces the contributions of women throughout UTSW's history, including, among others, Gladys J. Fashena, M.D., one of the first female faculty members of Southwestern Medical College.
Drs. Mirpuri and Yin's plans for the project extend into the future and will include an annual fireside chat between students and female faculty honorees. The first fireside chat was held July 19 after the official unveiling of the wall with invited students, including those from the STARS (Science Teacher Access to Resources at Southwestern) and SURF (Summer Undergraduate Research Fellowship) programs. They hope the project also resonates with UTSW's early career female faculty members, making them "even more passionate about achieving their career goals," Dr. Mirpuri said.
The project is a collaboration among multiple UTSW components, including the Office of the President, the Office of Faculty Affairs/Office of Women's Careers, and the Office of Communications, Marketing, and Public Affairs. Faculty, staff, and students on campus were also involved in vetting the design, goals, and guidelines for those chosen to be included on the wall through multiple focus groups.
"After over two years of planning, all those involved are truly celebrating the realization of this installation and are hopeful it will have a significant impact for all that experience it," Dr. Yin said.