'Girls need to see that women in science are diverse': Faculty members named IF/THEN Ambassadors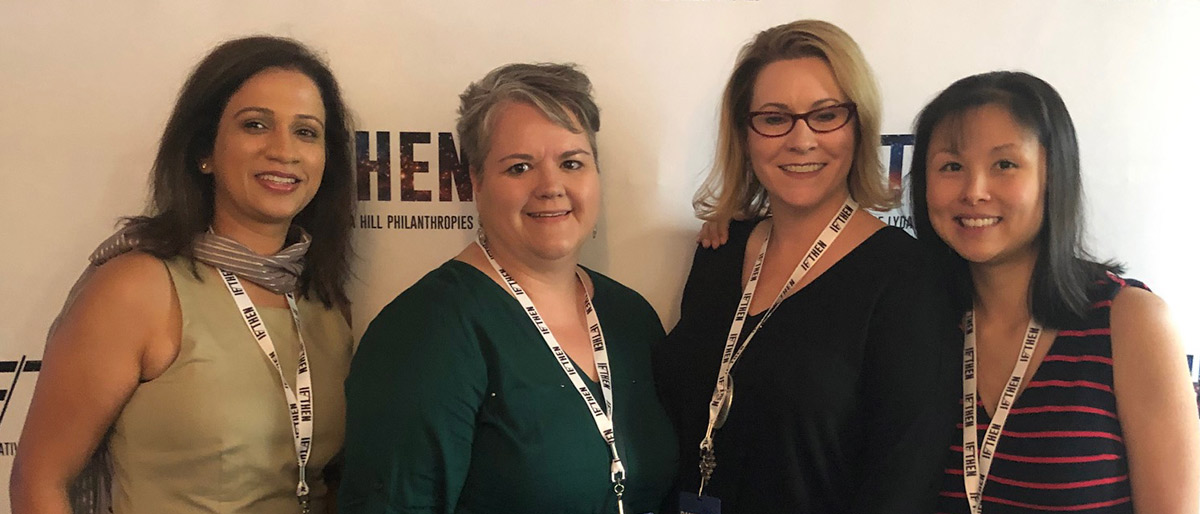 Four UT Southwestern faculty members will serve as female role models, inspiring more girls to pursue careers as physicians or scientists.
Drs. Julie Mirpuri, Danielle Robertson, Nina Niu Sanford, and Kirsten Tulchin-Francis are among 125 women nationwide selected recently as AAAS IF/THEN Ambassadors based on applications from academic institutions, companies, and organizations. UT Southwestern and Stanford University have the highest number of Ambassadors among academic institution.
The program is a national initiative of the American Association for the Advancement of Science (AAAS) and Lyda Hill Philanthropies to encourage girls' interests in science, technology, engineering, and math (STEM) careers. The IF/THEN title comes from the phrase: "IF we support a woman in STEM, THEN she can change the world."
"The selection of four of our faculty members as Ambassadors showcases the accomplishments of our talented women faculty and brings honor to UT Southwestern," said Dr. Helen Yin, UTSW Associate Dean in the Office of Women's Careers and Professor of Physiology.
Ambassadors were chosen based on contributions to their STEM-related field, experience and abilities in STEM communication and public engagement via media, classrooms, and public programs, and commitment to inspiring middle school girls to be the next generation of STEM pioneers.
Through the initiative, Ambassadors will connect with girls in person and through various media platforms. The program gives them access to skill-building, media training, and engagement opportunities through February 2021.
Experts will train the Ambassadors in effective communication strategies, such as how to use social media to promote their stories. The initiative is also associated with a new television series, Mission Unstoppable, airing on CBS Saturday mornings. The series features successful women in STEM-related careers, including the program's Ambassadors.
"This program is completely aligned with UT Southwestern's goal of enlarging the STEM pipeline in Dallas, Texas, and nationally. The University has invested in many mechanisms to increase and strengthen the diversity pipeline and mitigate racial and gender disparities at all levels," Dr. Yin said. "The AAAS IF/THEN Ambassadors program showcases UT Southwestern, the Ambassadors' credibility, and, most importantly, their skills to improve the institution's brand. This will in turn help improve recruitment of diverse and talented individuals to the institution."
UTSW's Ambassadors shared what attracted them to STEM careers and why this opportunity is important.
---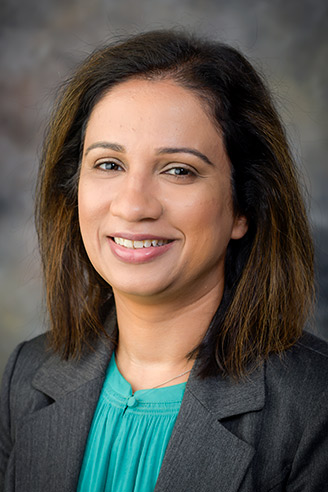 Dr. Julie Mirpuri:
'It's part of my duty to show my sons what a woman can be.'
As a schoolgirl growing up in Hong Kong, neonatologist Dr. Julie Mirpuri was drawn to biology because of something that might make others a bit squeamish.
"In my first class in biology I remember dissecting pig hearts, and I was just fascinated by it," said Dr. Mirpuri, Assistant Professor of Pediatrics. "That science came naturally and l loved doing it."
Her father also planted a seed that influenced her to become the physician-scientist and medical educator she is today. "My dad used to say the most honorable professions are teaching and practicing medicine," she said, even though he was a businessman.
Knowing she wanted to be a doctor from an early age, she later found the perfect opportunity to marry medicine with academia – by becoming a professor.
Although Dr. Mirpuri did not have role models of female physician-scientists to look up to as a girl, two other influences played a part in allowing her to be self-assured as a female. Her mother, a stay-at-home mom, always encouraged her to pursue her passions. She also attended all-girl schools, which contributed to her confidence.
"I was very lucky because I was surrounded by phenomenal role models in my teachers and classmates who were in higher grades," Dr. Mirpuri said.
Through medical school and her early career training, a handful of women provided mentorship that kept her inspired.
"I have a great career. It's a nice mix of teaching, doing what I love by treating babies, and working in a phenomenal research environment," she said.
Dr. Mirpuri's research is focused on neonatal microbiome development. As an IF/THEN Ambassador, she hopes to expose girls to research and teach them that successful careers are attainable. The mission to dispel gender bias is a lesson also important to impress upon boys, she added.
"I think it was intervention that I have two sons because it's part of my duty to show them what a woman can be," she said. "You have to have boys and men accept that women are just as strong and just as capable as they are if we're going to correct gender bias and disparities."
---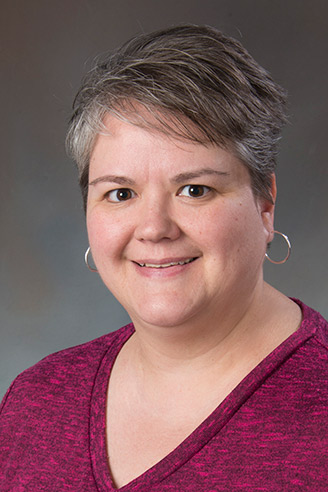 Dr. Kirsten Tulchin-Francis:
'It shouldn't be a surprise that a woman is in a STEM field'
As a teen, bioengineer Dr. Kirsten Tulchin-Francis enjoyed taking tests. It was an Armed Services vocational exam she took on a fluke that partly directed her career path: The test recommended biomedical engineering.
"I didn't even know what biomedical engineering was, but that's when I first started to look into it," said Dr. Tulchin-Francis, Assistant Professor of Health Care Sciences.
That exploration eventually turned into her becoming the Division Director of Movement Science at Texas Scottish Rite Hospital for Children, where she specializes in gait and motion analysis and works closely with orthopedic surgeons. Both fields have low percentages of women compared with men. That's one of the reasons she pursued being an Ambassador.
"I feel very strongly that there's not enough female role models for women and girls going into STEM-related fields. I am very passionate about sharing my personal story about how I went into engineering, and ultimately into clinical research, because I don't think they have a good exposure to it," she said.
Growing up in West Haven, Connecticut, Dr. Tulchin-Francis was also not exposed to females in STEM careers. Still, she was interested in math, science, and sports, and at one point considered pursuing sports medicine until she tore her ACL in high school.
"Orthotics and braces were designed for men, not women, and I wore braces that never fit me right. So at one point I thought I'll design new braces," she said.
Her own injury experience is just one example of why she believes women's participation in STEM-related professions is vital. Dr. Tulchin-Francis said the IF/THEN program's use of modern media to highlight women in STEM fields is a good way to break gender stereotypes and help girls realize their options.
"We still live in a society where some think girls don't belong in math and science, and anything I can do to help change that is my goal," she said. "I think what the Lyda Hill Philanthropies and the IF/THEN initiative will do is help expose that women can do this. Through this program, I think it's important that we portray women in these fields to show not just girls, but everyone that it shouldn't be a surprise that a woman is in a STEM field."
---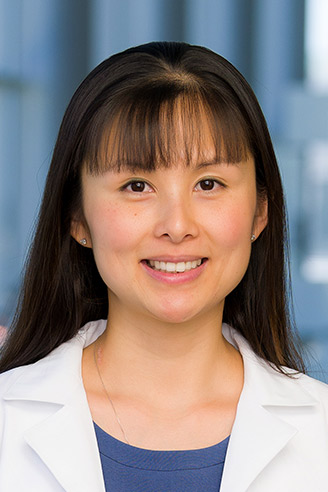 Dr. Nina Niu Sanford:
'Having diverse health care providers is incredibly important.'
From the very beginning, radiation oncologist Dr. Nina Niu Sanford had access to a strong female role model in a STEM field. Her mother, a primary care doctor, set the stage.
Dr. Sanford immigrated to the United States from Beijing when she was 3 years old. Her mother was a practicing physician in China, but had to retrain upon moving to the U.S., while at the same time raising a young daughter.
"My mom exemplified balancing a career and raising a family, which required a lot of personal sacrifices," said Dr. Sanford, Assistant Professor of Radiation Oncology.
"While I was in medical school and residency, sometimes I thought: I cannot imagine doing this at an older age and in a foreign language. Going through the experience myself gave me even more perspective and appreciation for her career path."
Now a mother to two young daughters herself, Dr. Sanford said one of the reasons she wanted to be an Ambassador is that she doesn't want girls to believe they can't have families and pursue demanding careers at the same time. There are definitely challenges in trying to do both, she said, but ultimately being a physician makes her a better mother, and vice versa.
Yet, the lower percentage of women in leadership positions in health care is a second reason that Dr. Sanford is passionate about being an Ambassador.
"Although there are more women entering careers in science, there are still few at the leadership level. As a new attending, one of my goals is to become a leader in research and clinical care. So I think sharing my journey in a very honest and realistic way is helpful to girls and female physicians who are just starting out," Dr. Sanford said.
She's particularly interested in opportunities to mentor girls from diverse backgrounds, both racial and socioeconomic. Among other research interests, she plans to pursue investigations that focus on health care disparities and their impact on cancer outcomes.
"One mission I like about the IF/THEN program is that it specifically targets students who may have less exposure to science careers. Particularly here in Dallas, we do see a very diverse patient population, and I think having diverse health care providers is incredibly important," she said.
---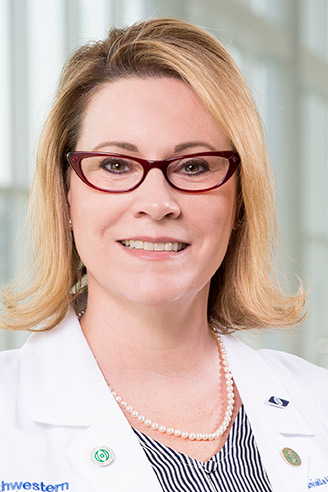 Dr. Danielle Robertson:
'We're not just 'nerds.' We're exciting, we're cool.'
Research scientist Dr. Danielle Robertson said she views mentorship as an opportunity. She's eager to use the IF/THEN ambassadorship to reach girls who don't know what options are available. It's an experience she can relate to from growing up in a small town in the state of Washington.
"I didn't get a wealth of educational opportunities for science and health care. Many times there aren't avenues for students in these communities to know what is out there and to pursue those programs, and they can't pursue it if they don't know about it," said Dr. Robertson, Associate Professor of Ophthalmology.
"The media lens from the IF/THEN program is what makes it so available to everyone. Girls need to have something to relate to, and having everyday women in the spotlight makes it seem tangible," she added.
Although she knew she wanted to pursue health care from an early age, Dr. Robertson never imagined being a scientist at a university. Now she's a Principal Investigator in her own lab where she performs clinical, translational, and basic research. Her primary research area is corneal health.
"I'm a scientist because it's exciting and it's fun," she said.
As homeroom mom in her 9-year-old son's class, she's already enjoyed the opportunity to talk to both girls and boys about her profession.
"I think girls need to see that women can hold all these roles, and they need to see that women in science are diverse in many ways. We're not the old stereotype, we're not just 'nerds.' We're exciting, we're cool. They need to see that these are great careers that help people and society."
It's an image she wants all children to recognize.
"My son will grow up seeing a successful mom who works really hard, so I think his views on women will be different than they would have been, say, when my dad was growing up. I think I am a role model for my son and hopefully other little boys out there because their perception of women is a huge part of fixing this problem," she said.