Texas-inspired sculpture joins other works on Seldin Plaza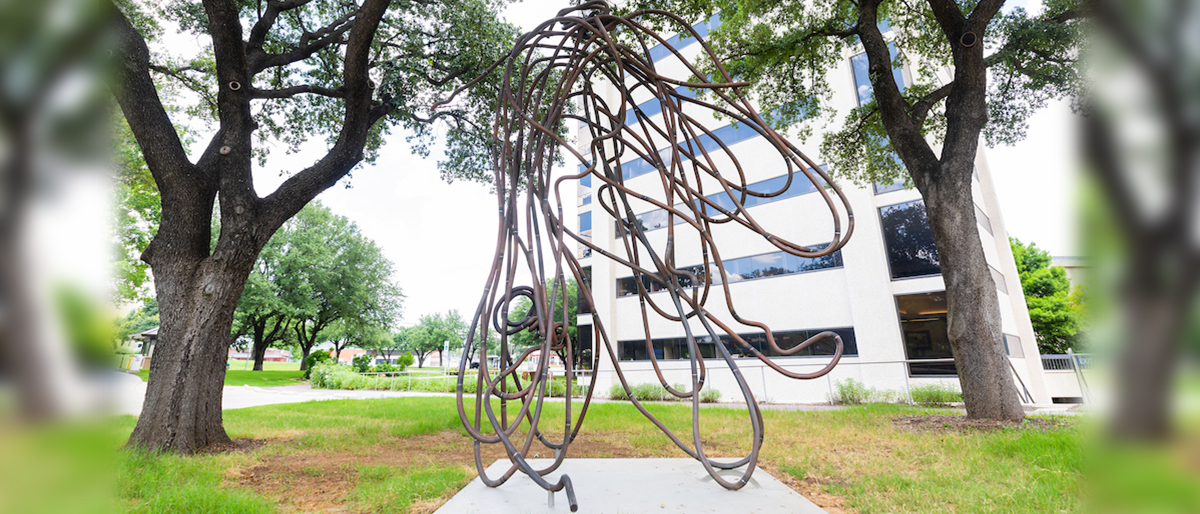 A work of art inspired by the ranches of Far West Texas now sits in the shade of two live oak trees near Dr. Donald Seldin Plaza. The sculpture, created by acclaimed painter and sculptor Christopher Wool, stands 15 feet tall against a backdrop of the Eugene McDermott Academic Administration Building.
Cast of solid stainless steel and clad in weathered copper, it joins three other sculptures installed on or near Seldin Plaza since 2019 – all gifts of Nobel Laureate Dr. Joseph Goldstein, Chair of Molecular Genetics.
It turns out, the works of art have another link as well.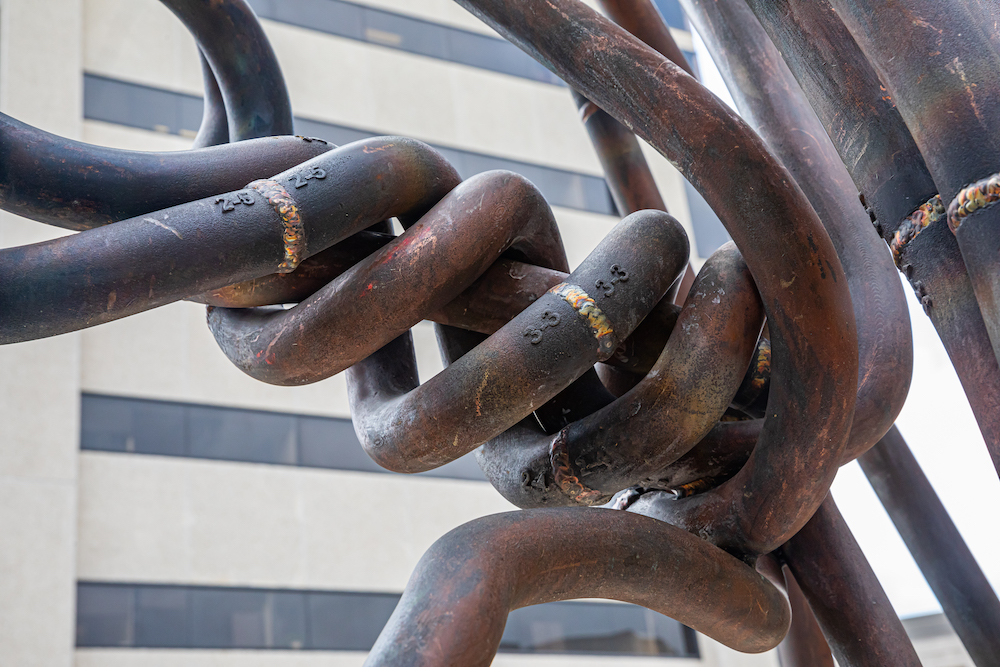 As a young artist, Mr. Wool worked as a studio assistant to Joel Shapiro, who created two other sculptures nearby: a colorful array of rectangles cast in aluminum and installed this past April and a larger, bronze sculpture added in 2019. All three works – Mr. Wool's and Mr. Shapiro's – are simply called Untitled, along with the year they were created. A fourth sculpture at Seldin Plaza, Dumna, is by Ursula von Rydingsvard and was also installed in 2019.
At the time he worked for Mr. Shapiro in the early '80s, Mr. Wool focused on painting and would become known for his instantly recognizable word paintings that feature stenciled letters on a white canvas ground. A move to Marfa, Texas, in 2007, where he bought a second home as a retreat from Manhattan, took his work in a new direction. In walks across the ranchland surrounding Marfa, Mr. Wool would come across small, swirling tangles of discarded steel wire left behind by ranchers mending their fences. Mr. Wool was intrigued by their spontaneous forms.
"I was trying to get that line myself in some of my paintings," he said of the three-dimensional loops and twirls he saw in the wire. He began picking up the most interesting shapes and taking them back to his studio to manipulate into a finished form.
Today, the small maquettes Mr. Wool creates are 3D-scanned into a computer, where they are refined and reviewed by engineers to ensure the finished sculpture – blown up to massive scale – will be stable, said Mike Koller, a New York digital media technician who works with several sculptors to create digital 3D models. The design is then sent to a metal foundry north of Manhattan to be cast and welded.
Mr. Wool's first such creation was displayed in front of the Solomon R. Guggenheim Museum in 2013-2014 while his paintings were exhibited inside. Later in 2014, the same sculpture was moved to the Art Institute of Chicago, where Dr. Goldstein saw it and became intrigued. "I'd never seen a sculpture like this before," he said.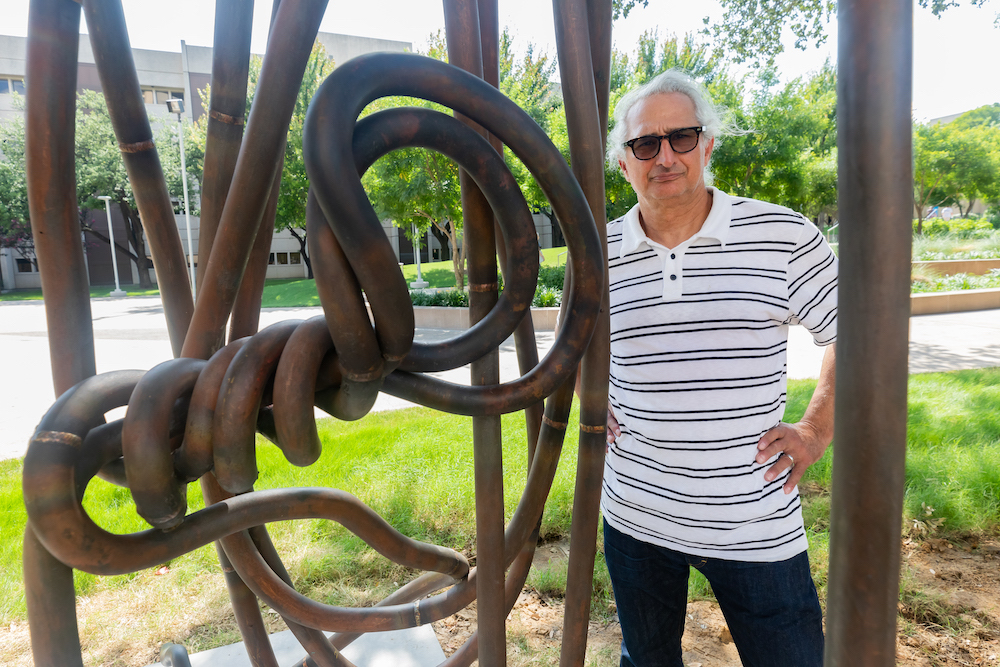 Now he can see similarly impressive work simply by looking out his window onto Seldin Plaza.
"It's a unique piece of art," Dr. Goldstein said of the new sculpture, installed June 23 at UT Southwestern. Ever the scientist, he compared the work's 184 welded steel sections to the fragments the human body assembles into genes.
Interestingly, Mr. Wool has roots in science as well as in art. His father, Dr. Ira Wool, was a University of Chicago researcher; his mother, Dr. Glorye Wool, was a psychiatrist.
Asked why he chose art instead of science, Mr. Wool quipped: "Because my father wanted me to become a scientist." On reflection, he added, "He loved art also."
Dr. Goldstein was joined by UT Southwestern President Dr. Daniel K. Podolsky, as well as UTSW Art Curator Courtney Crothers, as the 6,000-pound sculpture was installed on an 18-inch-thick concrete foundation. Also present were Talley Dunn, owner of the Dallas gallery that arranged the purchase; Lawrence Luhring, of the Luhring Augustine gallery that represents Mr. Wool; and Jake Roysdon, UTSW senior construction manager who oversaw site preparation prior to the sculpture's arrival.
"Dr. Goldstein's work and impact on this campus has long rested on the decades of discoveries made together with Dr. Mike Brown, which in addition to their scientific importance, have set a standard of excellence that is a cornerstone of UT Southwestern," said Dr. Podolsky. "With this sculpture, his generosity has created another legacy which will enhance the experience of all who work or visit the campus."