New sculpture makes vibrant addition to Seldin Plaza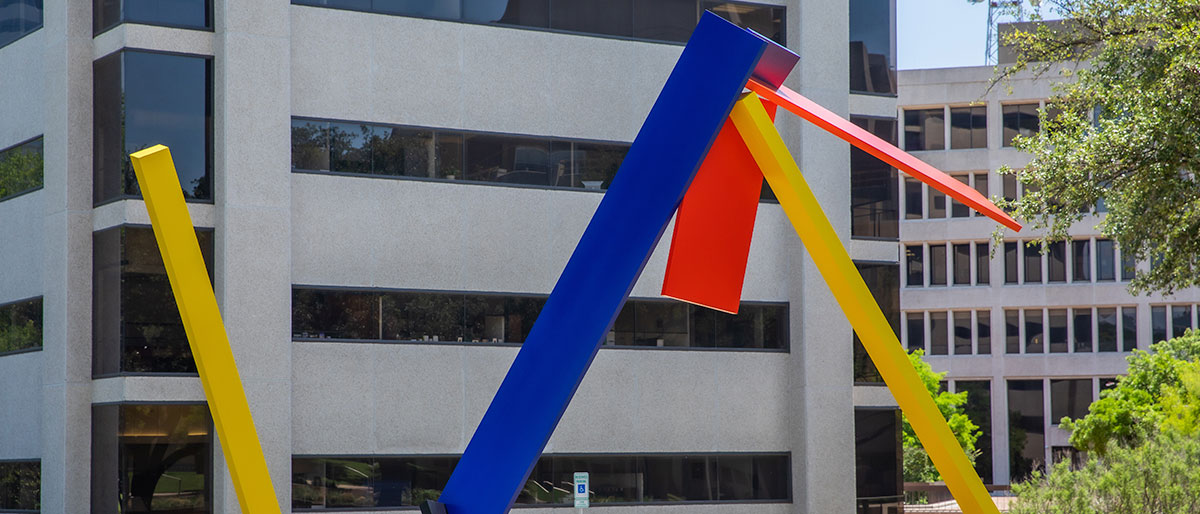 A colorful sculpture has joined UT Southwestern's growing art collection on Dr. Donald Seldin Plaza, the outdoor space on South Campus that leads to the library, lecture halls, offices, and Tom and Lula Gooch Auditorium.
The new sculpture, by renowned New York sculptor Joel Shapiro, is a gift from Nobel Laureate Dr. Joseph Goldstein, who commissioned the piece for UT Southwestern. Dr. Goldstein, Professor and Chair of Molecular Genetics and Internal Medicine, gifted two earlier pieces to UT Southwestern in 2019 – one by Mr. Shapiro and another, Dumna, by Ursula von Rydingsvard. Both pieces are also on display on Seldin Plaza.
UT Southwestern President Dr. Daniel K. Podolsky, Dr. Goldstein, and Mr. Shapiro were present as the new work was installed April 21, just in time to welcome more employees returning to campus as UT Southwestern expanded on-campus operations following several months of improved COVID-19 conditions across the region.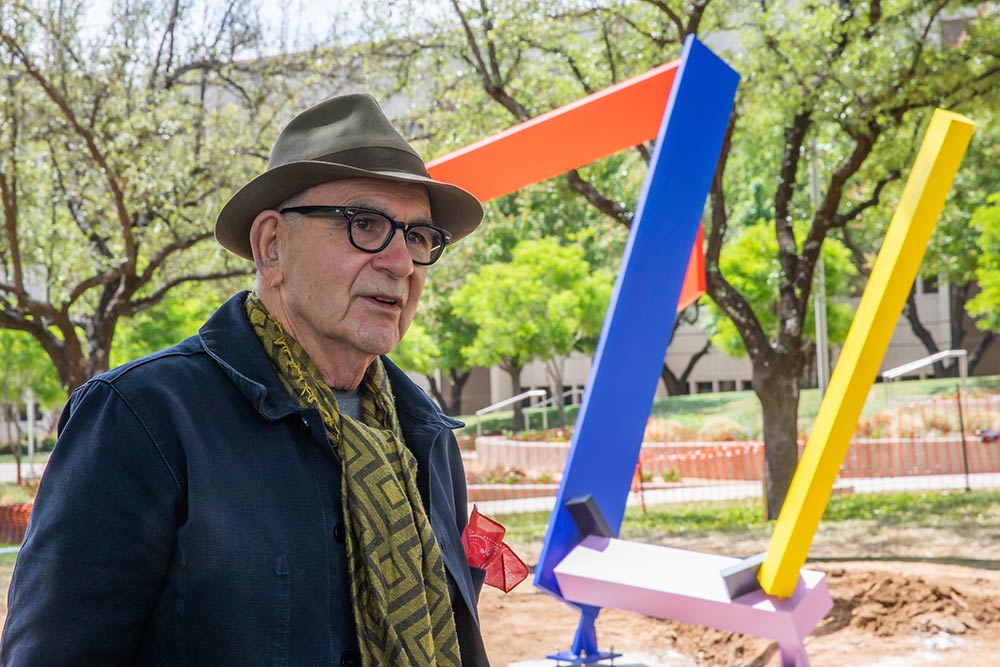 UT Southwestern Art Curator Courtney Crothers and Senior Construction Manager Jake Roysdon, who coordinated the installation, were also present.
The 10-foot-tall, 19-foot-long cast aluminum sculpture was driven from New York in sections on a flatbed truck before being assembled in a copse of oak trees near the Eugene McDermott Academic Administration Building. Shortly after noon, the protective plastic wrapping was removed to reveal the colorful artwork – first orange, then yellow, then bright blue, and light violet.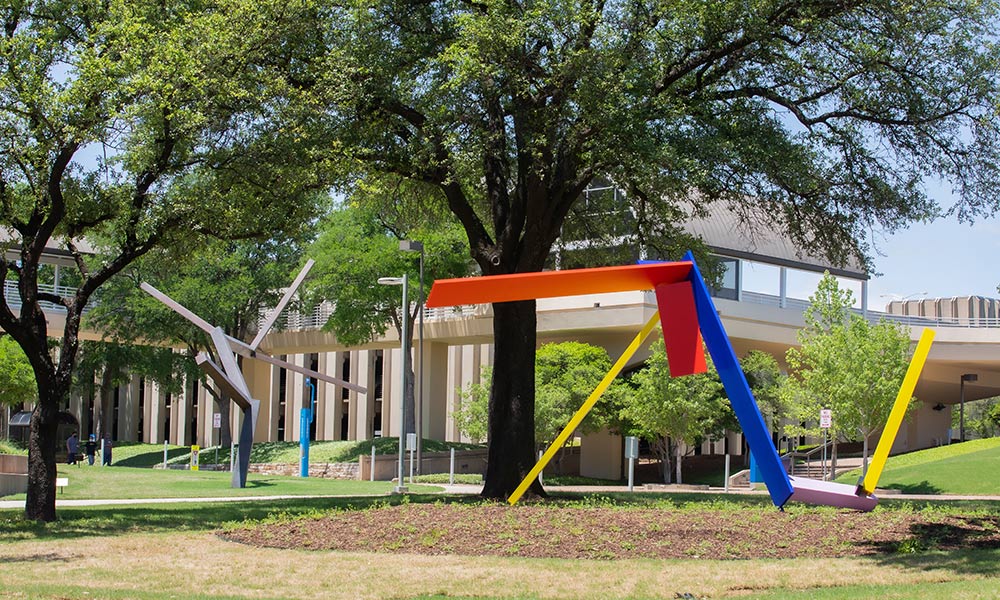 "UT Southwestern's collection has been made possible by the generosity of supporters and the desire to create an environment that provides for the total well-being of our faculty, staff, students, patients, and their families," said Dr. Podolsky. "The sculptures on Seldin Plaza, exemplified by this most recent addition, are at once surprising and an uplifting welcome to those who enter this front door of our campus. We are deeply indebted to Dr. Goldstein for these wonderful gifts as one more way in which he has made an indelible impact on UT Southwestern."
The sculpture is called simply Untitled, 2020. "I don't like to title them," Mr. Shapiro said, explaining that his work is abstract in nature and his talent runs more toward the visual than the verbal.
In photos: See the sculpture from all angles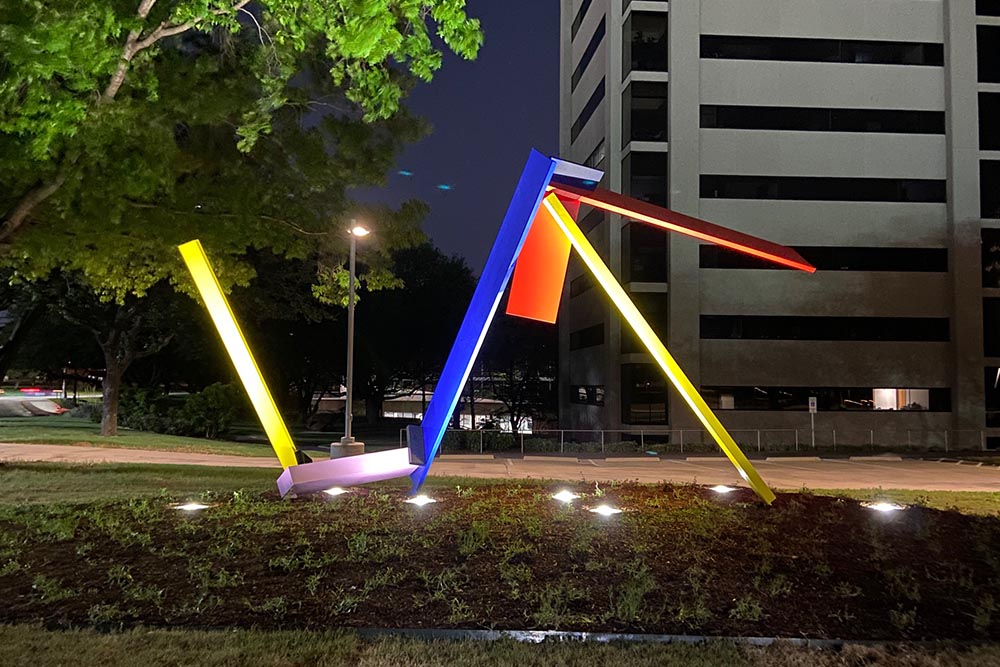 © 2019-2020 Joel Shapiro/Artists Rights Society (ARS), New York.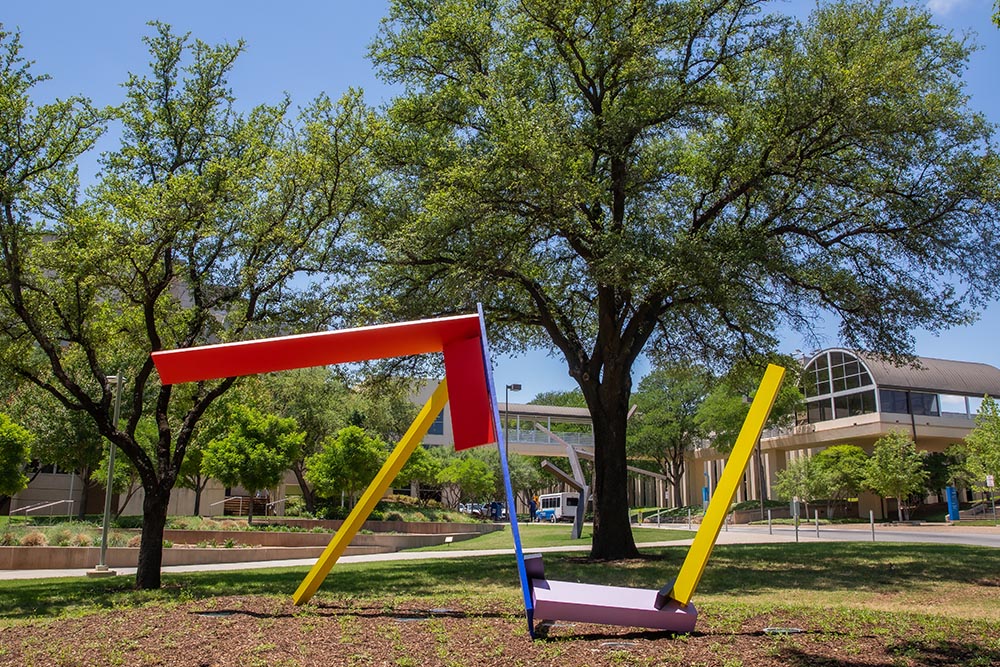 © 2019-2020 Joel Shapiro/Artists Rights Society (ARS), New York.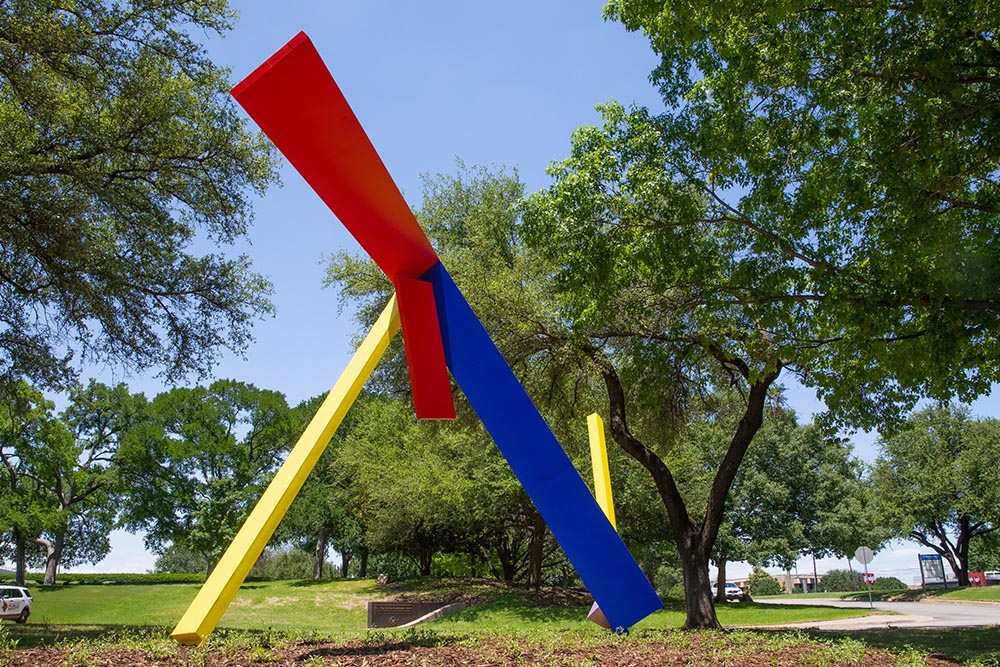 © 2019-2020 Joel Shapiro/Artists Rights Society (ARS), New York.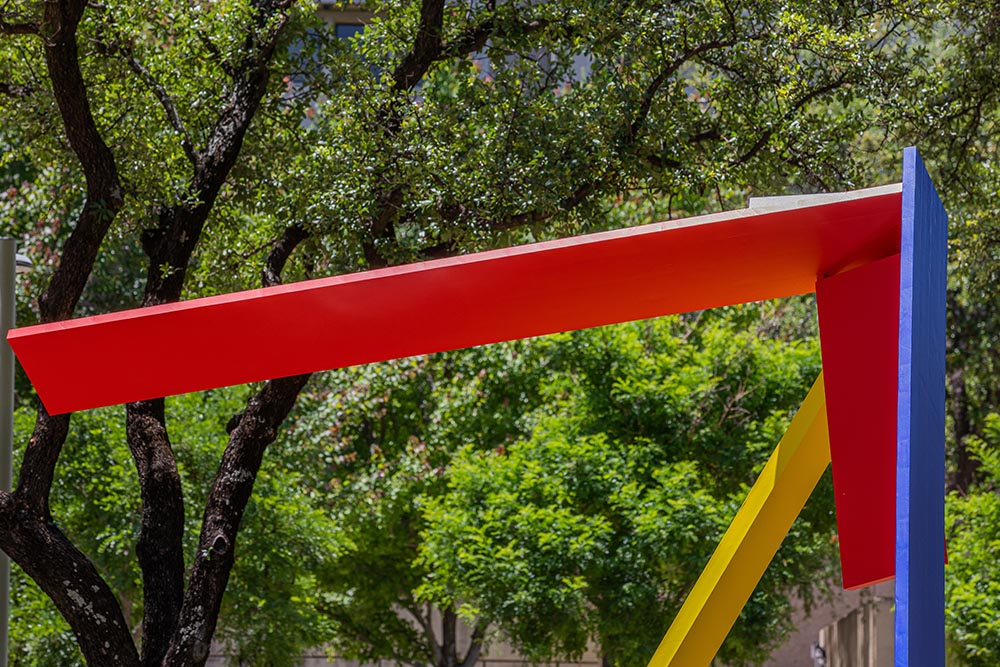 © 2019-2020 Joel Shapiro/Artists Rights Society (ARS), New York.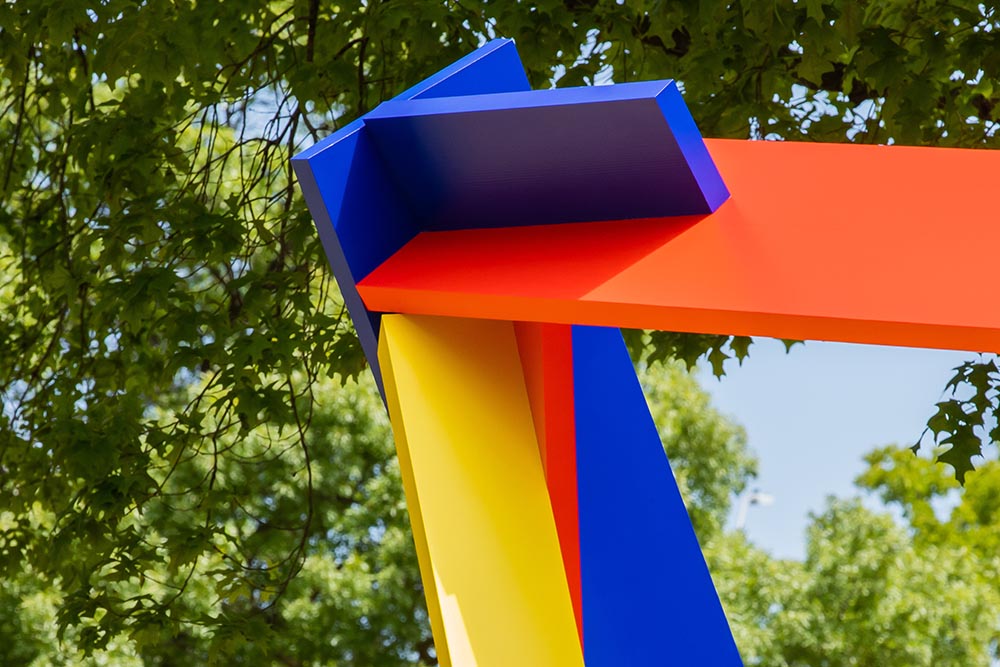 © 2019-2020 Joel Shapiro/Artists Rights Society (ARS), New York.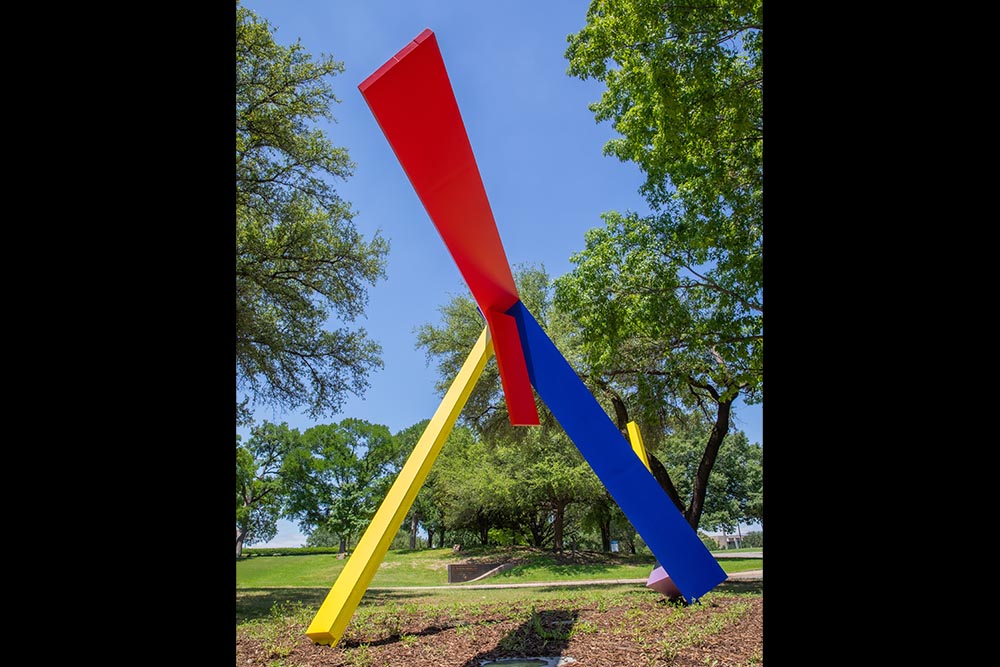 © 2019-2020 Joel Shapiro/Artists Rights Society (ARS), New York.
"Regardless of how much art and how many works I've done, unveiling a piece is always accompanied by a sense of trepidation," Mr. Shapiro said as the piece was uncovered.
When the wait was over, he deemed his creation a success. "I think it's really playful. The colors are great … I think the color's vibrant."
"It is very lively – has a lot of energy. It's a wild piece," he said. "It surprises me."
"I think it's terrific," declared Dr. Goldstein. "This is Shapiro's first multicolored outdoor piece." UTSW's earlier Shapiro installation is closer to the Plaza's footpath and is more monumental, standing about 21 feet tall and made of bronze with a dark, natural patina, said Talley Dunn, eponymous owner of the Dallas gallery that worked with Dr. Goldstein to arrange the acquisitions. The new arrival is more lyrical, she added.
Dr. Goldstein said he came to know Mr. Shapiro's work over the past 25 years as he visited various sculpture gardens and museums. Sculptures by the artist are at the National Gallery of Art in the District of Columbia, The Museum of Contemporary Art in Los Angeles, and the Tate in London, among other locations. In Dallas, examples can be found at the Nasher Sculpture Center and NorthPark Center shopping mall.
"It's original," Dr. Goldstein said to explain why Mr. Shapiro's work appealed to him. "No other artist I know of does this kind of work."
Mr. Shapiro is known for constructing sculptures from simple rectangular shapes that convey an exuberant and often human quality. The idea, he said, is to find a form that visually and emotionally resonates. "I think they're all playful – I hope so. They're very serious, but they're also playful. Play is a big part of making art."
Over at a nearby campus guard shack, Public Safety Officer Juanita Sarelli had watched the workers' progress since before 8 a.m. From her perch inside the shack, she now had a close-up view of the sculpture.
"I think it's great," she said. "I like this one because it has more color. Very nice."