Striking art installations change the face of South Campus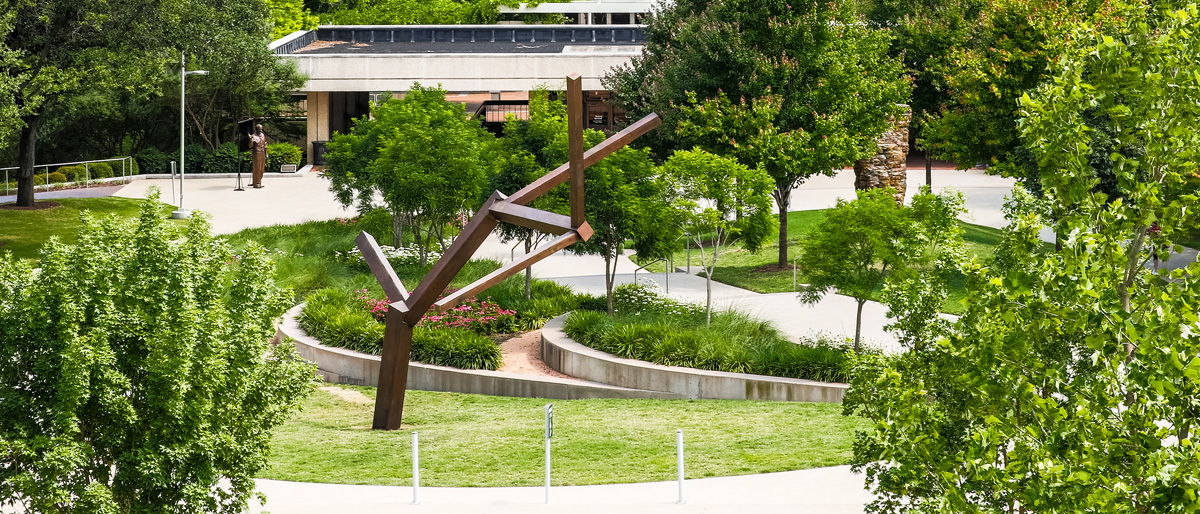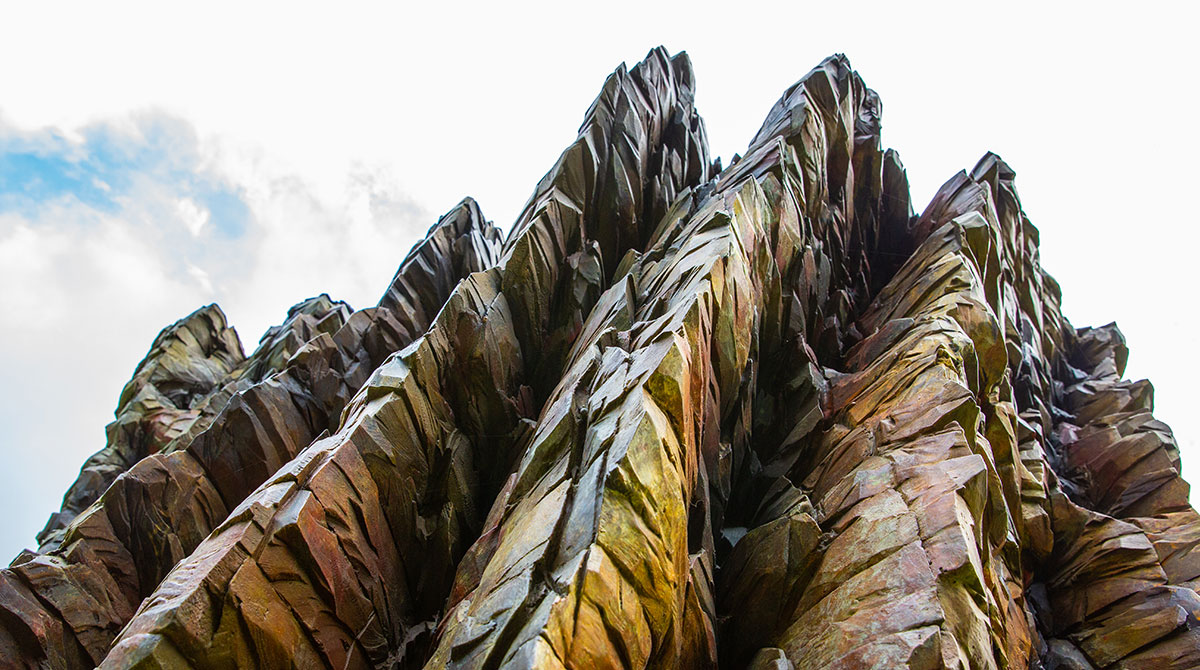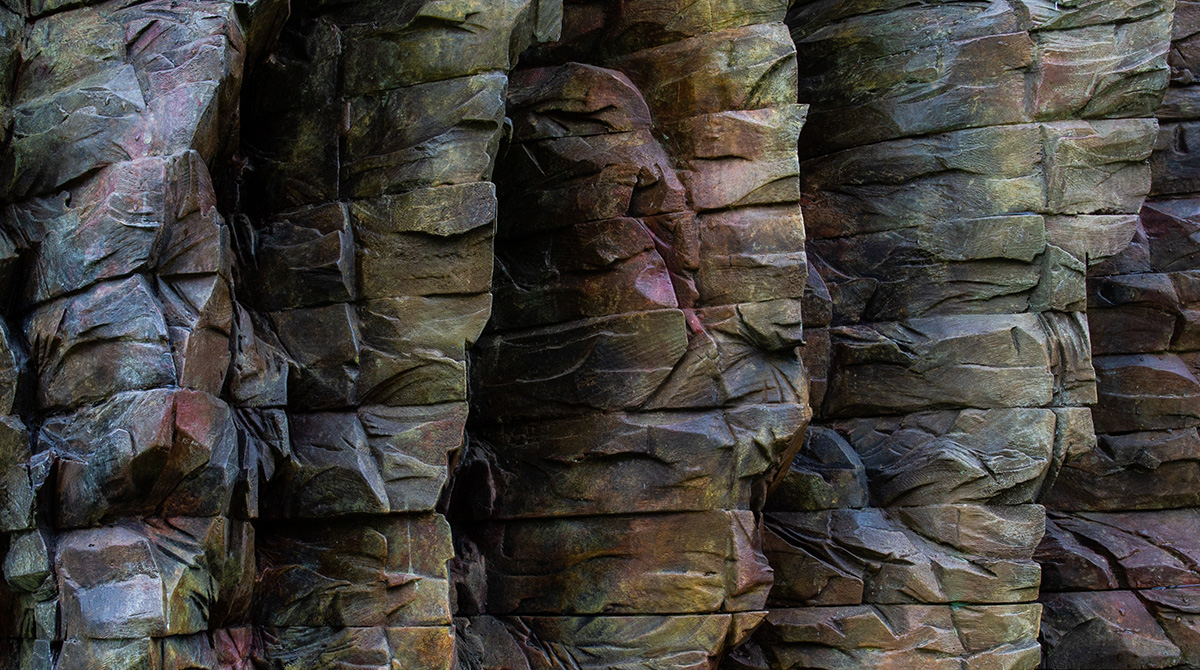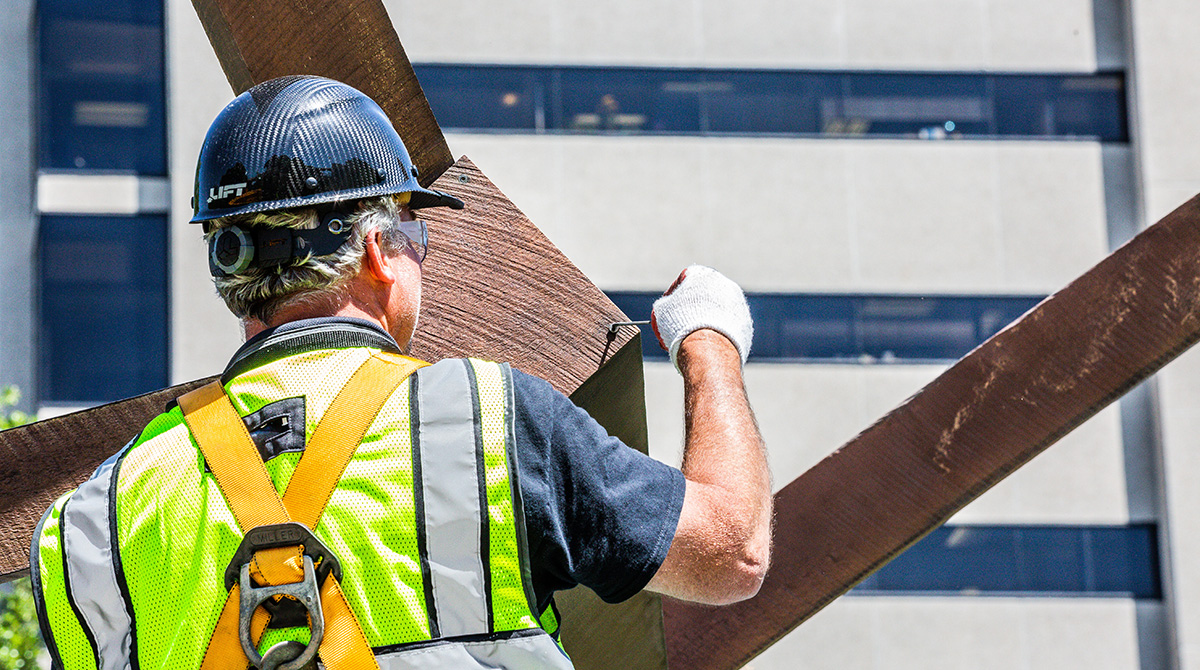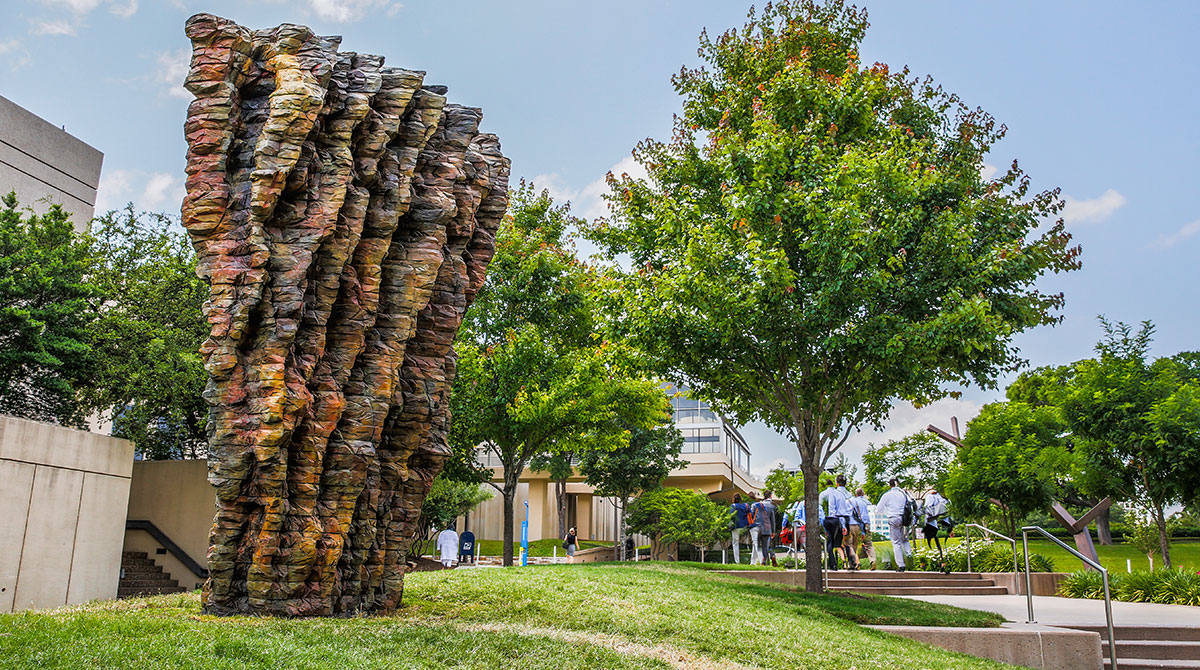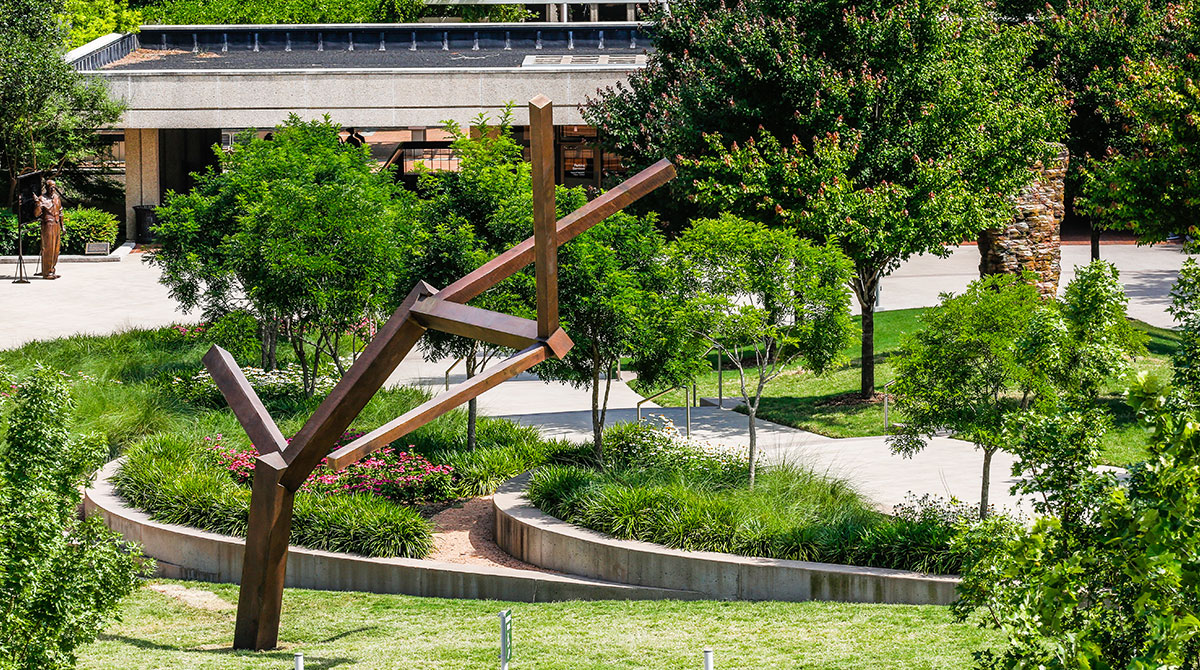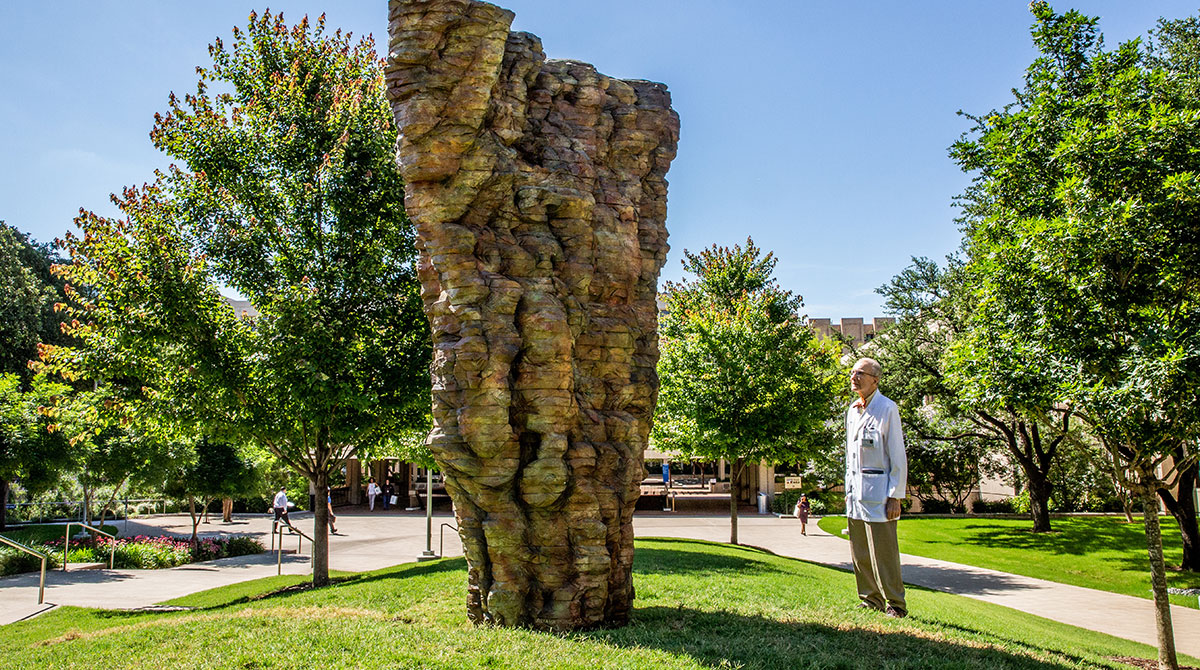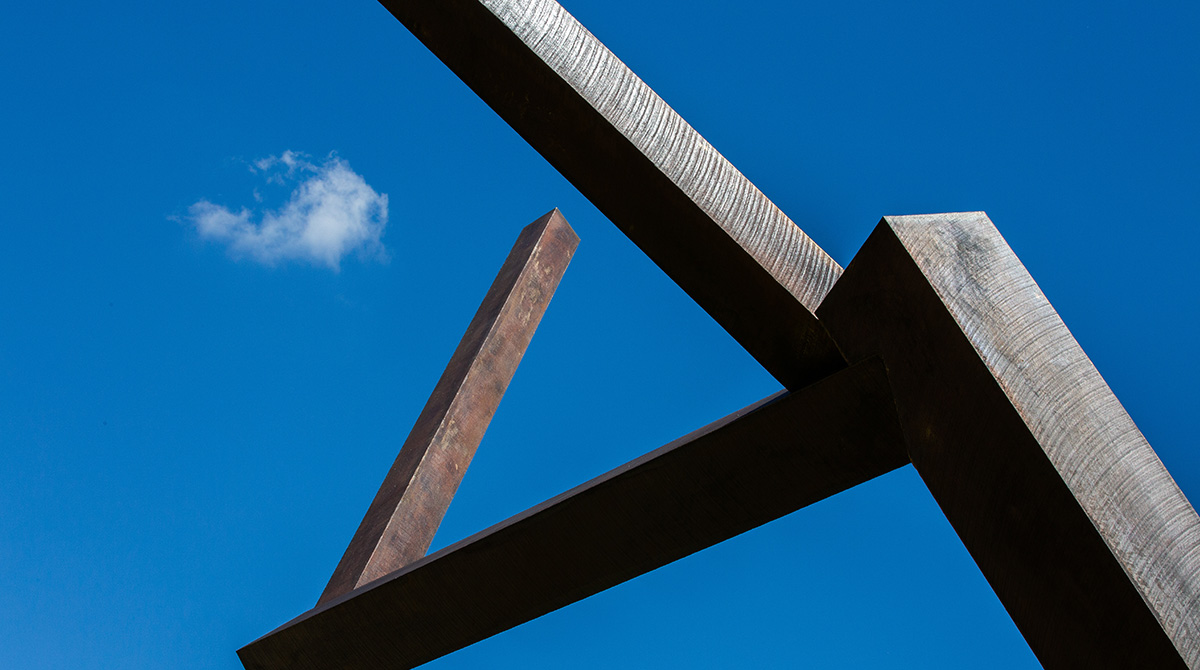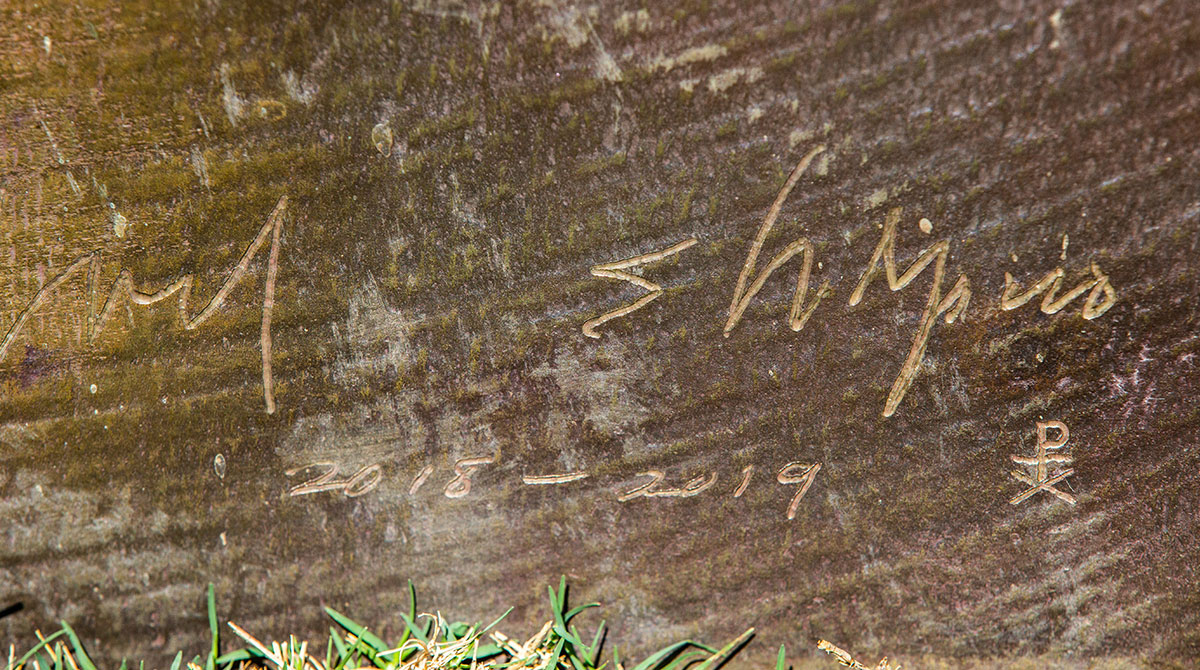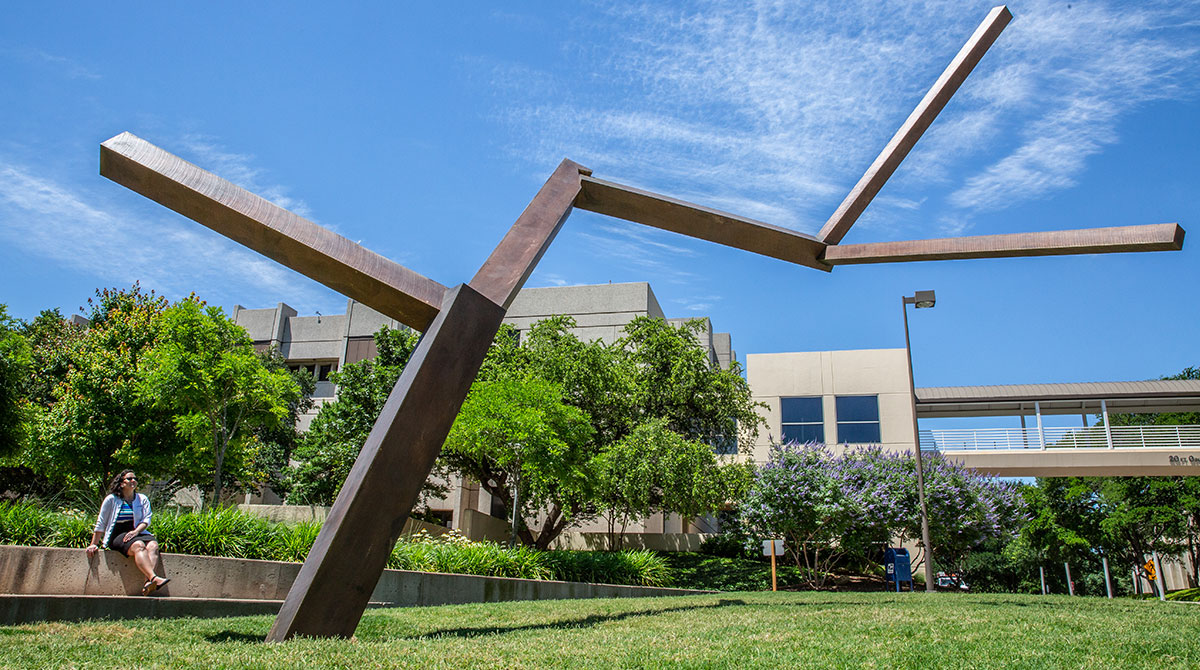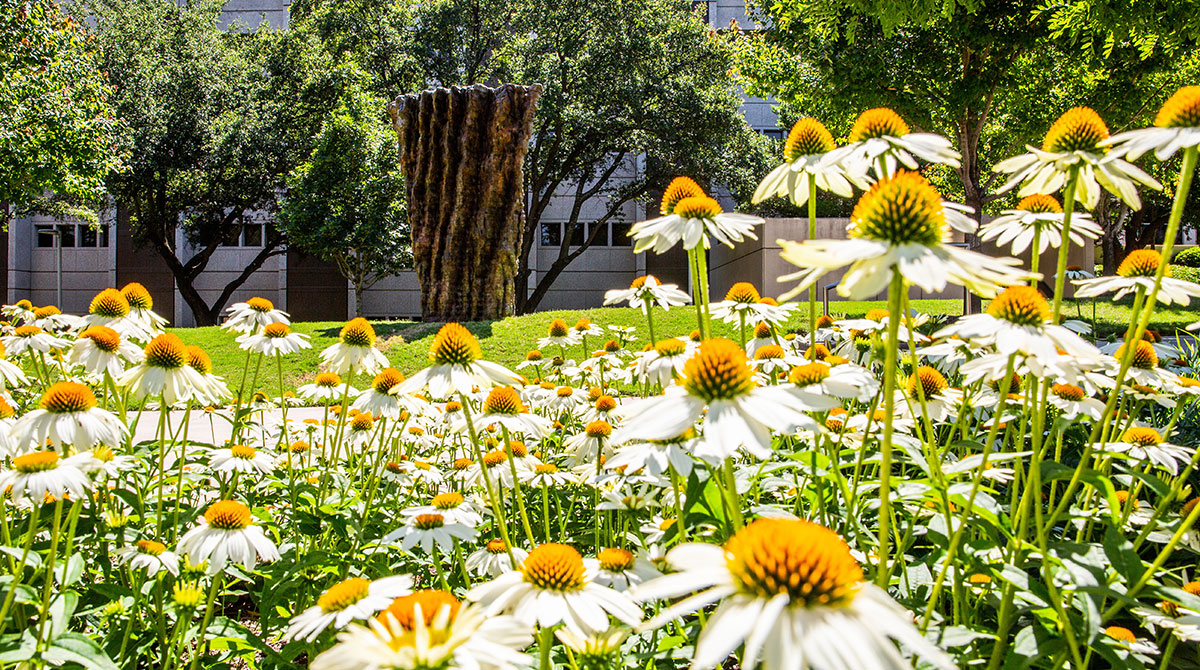 Denizens of UT Southwestern's Dr. Donald Seldin Plaza are now greeted by two stunning new sculptures that have effectively changed the face of South Campus. The pieces – Dumna by Ursula von Rydingsvard and an untitled work by Joel Shapiro – were recently gifted to UT Southwestern by Nobel Laureate Dr. Joseph L. Goldstein, Chairman of the Department of Molecular Genetics.
These two works are the latest additions to UTSW's expansive art collection, which enhances the entire campus.
These significant donations elevate UT Southwestern's already impressive art collection, and all who enter this campus benefit from the generosity of donors who understand the value of art in inspiring and comforting those who work and visit our campus, said UT Southwestern President Dr. Daniel K. Podolsky. We are extremely grateful for the generosity of Dr. Goldstein for making these additions possible and to the teams who saw the installation through.
At just under 11 feet tall, Ms. von Rydingsvard's Dumna is situated atop the berm on Seldin Plaza, nestled among trees and layered flower beds.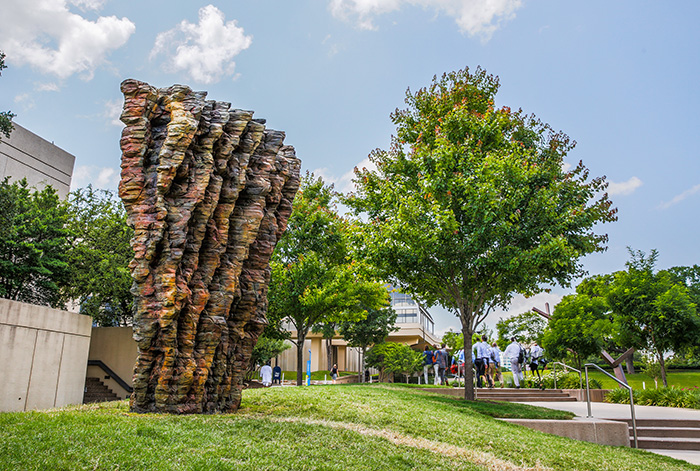 Dumna appears to be a natural formation, such as wood or stone, and the effect of its colorful patina changes with the light," said UTSW Art Curator Courtney Crothers. "It seems to belong where it is, as if it's always been there.
Ms. von Rydingsvard was born in Germany in 1942 and came to the United States in 1959. Based in Brooklyn, she began her career in the mid-1970s. Her work is acclaimed for its rich, earthy texture and is found in important museum collections around the world. Ms. von Rydingsvard sculpted Dumna in 2014 from cedar beams and cast the work in bronze the following year. UTSW's piece is the last in an edition of three.
At the entrance to Seldin Plaza just off Sen. Kay Bailey Hutchison Drive stands the untitled bronze piece by Mr. Shapiro. At approximately 21 feet tall and nearly as wide, the piece branches up and out from a single point in the ground.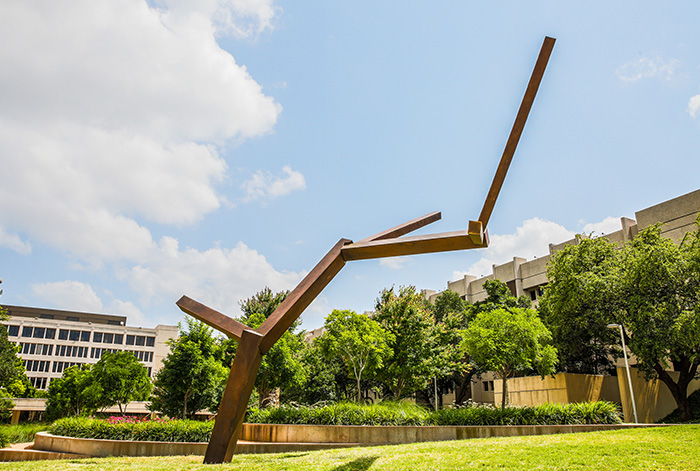 Mr. Shapiro is an American sculptor who lives and works in New York City and is renowned for his dynamic work composed of simple rectangular shapes, often resembling the human form. Commissioned especially for UT Southwestern, the piece is compelling in both scale and geometry.
Shapiro's work has a lyrical quality to it, and this massive piece is animated by its leaning form and cantilevered appendages, Ms. Crothers said. The form changes with the viewer's perspective and imbues UT Southwestern's 'front door' with energy and elegance.
Installation required cooperation among Ms. Crothers, employees from Facilities Management and the Office of Safety and Business Continuity, and representatives from the Talley Dunn Gallery in Dallas, who oversaw placement and facing of the pieces. A large crane was positioned on Sen. Kay Bailey Hutchison Drive for two days as each piece was carefully lifted and assembled in its new home.
Talley Dunn Gallery helped Dr. Goldstein identify the sculptures to be donated and then handled all the logistics of getting the pieces from the artists' studios to Dallas.
The desire was to look at artists who have national and international followings as well as representation in museums – and to also identify artists who are making work that is appropriate for the site and that Dr. Goldstein and curators were excited about, said Talley Dunn, owner of the gallery.
It's very exciting because we took a model that was in Mr. Shapiro's study and envisioned it at 21 feet tall, Ms. Dunn said. His work is in museum collections around the world, and this piece was made just for UT Southwestern. Both Joel and Ursula are at the peaks of their careers, and these pieces are of international significance.
Ms. Dunn has had a long-standing relationship with UT Southwestern and with with Dr. Goldstein, but previously has primarily helped facilitate indoor work.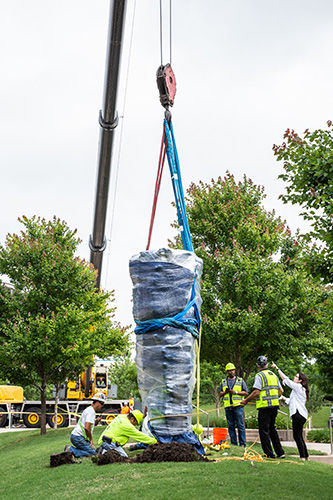 With outdoor work, I need to be here to make sure that the pieces are placed properly, since they have both a front and a back, Ms. Dunn said. It's very exciting to be here today as this is the culmination of several months of work and a lot of moving parts.
Faculty, employees, students, and visitors watched with curiosity, some stopping along the Campus Connector bridge to watch; others asked for details as they walked along the Plaza during the installations that took place the week of May 20.
Dr. Alisa Winkler, Associate Professor of Cell Biology, was one of the observers. It's a special moment to see these pieces being installed. I walk down Seldin Plaza every day, and having beautiful things on campus makes UT Southwestern a wonderful working environment and is an inspiration for me. I think a lot of people in the scientific community value art as it comforts and welcomes us.