Three UTSW members to receive 2019 "Women Who STEAM Awards"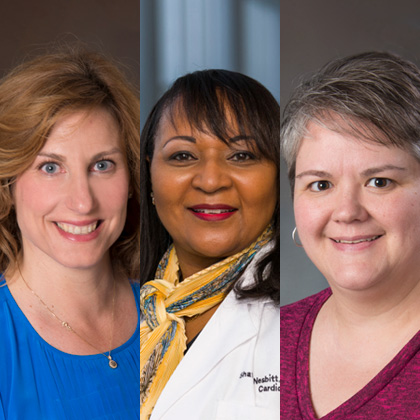 The Dallas Chapter of The Links, Inc., will present Dr. Amy McIntosh, Dr. Shawna Nesbitt, and Dr. Kirsten Tulchin-Francis with 2019 Women Who STEAM Awards at an April 30 luncheon at the Belo Mansion.
These three, along with four other honorees, are being recognized as phenomenal leaders in the areas of science, technology, engineering, arts, and mathematics "while also serving, teaching, excelling, aspiring, and mentoring" in the community.
Dr. McIntosh is an Associate Professor of Orthopaedic Surgery at UT Southwestern and a pediatric orthopedic surgeon at Texas Scottish Rite Hospital for Children.
Dr. Nesbitt is a Professor of Internal Medicine, the Associate Dean in the Office of Student Diversity and Inclusion, and the Medical Director of the Parkland Health & Hospital System Hypertension Clinic.
Dr. Kirsten Tulchin-Francis is an Assistant Professor of Health Care Sciences for the Prosthetics-Orthotics Program and the Division Director of the Movement Science Laboratory at Texas Scottish Rite Hospital for Children.
The Links, Inc., is a service organization of more than 15,000 women with 288 chapters nationally and internationally.