Institutional Service Award
This award honors clinical faculty who consistently share time and expertise in service to internal committees, task forces, and other institutional activities that make a significant impact on the care delivered to UT Southwestern patients.
---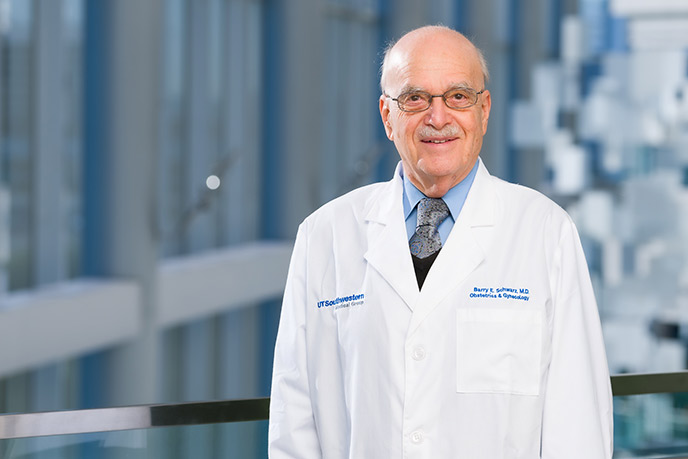 Professor of Obstetrics and Gynecology
Chief, General Obstetrics and Gynecology Division
Vice Chair, Department of Obstetrics and Gynecology
During his 47 years on the faculty of the UT Southwestern Department of Obstetrics and Gynecology, Dr. Barry Schwarz has built a legacy of service by generously volunteering for, and assuming leadership roles on, a host of key campus committees.
His ability to conduct fair and thorough reviews has made him a valuable member of the UT Southwestern Promotions and Tenure Committee during the 21 years he has served as a member. At Parkland Memorial Hospital, Dr. Schwarz has been the Service Chief of the Family Planning Program since 2006. In this capacity, he is responsible for the largest family planning program in North Texas, spanning 10 clinics and averaging more than 70,000 patient visits per year. With ever-evolving changes to family planning and funding streams, his knowledge and nimble strategies help ensure that services remain available to many of the most vulnerable women in our community.
A 1968 graduate of UT Southwestern Medical School, he completed a medicine internship at what was then the Dallas Veterans Administration Medical Center followed by a residency in obstetrics and gynecology at Parkland (1969-1972).
In addition to his many volunteer efforts, Dr. Schwarz also has served as a Vice Chair of the UT Southwestern Department of Obstetrics and Gynecology since 1983, working largely behind the scenes to keep the financial/billing and clinical operations of the Department running smoothly. He holds the Arthur Grollman Professorship in Obstetrics and Gynecology.
In his words: "I am delighted, honored, and indebted to the institutional leaders, and to my colleagues, staff, and students who have made working at UT Southwestern a joy for so many years."
---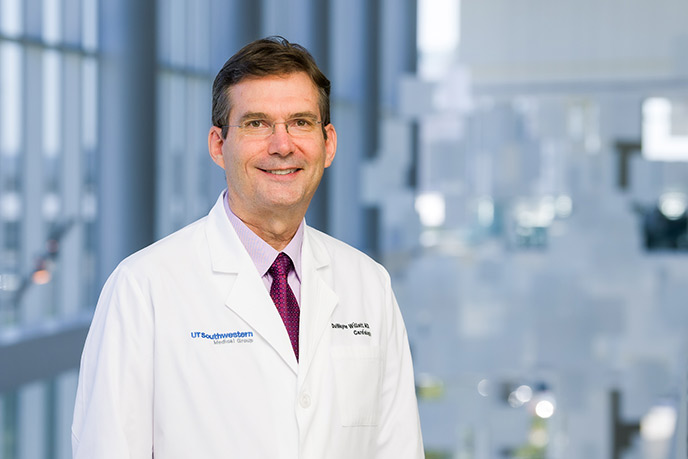 Professor of Internal Medicine
Chief Medical Informatics Officer for the UT Southwestern Health System
Dr. Willett's contributions to UT Southwestern run deep. Not only is he a Professor in the Department of Internal Medicine's Division of Cardiology, specializing in general and noninvasive cardiology, he also serves as Chief Medical Informatics Officer for the UT Southwestern Health System, leveraging electronic records to more rapidly develop specialty patient registries and clinical decision support for physicians and patients.
The list of committees he has led and served on over his career is impressive, including the Health System Information Resources Committee (co-Chair), Health System Electronic Health Record Committee (Chair), Hospital Medical Executive Committee, and Ambulatory Services Committee. He also helped develop information systems and databases for the groundbreaking Dallas Heart Study.
After completing his cardiology fellowship at UT Southwestern, Dr. Willett earned a Master of Science degree in information systems from Drexel University and a Master of Science in health care management from UT Dallas. His behind-the-scenes efforts to innovate and organize UT Southwestern's data warehouse have been visionary and will benefit the organization and UTSW's patients for decades to come.
Despite his long list of credentials and contributions, Dr. Willett is humble and sincere, always finding time to mentor new informaticists and cultivate the growth of this new cadre of specialists within UT Southwestern.
In his words: "This award evokes particular gratitude because it really represents collaborative work produced by multiple teams I've been privileged to join. Practicing informatics at UT Southwestern offers the opportunity to work closely with so many creative, bright, and dedicated individuals from all areas of the organization – faculty and staff alike. I'm thankful every day that I get to team up with colleagues like these on challenging projects – it's a joy."