This award recognizes exceptional early career clinical faculty whose actions and activities consistently exemplify enthusiasm, commitment, professionalism, and leadership.
---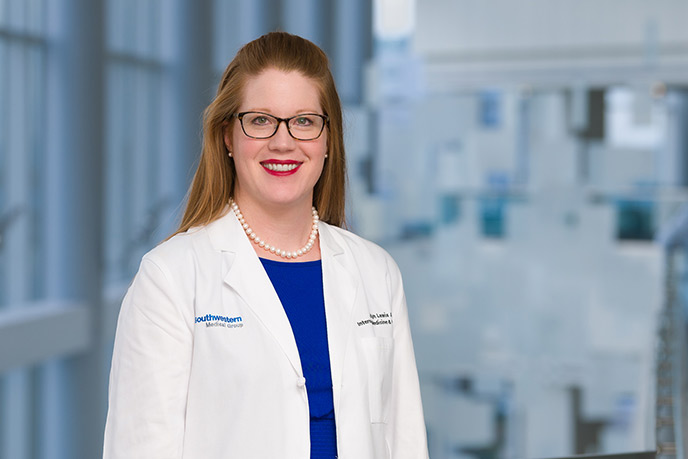 Assistant Professor of Pediatrics
Dr. Albin joined UT Southwestern's Departments of Pediatrics and Internal Medicine in the fall of 2014 and has made a dramatic impact in a relatively short period of time. After graduating from George Washington University School of Medicine in 2009, completing a combined med-peds residency, and serving as a chief resident at Baylor College of Medicine, she came to UT Southwestern and focused on delivering compassionate primary care to patients of all ages, including the most vulnerable populations at the Rees-Jones Center for Foster Care Excellence at Children's Health.
Dr. Albin co-developed UTSW's Internal Medicine/Pediatrics Residency Program and became its Associate Program Director, teaching patients, students, and residents about nutrition, lifestyle choices, and other environmental influences that contribute to chronic disease. She also founded a robust Culinary Medicine program, which has received national recognition in the culinary medicine community and could position UT Southwestern as a leader in equipping physicians with the tools they need to address chronic lifestyle disease and intervention.
In addition, Dr. Albin has developed a reputation as an outstanding clinician and primary care provider. She is a go-to doctor for many UT Southwestern faculty and their families. And comments like this one from a patient capture one of her special gifts:
"Dr. Albin treats me as if I were her only patient."
In her words: "My adventures at UTSW are inspired by the bright and fiercely optimistic medical students and residents who push me to lead them to better solutions for the health crises of our patients and community. The dedicated teams of staff, colleagues, mentors, and leaders here each bring something important to my journey, and I will always be sure to pay my gratitude forward. Most of all, I will continue onward to bring the good news to patients, trainees, and all health professionals that food plays a powerful and beautiful role in our health. We can empower patients to transform their lifestyle to find great hope and healing. I have a vision of UTSW as a leader in this important work!"
---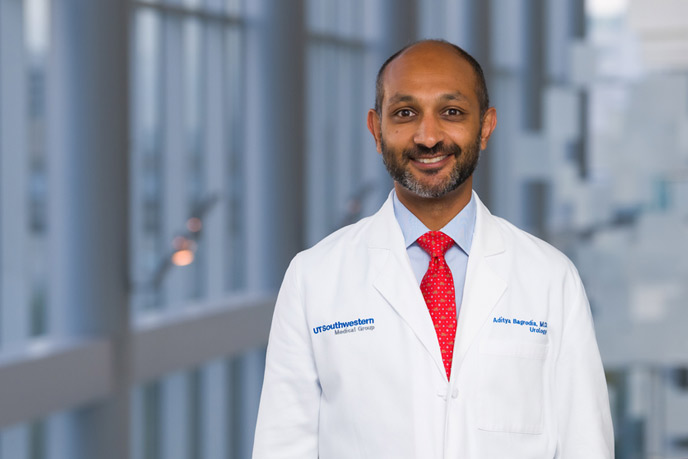 Aditya Bagrodia, M.D.
Assistant Professor of Urology
Harold C. Simmons Comprehensive Cancer Center
From the moment he was appointed an Assistant Professor in the Department of Urology at UT Southwestern in 2016, Dr. Bagrodia has focused his clinical expertise and research efforts on advancing the care of urologic oncology patients, specifically those with testicular cancer. He has quickly become a nationally recognized expert on the topic and a sought-after surgeon for testicular cancer patients at UT Southwestern.
Dr. Bagrodia, who completed his advanced training at Memorial Sloan Kettering Cancer Center in New York, was named a Dedman Family Scholar in Clinical Care at UT Southwestern for his dual efforts in improving patient­­­ care and collaborating with basic scientists on testicular cancer research. Together, their combined efforts have earned two major grants from the Cancer Prevention and Research Institute of Texas (CPRIT).
A tireless advocate for excellence in clinical care and academic rigor, Dr. Bagrodia is a role model for residents, fellows, and other faculty in his ability to integrate research insights into clinical practice. He is also a prolific writer and the principal author or co-author of more than 100 articles in peer-reviewed publications. When the most difficult surgical cases and decisions in urology come up, Dr. Bagrodia quickly raises his hand to tackle them, which is a testament to his intellect and surgical acumen.
In his words: "To be recognized by my peers for coming to an incredible place like UT Southwestern and doing what I love every day is a humbling honor. This award is shared with my department, which is chock-full of role models; the clinical staff that ensure a top quality patient experience; and our tremendous research team that makes this work possible. Above all, I am grateful to my phenomenal wife and kids for their unconditional love and support."
---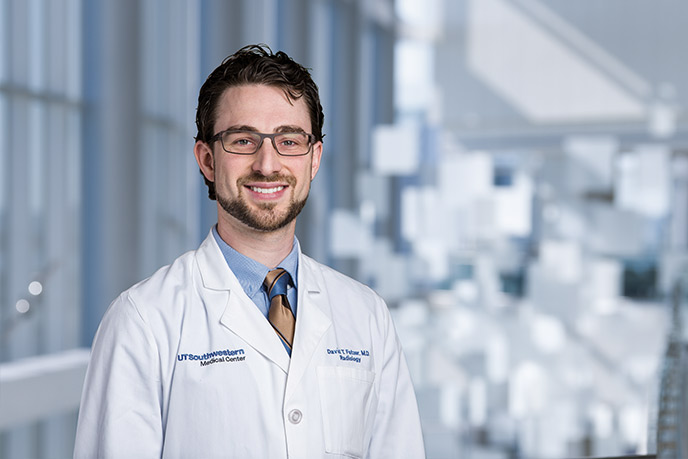 Assistant Professor of Radiology
Since arriving at UT Southwestern in 2014, Dr. Fetzer has helped transform the perception of ultrasound imaging and intervention – improvement that began on a local scale but now is also beginning to grow nationally. His vision of developing new service lines, including contrast-enhanced ultrasound (CEUS), is becoming a reality, thanks to his tireless efforts to share revolutionary ultrasound techniques with colleagues and patients.
Dr. Fetzer earned his medical degree at the University of Texas Health Science Center at Houston and completed a four-year diagnostic radiology residency and an abdominal imaging fellowship at the University of Pittsburgh Medical Center. An Assistant Professor in the Department of Radiology, he is also Medical Director of Ultrasound at UT Southwestern and Parkland Memorial Hospital, and a Fellow of the Society of Radiologists in Ultrasound. In addition, he oversees UT Southwestern's ultrasound-based screening program for liver disease.
CEUS, which allows organs and vessels to be scanned in high resolution, relies on safe microbubble contrast agents and is expected to lead to more accurate diagnoses, allowing physicians to more effectively tailor treatment decisions. Dr. Fetzer has championed CEUS on campus and has actively taught peers, technologists, and trainees about this technique. CEUS has only recently become available in the United States, and Dr. Fetzer's initiative aligns perfectly with UT Southwestern's mission to deliver "the future of medicine, today" to its patients.
In his words: "This award is both humbling and energizing. As with nearly everything in medicine, the advancements and successes we achieve require a team; I wish to thank my department, my collaborative colleagues, and in particular our sonographers – whose dedication, hard work, and friendship I rely on each and every day – for their support. Watching how our achievements impact patient care is the greatest reward of all."
---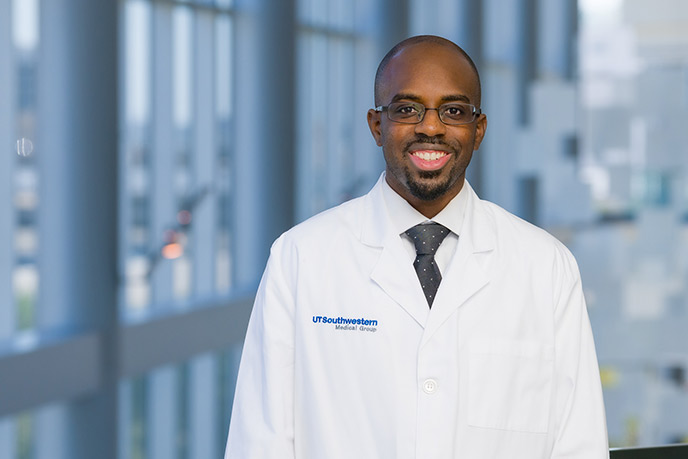 Assistant Professor of Internal Medicine
Dr. Okorodudu, an Assistant Professor in the Department of Internal Medicine, has created a national discussion around the need for increased diversity in the medical profession. His program "Black Men In White Coats," which he started as a resident at Duke University Medical Center, has since given rise to youth summits, articles in The Dallas Morning News, and three books, as well as appearances on NBC's "Today" show and on NPR.
Most importantly, Dr. Okorodudu's grassroots awareness efforts have inspired countless students from all backgrounds to pursue careers in medicine. His work has made him a national leader on the issue of achieving a diverse medical workforce.
After completing his fellowship training at UT Southwestern, Dr. Okorodudu took a position with the Dallas Veterans Affairs Medical Center, where he led the development of its endobronchial ultrasound (EBUS)-guided procedures program as a first-year faculty member. He holds several leadership positions at UT Southwestern, including Associate Program Director for the Department of Internal Medicine and HEAL Faculty Director in the Office of Faculty Diversity & Development. In both roles he provides leadership training for housestaff and directs the expansion of the institution's training and recruitment programs.
Dr. Okorodudu's innovative efforts to train leaders in medicine and create a more diverse medical workforce are inspiring. The effects of his work will be felt for years to come.
In his words: "I am very honored to have received this award. I do however appreciate the fact that I am simply a representative for all the people who have mentored and supported me in my various endeavors. This is really their award, because without them, none of this work could get done. It's a privilege to be a part of the UT Southwestern community."