The Patricia and William L. Watson Jr., M.D. Award for Excellence in Clinical Medicine
The Patricia and William L. Watson Jr., M.D. Award for Excellence in Clinical Medicine is UT Southwestern's highest honor in clinical care. The award recognizes a UT Southwestern clinician who exemplifies excellence in patient care and is a leader in advancing clinical innovations. Further, it honors a faculty member who has had a profound impact on patients, students, trainees, and colleagues through the quality of his or her clinical work.
---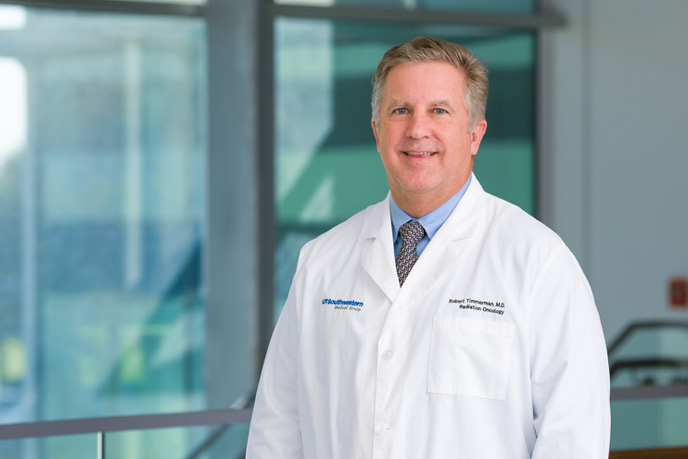 Professor of Radiation Oncology and Neurological Surgery
Harold C. Simmons Comprehensive Cancer Center
Dr. Timmerman manages to balance the complex technical aspects of delivering radiation therapy with the nuances of cancer biology – all without losing sight of the humanity of his patients.
As patients navigate their cancer diagnosis and treatment, it's vital for them to have a trusted advocate. And for those in his care, Dr. Timmerman becomes just that.
"After my radiation (treatment)," one patient wrote, "Dr. T. provided me a clear explanation of the results. I felt much better. He encouraged and inspired me to live a healthier and longer life."
Dr. Timmerman's patients have described him as a physician with an excellent bedside manner, who treats them with dignity and respect.
"Bob somehow becomes expert, guide, and friend to the patients he treats," said Dr. John Mansour, Associate Professor in UT Southwestern's Department of Surgery and Chief of Surgical Oncology, and 2017 Watson Award recipient.
As a clinician, Dr. Timmerman primarily focuses on patients with diseases of the central nervous system, including cancer of the brain and spine. His practice includes treating children and adolescents who are still growing – those for whom extremely precise treatment is likely to result in better long-term quality of life.
Dr. Timmerman joined the UT Southwestern faculty in 2004 and was one of the first researchers in the world to use stereotactic ablative radiotherapy (SABR) to treat a variety of deadly cancers arising from the lungs, kidneys, prostate, and breasts.
This revolutionary technique relies on highly advanced imaging, treatment planning, and radiation delivery technology to administer a very potent dose with extreme precision from multiple angles; it has been shown to offer better cure rates for many cancers, particularly in cancers that have metastasized.
Dr. Timmerman has championed the use of SABR globally and has served as the lead investigator in several national trials designed to evaluate the efficacy and safety of SABR to treat cancer in the lungs, liver, spine, and prostate.
He has made it his mission to see the SABR technique taken into the mainstream, through a strategy that includes outreach, personalized training, and mentorship. This has led to physicians and their teams in the United States and worldwide coming to UTSW for formal training.
His nominator wrote that through this Watson Award winner's efforts, trainees and mentees "will no doubt expand the therapy beyond Dr. Timmerman's vision, toward the benefit of cancer patients everywhere."
Dr. Timmerman earned his medical degree from the University of South Dakota and completed his radiation oncology residency at Johns Hopkins Hospital in Baltimore. He holds the Effie Marie Cain Distinguished Chair in Cancer Therapy Research and is Vice Chair of Radiation Oncology and Director of the Annette Simmons Stereotactic Center. He is a Fellow of both the American Society for Radiation Oncology and the American College of Radiology.
In his words: "I'm most humbled by the immense honor of being named this year's Watson Award winner. In addition, I'm extremely grateful to the selection committee, Drs. Podolsky, Lee, and Warner, and the Medical Center as a whole for all the opportunities that have been afforded me since coming to our amazing institution. Any accomplishment attributed to me clearly draws from the team I enjoy working with daily in Radiation Oncology, Neurosurgery, and the Simmons Cancer Center. And for this team I respectfully accept this award and am grateful for your confidence in our clinical programs."