Career Resources
Internal Grant Application Review Committee
It is highly recommended that trainees submit a complete K, R, other NIH, or foundation grant application to the Internal Grant Application Review Committee, which is comprised of clinical and translational scientists. The Committee will critically evaluate the application's merit based on criteria similar in rigor to that used for the NIH peer-review process. After examining the grant, the Committee will meet with the trainee to provide criticisms and suggestions for revision and modification of all elements of the grant application. These include the research plan, compliance with federal policies, rules and guidelines for clinical research, timelines and budget request, etc. The scientific mentor is required to be present at this meeting. For more information, contact: Amy Mackenroth.
More information is available in the Committee Requirements and Tips (PDF).
Individual Career Planning and Advisement
These are one-on-one meetings with senior program faculty to help trainees develop an individualized career plan including personal objectives, career goals, and timelines for achieving milestones. The intent is to develop a formal plan for the trainee to follow to become an independent clinical investigator, capable of leading a multidisciplinary research team and competing effectively for peer-reviewed funding.
Mentoring
The Education and Career Development Program highly values the mentor experience. Effective mentorship is a critical element in the process by which mentees achieve excellence in the design and management of clinical research, facilitating their growth as leaders in clinical and translational science. By the end of the first semester, trainees must identify both a scientific and career/humanistic mentor.
Mentors provide meaningful and invaluable guidance to trainees related to their career plans including help with the selection of a mentored research project, research design, data collection, and analysis and feedback on written work including publications and grant applications. Mentors assist trainees in meeting personal and programmatic expectations and guide them toward independence and a successful career in academic medicine. Mentor Guidelines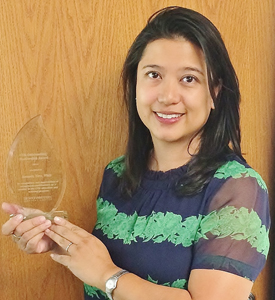 The CTM leadership team believes that the mentoring of young medical researchers is critical to their academic and scientific success.
Access to senior colleagues who have demonstrated a career of scientific prowess, are willing to facilitate, nurture and transfer the necessary behaviors for personal and professional growth, and understand the vicissitudes of academe and its institutions has been recognized as a vital factor for setting the stage for potentiating the career of the mentee.
This year's graduating class nominated the 2014 winner, Jasmin Tiro, Ph.D., in recognition and appreciation of exceptional contributions as a mentor in the CTM education and training program.