Clinical Experience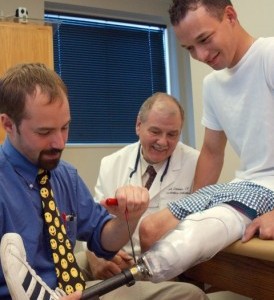 Because we're part of a major medical center, you'll have an outstanding opportunity to enhance your understanding and abilities through hands-on clinical experience in a variety of settings. Here are just a few of the places where you'll broaden and refine your skills:
UT Southwestern clinics for multiple sclerosis and amyotrophic lateral sclerosis
UT Southwestern Physical Therapy Clinic
UT Southwestern Orthopaedic Outpatient Clinic
Parkland Memorial Hospital Physical Medicine and Rehabilitation Problem Foot and Amputee Clinic
Parkland Memorial Hospital Orthopedic Problem Foot Clinic
Baylor Institute for Rehabilitation Orthotic Clinic
Pediatric clinics at Texas Scottish Rite Hospital for Children and Children's Medical Center Dallas
Comprehensive orthopedic oncology clinic case review
Surgery observation at campus hospitals
You'll also complete a one-month, off-campus clinical experience during the second summer of the program. This experience provides a powerful opportunity to apply your skills as you learn from a clinician in the field and experience daily practice. There are dozens of options for this experience, from general practice to upper-limb prosthetics, pediatrics, acute management, and other focused specialties, in a wide variety of clinic, hospital, and community settings. Your faculty mentor will help you identify a focus and location that match your goals and interests.