Faculty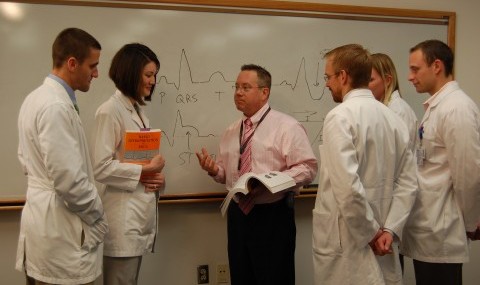 The Department of Physician Assistant Studies is led by an expert faculty recognized for excellence in academics, research, and clinical care. Faculty members have received prestigious teaching awards and hold important leadership positions in the physician assistant profession.
In addition, our faculty members have published research in nearly a dozen leading journals, including the Journal of the American Medical Association, Annals of Emergency Medicine, Academic Medicine, Journal of Environmental and Public Health, Journal of Surgical Education, Academic Emergency Medicine, Journal of American Academy of Physician Assistants, and the Journal of Vascular Surgery.
Their knowledge, expertise and dynamic teaching create a rich environment for learning and professional growth.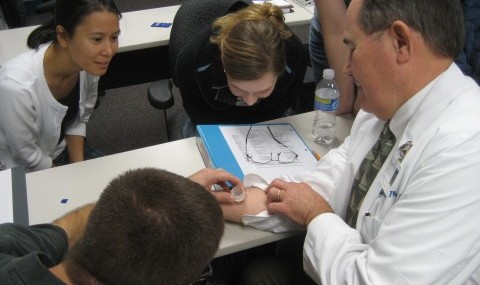 P. Eugene Jones, Ph.D., PA-C
Distinguished Teaching Professor and Department Chair
Graduate School: Ph.D., PA-C, Claremont Graduate University, 1991
Interests: Physician assistant education, nonphysician clinicians, faculty workforce
Carolyn Bradley-Guidry, M.P.A.S., PA-C
Assistant Professor
Education: M.P.A.S., University of Nebraska Medical Center, 2006; B.S.P.A., UT Southwestern Medical Center, 1998
Interests: Lifestyle modification and health promotion, hypertension management
Veronica L. Coleman, M.P.A.S., PA-C
Assistant Professor
Education: M.P.A.S., Louisiana State University Health Sciences Center, 2012; B.S. Physician Assistant, Louisiana State University Health Sciences Center, 2010
Interests: Plastic and Reconstructive Surgery, Diabetic Limb Care, Preventative Diabetic Limb Amputation Education, Chronic Wound Care, Post Mastectomy Breast Reconstruction Education
Laurette K. Dekat, M.D., M.P.H.
Clinical Assistant Professor and Medical Director
Medical School: M.D., University of Texas Health Science Center at Houston, 1993
Graduate School: M.P.H., Johns Hopkins School of Public Health, 1987
Interests: Adolescent medicine, school‑based health
Kassidy James, MHS, PA-C
Assistant Professor
Education: MHS Drexel University, Hahnemann PA Program 2006; B.S. Economics Baylor University 2003
Interests: Hospitalist Medicine, General Internal medicine, Underserved Populations, Systems Based Practice
Tiffany Billmeier Kindratt, M.P.H.
Assistant Professor
Education: M.P.H., Global Health Concentration, University of Texas School of Public Health Dallas Regional Campus, 2009; B.A. Psychology, Minor Business, University of Texas, 2004
Interests: Epidemiology, Health Disparities, Medical Education, Health Literacy
David J. Klocko, M.P.A.S., PA-C
Associate Professor
Graduate School: B.S.P.A., King's College, 1986; MPAS, University of Nebraska, 1998
Interests: Clinical performance evaluation, access to health care, emergency medicine
Venetia L. Orcutt, Ph.D., M.B.A., PA-C
Associate Professor
Graduate School: Ph.D., University of North Texas, Toulouse Graduate School, 2007
M.B.A., University of Dallas, Graduate School of Management, 1994
Interests: Health Workforce, Faculty Development, Educational Assessment
Daytheon Sturges, M.P.A.S., PA-C
Assistant Professor
Education: M.P.A.S., Louisiana State University Health Sciences Center, 2012; B.S. Physician Assistant, Louisiana State University Health Sciences Center, 2008
Interests: Internal Medicine, Rheumatology, Preventative Care, Healthcare Disparities, Access to Quality Healthcare, Medical Education, Clinical Site Development, Medical Research
Jeffrey M. Williams, M.P.A.S., PA-C
Assistant Professor
Graduate School: M.P.A.S., University of Nebraska Medical Center, 2011
Interests: General Internal Medicine, Chronic Kidney Disease