Administration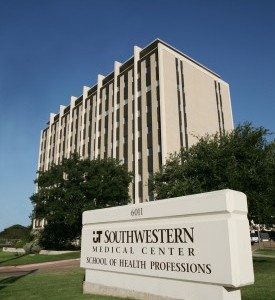 Jon W. Williamson, Ph.D.
Dean
Jon Williamson, Ph.D., is responsible for overseeing the school's academic programs, budget and finances, strategic planning, clinical operations, and research programs. He has previously served as Interim Dean, Chair of the Department of Health Care Sciences, Assistant Dean for Research, Associate Dean for Academic Affairs, as well as the Director of a Center for Interdisciplinary Research and a Center for Teaching and Learning.
He received his Ph.D. from the University of North Texas Health Science Center at Fort Worth, completed his training as a research fellow in Cardiology at UT Southwestern and joined the faculty in School of Health Professions in 1995. He is a fellow of the American College of Sports Medicine, and his research programs have focused on neural control of the circulation, neuroplasticity, and cortical remapping following injury and rehabilitation. As a Distinguished Teaching Professor, he also has keen interest in interprofessional education, health care teams, and student performance.
He joined the Dean's Office in 2007 and was named Dean in October 2015.
Kim Hoggatt Krumwiede, M.A., CMI
Associate Dean for Academic Affairs
Kim Hoggatt Krumwiede earned bachelor's degrees from both Saint Olaf College in Minnesota in 1984 and the University of Wisconsin – Madison in 1987. She earned her master's degree in Biomedical Communications – Medical Illustration from UT Southwestern Medical Center in 1994. Her past research efforts included patient education for medically underserved populations and research and development of multimedia applications in biomedical environments. Her current research efforts include educational technology and interprofessional education in the health care environment.
Ms. Krumwiede joined the Dean's Office in 2013 as Assistant Dean of Student Affairs and Educational Technology with duties including the oversight of student activities and effective implementation of learning technologies for the School of Health Professions. She was promoted to Associate Dean for Academic Affairs in Fall 2015.
Scott Smith, Ph.D.
Assistant Dean for Research
Scott Smith, Ph.D., oversees the school's basic and clinical research program including, but not limited to, development of projects, establishment of collaborative partnerships, grant award planning/submission and post-award management. He is the Chair of the school's Research Advisory Committee and Promotion and Tenure Committee as well as Director of the Human Physiology Course for first year students.
He has also served as the Director of the David M. Crowley Research and Rehabilitation Laboratory within the school and is a former President of the school's Faculty Assembly Executive Committee. In addition, he is a former member of the University of Texas System Faculty Advisory Council in which he served on the Executive Sub-Committee on Health Affairs.
He earned his bachelor's degree in biology/chemistry from Southwestern University in Georgetown, Texas, and his master's and doctoral degrees in biomedical science from the University of North Texas Health Science Center at Fort Worth. He completed a postdoctoral fellowship in Internal Medicine/Cardiology at UT Southwestern in 2002 and joined the faculty of the School of Health Professions shortly thereafter. He is an active member of the American Heart Association, American Physiological Society and American College of Sports Medicine. He currently serves as a reviewer for numerous journals and funding agencies such as the National Institutes of Health (NIH).
His NIH-funded research focuses on determining the mechanisms underlying the development of autonomic reflex dysfunction in cardiovascular diseases such as hypertension and heart failure. He has active collaborative research relationships with fellow UTSW scientists in Cardiology, Hypertension, Nephrology, Mineral Metabolism, Bioengineering, and Surgery. His research has received award recognition from both the American Physiological Society and the Federation of American Societies for Experimental Biology.
He joined the Dean's Office in his current role in November 2012.
Bernadette Nagib, M.B.A., CPC
Director
Bernadette Nagib joined the Dean's Office in 2013. She earned a bachelor's degree from Southern Methodist University in 1999 and her Master's in Business Administration in 2009 from the University of Texas at Arlington. She has worked in health care since 2001. As Director, her responsibilities include managing the School of Health Profession's fiscal resources. She also serves as Director of the School's Faculty Service, Research, and Development Plan.
Geoffrey Grabow, M.Ed.
Manager
Geoffrey Grabow joined the Dean's Office in July 2005. He earned his Master of Education degree in College Student Affairs from Azusa Pacific University in 1999 and has extensive experience in higher education administration. His duties include oversight of administrative staff, financial affairs, and providing counsel to the School's academic departments on administrative and personnel matters.
Marcie Hanson
Senior Administrative Associate
Marcie Hanson joined the Dean's Office in March 2007 from the Department of Biomedical Communications. Her duties include administrative management of Dean's office staff calendars and events, management of travel for the Dean and staff members, management of human resource activities and faculty appointments, web maintenance, and support of academic committees.
Ana Herrera
Administrative Associate
Ana Herrera joined the Dean's Office in February 2008 from AMH Transport. Her duties include event management, accounts payable items, managing administrative supplies, student tutoring, and new student orientation.
Amanda Castillo Hicks
Program Coordinator
Amanda Castillo Hicks joined the Dean's Office in 2016. She earned a bachelor's degree in Psychology in 2013 and her master's in Management and Leadership in 2015, both from Tarleton State University. She has worked in higher education since 2013, and previously helped manage health care staff in physician office settings for more than eight years. As Program Coordinator for the School of Health Professions, her responsibilities include assisting the programs and its faculty members in recruitment efforts, social media, student activities, as well as bringing awareness to the School of Health Professions.
Angela Massey
Senior Administrative Assistant
Angela Massey joined the Dean's Office in 2013. Her duties include receiving calls and visitors to the Dean's Office, managing administrative supplies, and inventory control.