Administration
Raul Caetano, M.D., M.P.H., Ph.D.
Dean
Raul Caetano, M.D., M.P.H., Ph.D., serves as both Dean of the UT Southwestern School of Health Professions and Regional Dean of the UT School of Public Health campus in Dallas. Dr. Caetano, a native of Brazil, earned a Doctor of Medicine degree in Psychiatry from the State University of Rio de Janeiro in 1969. He came to the United States in 1978 and earned a Master of Public Health degree in Behavioral Sciences and a Doctor of Philosophy degree in Epidemiology from the University of California, Berkeley. After leaving his position as Director of the Alcohol Research Group, a California alcohol research center supported by the National Institutes of Health, he joined the UT System in 1998. He became Dean in 2006.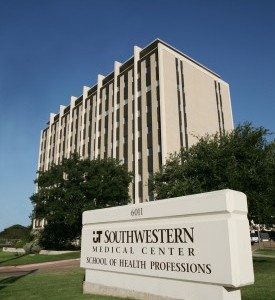 Jon W. Williamson, Ph.D.
Associate Dean
Jon Williamson, Ph.D., received his Doctor of Philosophy degree in Integrative Physiology from the University of North Texas Health Science Center in 1992 and completed postdoctoral training at UT Southwestern in the Division of Cardiology. His research efforts have focused on mapping brain structures involved in neural control of circulation, and he has also held administrative appointments since 2001. He joined the Dean's office in 2007. His duties as Associate Dean of Academic and Student Affairs involve academic policy, curriculum, and student academic performance.
Bernadette Nagib, M.B.A., CPC
Director
Bernadette Nagib joined the Dean's office in 2013. She earned a bachelor's degree from Southern Methodist University in 1999 and her Master's in Business Administration in 2009 from the University of Texas at Arlington. She has worked in health care since 2001. As Director, her responsibilities include managing the School of Health Profession's fiscal resources. She also serves as Director of the School's Faculty Service, Research, and Development Plan.
Geoffrey Grabow, M.Ed.
Executive Assistant
Geoffrey Grabow joined the Dean's office in July 2005. He earned his Master of Education degree in College Student Affairs from Azusa Pacific University in 1999 and has extensive experience in higher education administration. His duties include oversight of administrative staff, financial affairs, and providing counsel to the School's academic departments on administrative and personnel matters.
Marcie Hanson
Senior Administrative Associate
Marcie Hanson joined the Dean's office in March 2007 from the Department of Biomedical Communications. Her duties include administrative management of Dean's office staff calendars and events, management of travel for the Dean and staff members, management of human resource activities and faculty appointments, web maintenance, and support of academic committees.
Ana Herrera
Administrative Associate
Ana Herrera joined the Dean's office in February 2008 from AMH Transport. Her duties include event management, accounts payable items, managing administrative supplies, student tutoring, and new student orientation.