SimCenter
The SimCenter, operated by the Office of Medical Education, uses task trainers and high-fidelity simulators to enrich the student learning experience with realistic, safe, and fully interactive practice.
The high-fidelity simulators are close replicas of human patients and allow the pre-programmed or real-time control of realistic vital signs. They allow depiction of a variety of patients, medical conditions, or disease states, and train participants in the diagnosis, treatment, and management of an assortment of clinical problems.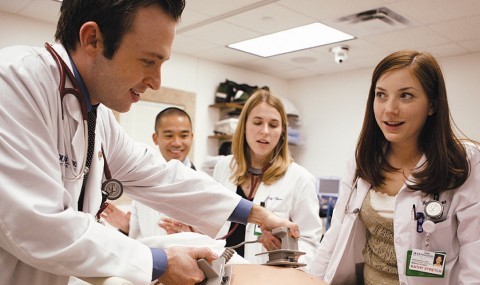 By immersion in simulated scenarios, students are exposed to multiple aspects of patient care and the opportunity to practice both clinical and behavioral skills. Among these skills are effective teamwork, proper communication, analytical thought processing, and medical crisis resolution.
The SimCenter is set up as a hospital patient room with realistic wall-mounted equipment and connections including simulated oxygen, working suction, and more. The set-up includes four ceiling mounted cameras and a video recording system that allows recording of both participant actions and patient vital signs for debriefing. Along with training medical students, the SimCenter is also used for intern and resident training.