Announcements
Pandya Spearheads New Atlas of Skin of Color
Congratulations to Amit Pandya, M.D., for his recently published Atlas of Skin of Color. He is co-editor of this publication, along with Dr. Diane Jackson-Richards, M.D. from Henry Ford Hospital. The Atlas of Skin of Color includes 50 chapters, more than 400 images, and concise discussions to address the presentation of common skin disorders in pigmented patients.
Le Lab Identifies Cell of Origin for Plexiform Neurofibromas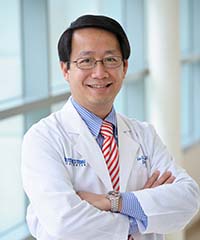 Lu Le, M.D., Ph.D., and postdoctoral researcher Zhiguo Chen have determined the cell of origin for plexiform neurofibromas, large disfiguring tumors found in the genetic condition Neurofibromatosis type 1. Ten percent of these tumors become malignant – the identification of the cell of origin for plexiform neurofibromas is an important step towards drug discoveries that can stop cancer development.
Ariizumi/Cruz Lab Receive CPRIT Grant
Congratulations to the Ariizumi/Cruz lab for being awarded a research grant from CPRIT (Cancer Prevention Research Institute of Texas). The goal of their project, entitled "Targeting the DC-HIL Receptor for Anti-Cancer Immunotherapy," is to create a antibody to block the molecule DC-HIL. This antibody, by blocking DC-HIL, can be used in advanced melanoma patients to inhibit melanoma growth and to increase the cancer-killing ability of these patients' immune system.