Chair's Message
Thank you for visiting the webpages of the UT Southwestern Medical Center Department of Clinical Sciences. I hope your experience here learning about us will properly demonstrate our commitment to building and to being the future of medicine, today.
The Department of Clinical Sciences provides an academic, educational, and cultural home for clinical investigators across all departments and disciplines, encompassing all clinical research throughout UT Southwestern.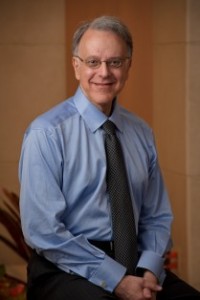 The mission of our Department is threefold: to accelerate and enhance the training and career development of clinical investigators, to promote high-quality patient-oriented research and translational research, and to provide institutional recognition for clinical scientists.
Currently, UT Southwestern Medical students, including those working in Clinical Sciences, have access to some of the best clinical training facilities in the country. Parkland Memorial Hospital, Dallas County's public hospital, is the primary teaching hospital of the Medical School; other affiliated hospitals, such as our two current University Hospitals – William P. Clements Jr. University Hospital and Zale Lipshy University Hospital – the Dallas Veterans Affairs Medical Center and Children's Health℠ add to a clinical experience that is exceptional and unmatched.
Clinical science research opportunities abound at UT Southwestern and are available in all areas of our Department: Behavioral and Communication Sciences, Biomedical Informatics, Biostatistics, Community Health Sciences, Outcomes and Health Services Research, and Ethics and Health Policy.
Again, I hope the information you find on this website will be helpful as you explore centers of excellence in medical education, research, and patient care. If you have other specific questions about the Department of Clinical Sciences, please feel free to contact us. Come help us build the future of medicine, today.
Thank you for your interest in our Department. If you require any additional information concerning our residency program or other opportunities for students, or concerning opportunities for potential faculty or other employees, contact the Department of Clinical Sciences, UT Southwestern Medical Center, 5323 Harry Hines Blvd., Dallas, TX 75390-9066 (by phone 214-648-9400 or email.)
ClinicalSciences@UTSouthwestern.edu
If you are seeking patient care information, please begin your search on UTSW Medicine, our patient care website.
Sincerely,
Milton Packer, M.D.
Chair, Department of Clinical Sciences, UT Southwestern Medical Center
Professor, UT Southwestern Medical School; UT Southwestern Graduate School of Biomedical Sciences