Jian-xiong Wang, Ph.D.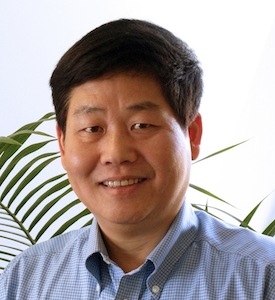 Dr. Wang concentrates on the development and clinical applications of 13C MR imaging technology. After the administration of hyperpolarized [1-13C] pyruvate, the production of hyperpolarized products such as lactate, alanine, bicarbonate and intermediates of the citric acid cycle is sensitive to disease and the metabolic state of tissue. These products can be imaged in patients, but current clinical MRI instruments are not equipped for these exams.
Dr. Wang works closely with research and clinical colleagues to optimize 13C imaging. The long-term goal is to apply these methods for patients with cancer, heart disease and other disorders with the focus on personalized therapy. As a trained and certified MRI physicist, Dr. Wang is also interested in developing novel methods in magnetic resonance including novel coil designs, pulse sequences and new approaches to image reconstruction and image processing.
Research Interests
Hyperpolarized 13C MRI
RF Coil Technology
Parallel Imaging and Compressed Sensing
Ultra-Short Echo-Time MRI