Marco da Cunha Pinho, M.D.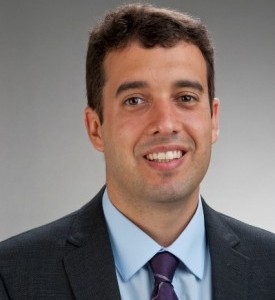 Marco da Cunha Pinho, M.D., is a neuroradiologist at UT Southwestern Medical Center and Parkland Memorial Hospital. His main research interests are on developing and validating imaging biomarkers that may be incorporated in clinical practice for the diagnosis and post-treatment follow-up of central nervous system tumors.
Central nervous system tumors, especially malignant gliomas, continue to be among the most challenging and elusive human neoplastic diseases. Despite major advancements in neuroimaging, neurosurgical technique, radiation oncology, and medical neuro-oncology, these neoplasms continue to be associated with extremely high morbidity and very short life expectancy. Current knowledge points to a more personalized approach to manage these patients, which will ultimately depend on their oncogenetic signatures and biological behavior.
Dr. Pinho is interested in imaging biomarkers that might provide non-invasive insight into these characteristics, and to help translate recent advances of basic sciences into clinical practice. More specifically, Dr. Pinho is currently evaluating the role of automated MR perfusion-derived metrics in prognostication for brain gliomas, as well as attempting to identify features that may help understand tumor physiology and predict favorable response to chemotherapy in clinical practice and experimental trials.
Dr. Pinho has collaborated with neuro-oncologists and radiation oncologists and is also interested in implementing imaging tools to more reliably access response assessment in oncology, such as longitudinal evaluation with volumetric 3-D imaging, image registration, and tumor segmentation. Also, Dr Pinho is interested in the incorporation of ultra-high-field MRI into clinical practice, and has recently started collaboration with AIRC basis scientists to build portable 7T clinical protocols that may enable patients to be safely and efficiently scanned, despite the technological challenges that are intrinsically involved with these investigational systems.
Research Interests
Oncologic Imaging, Central Nervous System and Head and Neck Tumors
MRI Perfusion and Neoangiogenesis
Ultra-high-field MRI