Jeffrey Browning, M.D.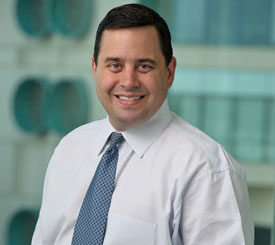 Jeffrey Browning, M.D., and his colleagues are using magnetic resonance spectroscopy (MRS) to trace the intricate metabolic pathways involved in liver homeostasis. His objective is to understand non-alcoholic fatty liver disease, particularly why some people develop progressive inflammatory disease and others do not. Fatty liver disease—associated with obesity, insulin resistance, and the metabolic syndrome—is a burgeoning problem affecting nearly 71 million individuals in the U.S. alone. Currently, lack of basic understanding of the pathology of fatty liver disease severely hinders progress in developing treatments.
He is using a multiple MRS tracer technique in collaboration with Shawn Burgess, Ph.D., to simultaneously measure different aspects of metabolism. These relatively simple techniques provide a plethora of information about hepatic carbohydrate, lipid, and energy metabolism. Dr. Browning is also using MRS to measure fat content throughout the body, including muscle and liver, to gain insight into fat metabolism in fatty liver disease.
One objective of his work is to explore the pathogenic mechanism of fatty liver disease, especially the "two-hit" hypothesis of the disease. In this hypothesis, first a defect in lipid disposal and/or accrual pathways leads to buildup of fat in liver cells. A second hit that leads to inflammatory disease is increased oxidative stress, which is damage by activated chemicals called reactive oxygen species produced by mitochondria in liver cells.
Another objective of Dr. Browning's work is to develop a metabolic fingerprint that could distinguish people whose fatty liver disease will progress. Such knowledge would enable development of clinical tests in which patients would take a tracer "cocktail" and have their hepatic metabolism assessed using MRS. Such a test could differentiate between people with simple fatty livers and those with a predilection to inflammatory disease.
Such MRS clinical tests would be superior to the current method of taking liver biopsy samples. Unlike biopsy, MRS is noninvasive and can give a broader measure of lipid content in the liver. Likewise, assessment of hepatic metabolism also provides functional information about liver that is unavailable using routine histologic techniques.
Dr. Browning and his colleagues are also studying how dietary restrictions, both reduced calorie and reduced carbohydrate diets, affect liver metabolism. Such studies of people with normal and fatty livers can offer important insights into the value of diet in treating and preventing fatty liver disease.
He and his colleagues are also exploring ethnic and sex differences in the prevalence of fatty liver and susceptibility to inflammatory disease. They are seeking to understand genetic differences that can account for ethnic differences in fatty liver disease and other diseases that can lead to cirrhosis through studies that could lead to more effective diagnosis and treatment of such diseases.
For publication information please view Dr. Browning's faculty profile.