Molecular Biophysics Ph.D. Program
About the Molecular Biophysics Program
Biophysics is based on the integration of diverse disciplines, including the physical, mathematical, and computing sciences, into a greater understanding of the biological world. Biophysics has provided countless quantitative and detailed insights into the mechanisms, structures, and dynamics of living cells along with their component macromolecules and pathways.
The Molecular Biophysics Program offers students with interests in physics, chemistry, and biology the opportunity to train with more than 30 faculty members who conduct rigorous and multifaceted research programs. From protein crystallography, NMR spectroscopy, and microscopy to mass spectrometry, and computational modeling, researchers in the program use diverse techniques for understanding a wide variety of biological problems. In addition, students in the program benefit from the strong tradition of interdisciplinary training at UT Southwestern Medical Center.
Curriculum in the program focuses on the application of principles and techniques of the physical sciences to biomedical research problems. The faculty in this program are working in a variety of areas:
Structure and function of macromolecules
Biophysical approaches to protein folding and localization
Crystallographic studies of conformationally regulated proteins and membrane proteins
Cytoskeletal protein interactions
Membrane transport
Axonal transport
Visual transduction
Voltage gated and mechanosensitive channels
Quantitative fluorescence microscopy
Physiological NMR
Development of instrumentation and methods for high throughput genomics and expression studies
Computational biology
The Molecular Biophysics Program also administers the specialty curriculum in Computational and Systems Biology for students interested in using mathematical and computational modeling techniques to understand biological and biochemical processes. The Computational and Systems Biology curriculum is open to all students enrolled in a basic science Ph.D. program.
Applications
Students interested in joining the Molecular Biophysics Ph.D. program should apply to the interdisciplinary umbrella program within the division of Basic Science. First-year students complete a core curriculum that includes a core course, three or four laboratory rotations, and training in the responsible conduct of research. Students who perform satisfactorily in the first semester core course are qualified to enter the Molecular Biophysics Graduate Program.
Discover Computational and Systems Biology at UT Southwestern.
Message from the Program Chair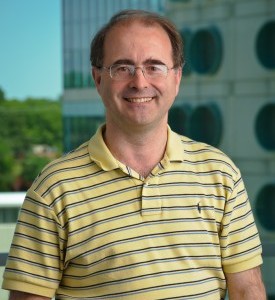 José Rizo-Rey, Ph.D.
Professor, Biochemistry

Graduate School: Ph.D., University of Barcelona, 1988
Postdoctoral Training: UT Southwestern Medical Center
The Molecular Biophysics Graduate Program offers a vibrant environment for students interested in studying biology from a quantitative, physical perspective. The program is highly interdisciplinary, comprising more than 30 faculty with diverse backgrounds and interests, ranging from mathematics and theoretical physics to neurobiology and genetics.
Using a wide range of biophysical techniques, including X-ray crystallography, NMR spectroscopy, electron microscopy, light spectroscopy/microscopy, and computational modeling among others, these laboratories investigate in atomic detail how proteins and other macromolecules function individually, and as part of complex biological systems.
Neurotransmitter release, cytoskeletal dynamics, cellular signaling, nuclear transport, ion channels, transporters, photosensors, T cell receptors, and G-proteins are among the many areas of interest. A highly interactive atmosphere, catalyzed by Journal Clubs, an annual retreat, and the celebrated Molecular Biophysics Discussion Group seminar series, offers all members of the program the opportunity to learn from each other and to gain expertise in many varied subjects, well beyond their own areas of research.
The Molecular Biophysics Graduate Program gratefully acknowledges training grant support from the NIH (GM 5T32GM008297-21).
Attention Undergraduates
Undergraduates are encouraged to apply for the Frank and Sara McKnight Prize in Undergraduate Biophysics. Cash prizes will be awarded to senior undergraduate students for outstanding research in biophysics or quantitative biology.