Chemistry Training Track
Attention Undergraduates

McKnight Prize
Awards for undergraduate research in chemistry.
QP-SURF Program
2014 summer research program
About the Chemistry Training Track
The Chemistry Training Track within the Biological Chemistry Graduate Program is designed to prepare students to address emerging research opportunities at the crossroads of modern chemistry and discovery biology. Students participate in dynamic research and experience the satisfaction of making original contributions to the advancement of chemistry and related disciplines. A hallmark of a UT Southwestern Medical Center education, students in the program benefit from working collaboratively across disciplines to solve complex health challenges.
UT Southwestern has world-class facilities for modern chemistry, including four high-field NMR systems devoted to small molecules.
Research projects focus on topics at the forefronts of synthetic and mechanistic chemistry, chemical biology, and discovery biology. Areas of research include:
Asymmetric catalysis
Isolation of natural products
Medicinal chemistry
Organometallics
Synthesis of natural products
Synthetic methodology
See recent publications by our students.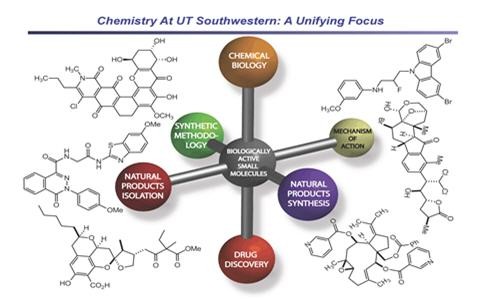 Attention Undergraduate Chemistry Majors
Undergraduates are encouraged to apply for the Frank and Sara McKnight Prize in Undergraduate Chemistry. Cash prizes are awarded to senior undergraduate students for outstanding research in chemistry.